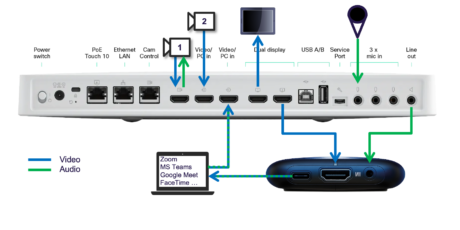 Collaboration
USB Passthrough Mode on Video Endpoints
The variety of video conferencing services is still growing… For the best experience with our video endpoints, Webex Meetings is the platform to use, for solutions offering SIP Dial In, a local script helps to keep it simple for the user, but even if a service doesn't offer standard video, you can now use our endpoints with features like: SpeakerTrack, Snap to whiteboard, Noise Removal or PresenterTrack, via USB Passthrough in your video application of choice.
As I have been using an HDMI Capture device since a few weeks to locally record meetings, I took the opportunity, connected the PC via HDMI to the endpoint and deployed the scripts to turn the endpoint into a high-end-webcam and documented it in my video Diary:
Keep in Mind…
Test your setup before you deploy it to your users
Verify behaviour when the system goes in standby / wakes up
All installed cameras and their features can be used normally
All installed microphones can be used normally
Decide on one mute option (either in the application or on the endpoint)
Endpoint settings are saved, and restored automatically after exiting USB mode
Do not choose USB Speakers
This is not a Cisco TAC Supported solution
Instruct users well
Cabling Example
Below an example of audio / video cabling done with the HDMI Capture device I had a home: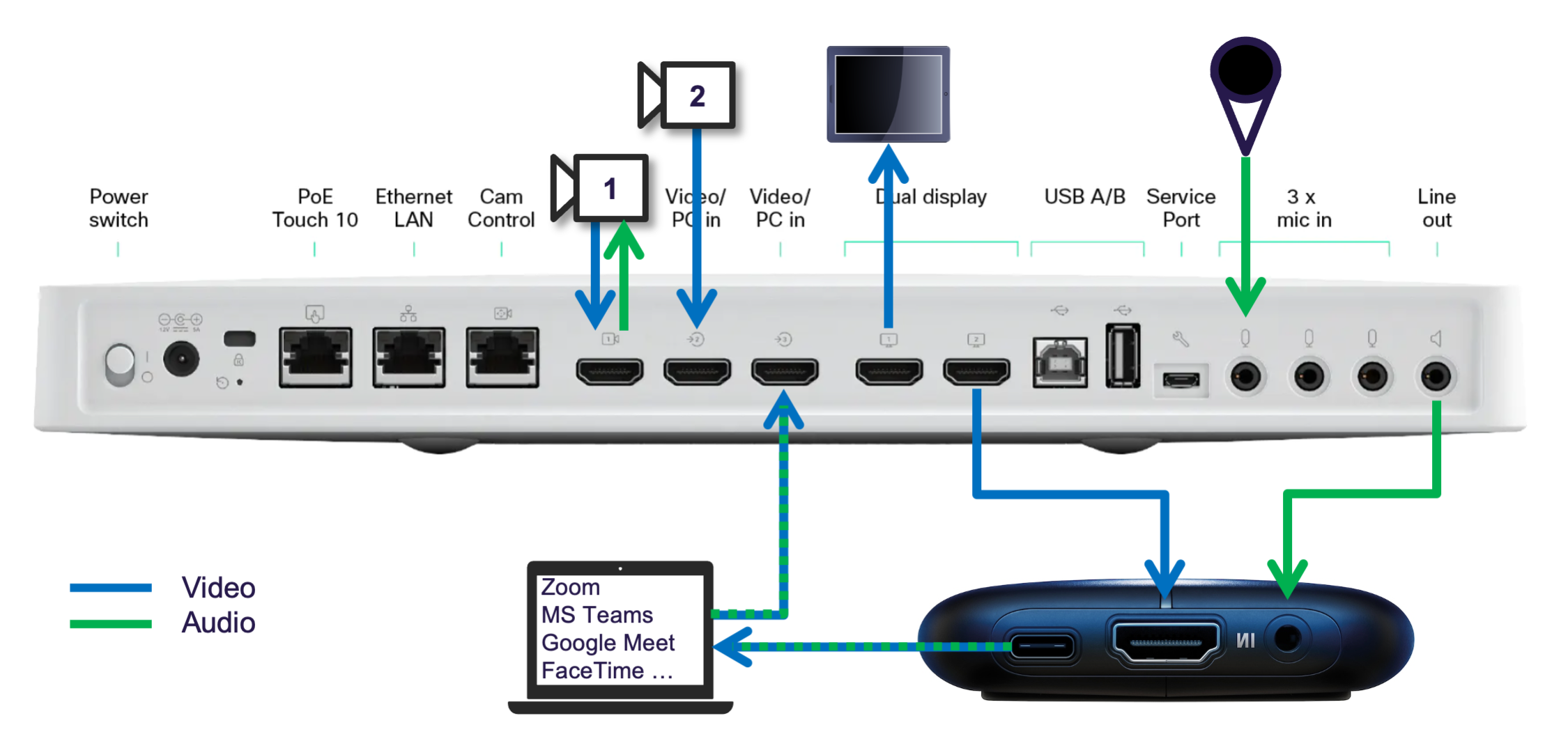 There are many HDMI capture devices out there, and the above is an example only. Some have a loop-through HDMI output, others may require an HDMI splitter if the full number of output ports is required for screen output.
Script Deployment
Load in all 3 CE Macros into the endpoint and save them. Do not turn them on.
Turn on only the script projUSB_FirstTimeSetup_1-3-<x>

This will set-up the system and scripts for use with USB Mode.
If you make changes to the codec screens or SelfView at a later date, turn off the Main script and turn on FirstTimeSetup again (This will save your new settings)
Audio / Video device selection
As the above video doesn't have the selection of the devices showing very clear, please find the selection of the audio / video devices of the conferencing software below: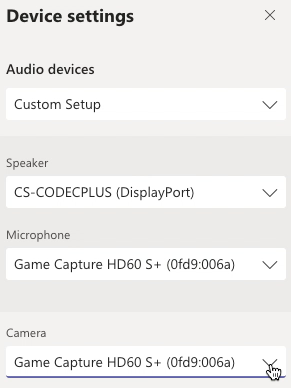 The following Cisco endpoints / codecs are expected to work:
Stable Room OS or CE9.14 or higher
Codec Plus
Codec Pro
SX80
Room Kit
Room 55
Room 55 Dual
Room 70
Room 70 Dual
Equipment used:
Please get in touch with your Cisco sales representative to get the scripts, join the Webex Space or write questions in the comment section below.

Tags: