Collaboration
Interoperability
We are living in a hybrid world. We don't only work at various places, we also work on various platforms. Mostly we log into the collaboration platform provided by our employer. At the same time, we have to be able to join and shine on environments we are invited to from outside our environment. Wouldn't it be nice to do exactly this with a single device? Don't we even expect this from a collaboration device?
This article should help you understand what the options are to do so and how the user experience looks like with our Webex devices.
Why use a dedicated collaboration device?
The virtual or hybrid meeting experience is defined by the following parameters:
Delay
If there is too much delay, people keep interrupting each other, the meeting gets inefficient, collaboration drops, more reserved people stop contributing.
Audio quality and reliability
People have to focus more if the audio quality is suboptimal, information may get lost, participants get tired, mentally disconnect or get exhausted after short meetings already.
Video quality and reliability
Non- verbal information is important to have efficient collaboration and provide the feeling of actually have met someone.
Meeting join time and peace of mind
Being able to walk back into the room 1min before the meeting starts and not having to worry about how to join and what audio device to use is of huge value!
Features and how easy it is to use them
There may be technical challenges sharing a screen, but it's embarrassing to be the one not managing it quickly. Annotation and white-boarding allow active collaboration.
The top four or even all points above are best covered by using a dedicated collaboration device. But as mentioned above, what's the value of such a device if I can't join the platforms I work with!?
Interoperability options
Not every platform offers the same ways to participate in a meeting. Below is a generic overview of the options available.
Native SIP
SIP has been a video standard for decades. This standard allows video endpoints from different vendors to connect to each other or into a meeting platform with a basic set of functionalities such as: audio, video, content sharing and encryption. Features such as Far End Camera Control (FECC) or multi- screen support have been added over time. Not every endpoint has the same encoding or encryption capabilities, but this is negotiated during the establishment of the call.
Native SIP support allows also older collaboration devices to participate in meetings and offers great investment protection.
Gateway
Conferencing platforms which don't offer native SIP, may offer a gateway service, which allows meeting participants to use their standard devices to join proprietary meetings. The gateway is required to translate signalling and maybe even transcode media to the right format.
WebRTC
I usually simplify Web Real-Time Communication (WebRTC) as browser based. In this case, the conferencing platform offers a standard interface to allow participants joining via their browser and without having to install a specific application. State-of-the-art video endpoints have a built- in web-engine which can make use of a WebRTC interface to participate in meetings with the built-in audio (microphone and speakers) and video (camera and screen) interfaces.
USB Passthrough
As more collaboration tools become available, it's increasingly difficult for the device manufacturers to certify their products for all platforms. Or, there may be features which are not made available via any of the options mentioned earlier. Or, the high quality audio and video interfaces shall be used by recording or broadcasting software with no standard interface available. Then it becomes of great value to be able to use the device' interfaces via USB, as this allows users to join ANY meeting platform with its native application and all features.
The disadvantage of USB Passthrough is the dependency on the laptop resources (CPU, GPU and network connectivity).
MS Teams
Microsoft doesn't allow native SIP into their collaboration island. There is a gateway service provided by Cisco and various other vendors, which translates standard SIP into the MS Teams world. Besides generic USB Passthrough, MS Teams provides a good WebRTC implementation. Below is a demo of our gateway service:
Zoom
Like Microsoft, Zoom also requires a gateway service to allow native SIP endpoints joining its world. Zoom provides the gateway service for an extra license themselves with below interesting details:
Below is a demo of how Zoom is experienced from our endpoints:
Google Meet
It was a long wait, but now Google offers WebRTC based participation of a video device to their meetings. The integration follows the known Google Meet process of sharing content by an additional session on the laptop, and besides it being without additional fees, it also comes with chat notifications. Below is a demo of the experience from a Webex DeskPro:
Webex
Besides WebRTC and native SIP support, Webex devices offer meeting management including, lobby, mute/unmute, participants, change roles, etc. from the device itself. This allows users without laptops to control the meeting. Below is a demo of the meeting controls on a device:
All-in-one, with a single button
Yes, we can offer all the major meeting platform integrations in one single device. We go one step further and allow this to happen without the user having to worry about it. The Webex Hybrid Calendar Service offers the user a single button to push if a meeting starts, no matter what platform it runs on. See below a screenshot of our One Button to Push (OBTP) experience: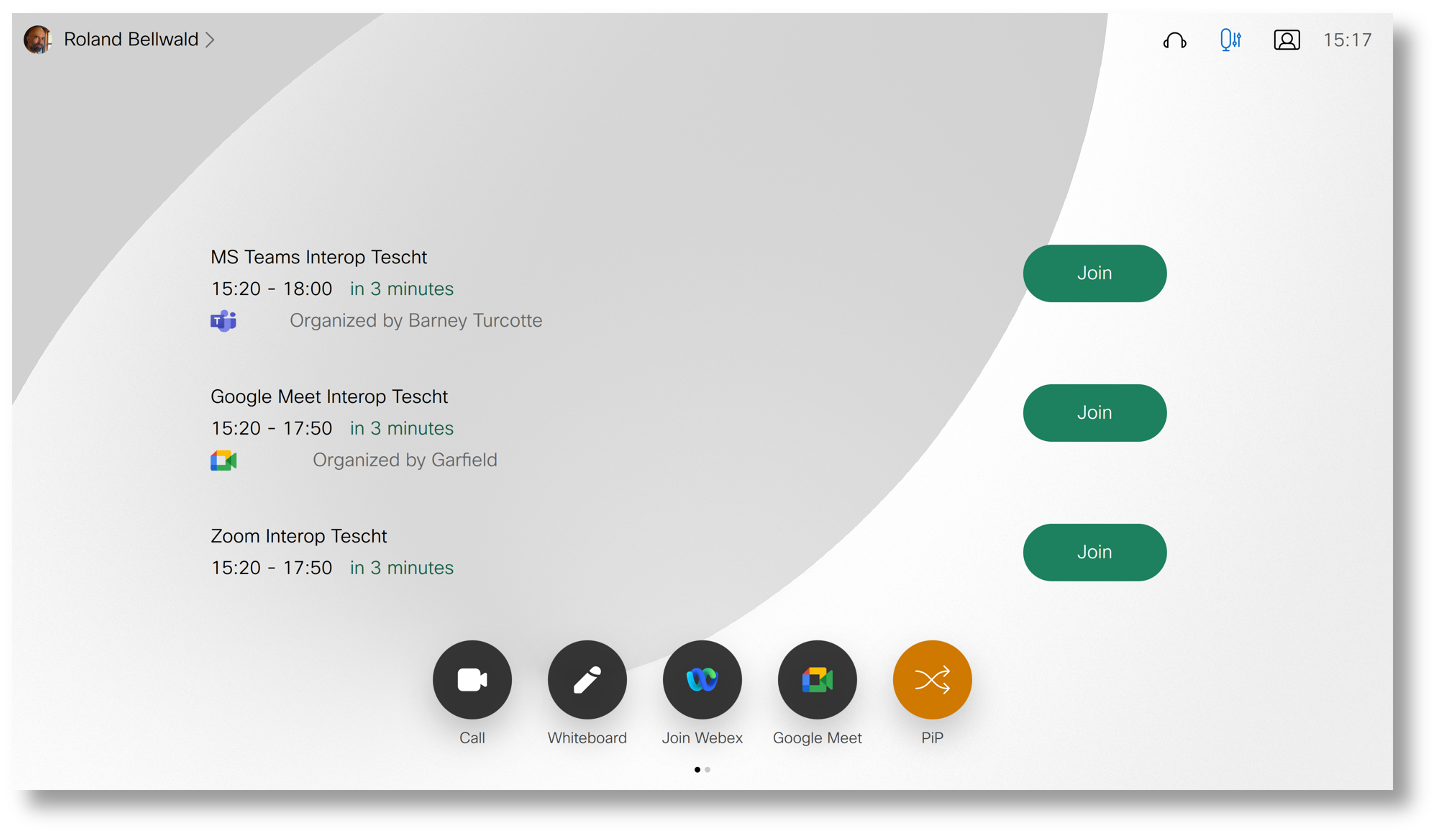 To showcase how easy and fast it can be to join a meeting, I issued a fun interoperability challenge for the shortest amount of time to join all of those platforms.
Feature Summary
The below table provides a quick summary of the different meeting services in combination with our Webex endpoints and questions I am asked most:

Please get in touch with your local Cisco account team or email me.

Tags: