Collaboration
The New WebEx
WebEx is the Cloud offering from Cisco providing Easy online Meetings and secured shared workspace. WebEx is extremely reliable and highly scalable with more than 1 million meetings happening every day !
As of August 29th, 2014, WebEx T29.8 will be released globally! In this release you will find several new and improved enhancements designed to help make every meeting more productive and effective on any device.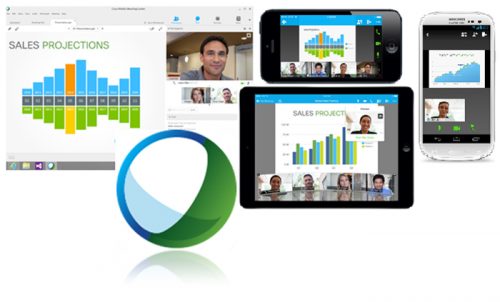 A few highlights of this release include a new and simplified user experience to provide ease of use through every step of a meeting, including improvements such as the ability to join meetings up to 30% faster. The in-meeting experience has been simplified and updated with a new, modern look and feel and a clean layout, including a liquid and flexible meeting window layout, content sharing in an embedded tab, quick-access, etc..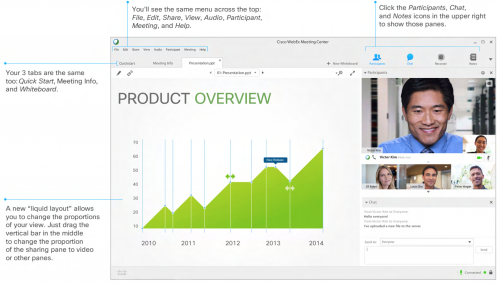 In addition, the introduction of Cisco Collaboration Meeting Rooms (CMR) offers a simple-to-use video collaboration solution that is always on and available from the cloud from any device.
Concretely, that's a new MCU as a Service offer provided by the WebEx cloud where you can host your videoconference meetings and connect any devices including Cisco TelePresence, Polycom, Lync 2010/2013, etc.. The good thing is if you don't have any video endpoints, you can just click on the meeting URL and join using a WebEx client loaded from your browser. Audio/Video/Sharing is done seamlessly with any of those devices. For EMEAR, CMR will be available as a Meeting Center option in October/November 2014.

You can also create a Personal persistant Meeting Room, which allows people to join your meeting from whatever platform or tool they are using, including video conferencing systems and applications using a pre-define fixed URL or URI :
CMR Web browser URL
<sitename>.webex.com/join/<username>
CMR Video system URI (SIP/H.323)
<username>@<sitename>.webex.com
Cisco being open to every platform, we made scheduling from Outlook easier with Productivity Tools for the Mac.
Last, you'll also be able to hear everyone more clearly when using VoIP with support for the next generation of voice quality with wideband/HD audio using Opus Codec.
To sum-up the New WebEx includes : 

 New logo

 Simple, clean, and refreshed user interface

 Usability enhancements to WebEx Meeting Center

Joining meetings faster

WebEx Meeting Center pages redesigned for ease of use

 New method to join meetings on Chrome with a new Chrome extension

 WebEx Productivity Tools for Mac

 VoIP audio improvements for enhanced, clearer sound

 Join your WebEx Meeting using a SIP/H.323 video endpoint

WebEx T29.8 release notes

Tags: