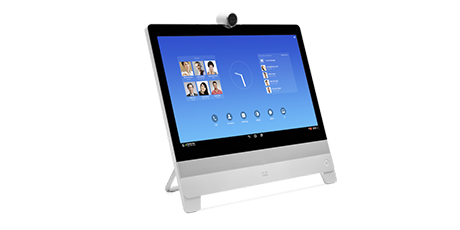 Collaboration
The New Desk – designed by Cisco
Few years ago we used to carry around a bunch of devices including a mobile phone, a digital camera, a GPS, an iPod, a Palm Pilot, etc.. and each of those devices were really useful and amazing at that time.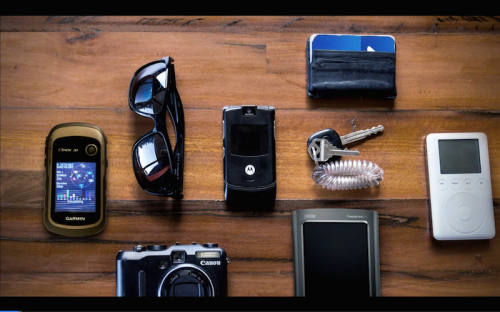 Today we don't carry those devices anymore ! because we have something in the pocket called an iPhone or an Android that replaced all other stuff. The smartphone has a much better experience and really transformed the world we are living in and the technology landscape.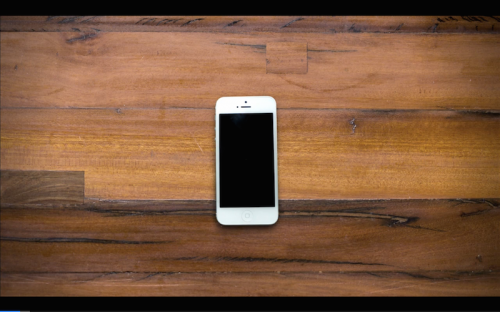 At Cisco we are very focused on the workplace, and looking at the consumer space we thought there is something interesting to do from an innovation perspective.
Our workplace did not really evolve since at least 10 years. The example below represent an old style desk in a Cisco office, but this is what many people experience today when they go at work.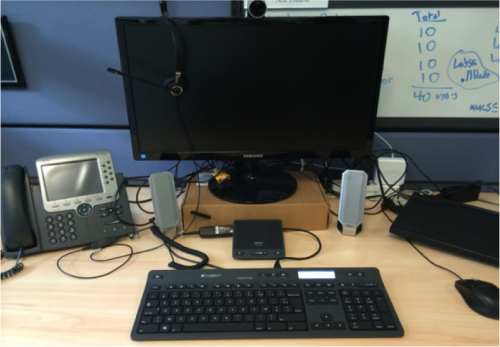 Why is the office desk so messy ?
Just because we try to do more things with a Windows PC that it is meant for ! One example is videoconferencing : When you want to do videoconferencing with your laptop, you often end up buying a bigger screen because you want to see people a little bigger. The next thing you usually do is buying a new webcam because the plastic webcam embedded in the laptop doesn't have a great image and you can't really move the angle. Then the speakers and built-in microphone might be a problem, so you go to buy an external mic and speaker… You also find a Cisco IP Phone that you still keep on your desk because this is still the best audio, easy pick-up and most reliable device that you can have for your conversations.
People are often  5-10min late in web/videoconferences and one of the main reason is usb accessories they have to plug-in before they can join the conference. Your are late because all those stuff do not work together very well (they are actually not designed to work together).
When you compare your smartphone, which is right for Communication and Collaboration, and your office desk, there is a huge gap ! The office desk is far from being optimised for communication and collaboration.
What you want to do is to get your work done, you want to hear and see people clearly without being distracted by the technology => That's the problem we're trying to solve at Cisco.
We've been inspired about smartphones, so we did for the Desk what the smartphone did for our personal life not carrying a bunch of stuff. We came out with a brand new product, the Cisco DX80 :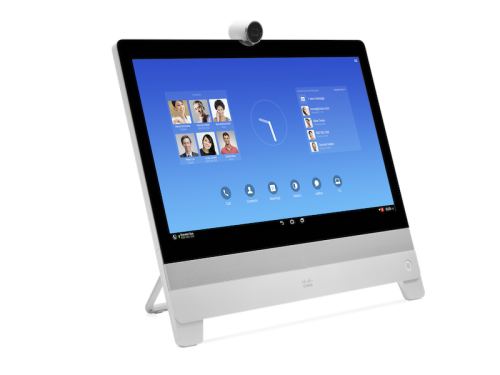 It's difficult to tell in one word what is the DX80, because nothing quite like exists in the world, it's a new type of device. The DX80 is a plug-n-play system with a 23-inch touch enabled screen, optimised for Communication and Collaboration. The DX could replace your PC monitor but it is also a computing device on its own as it runs Android with all available Play Store Apps. As it is an Android device you also natively have access to your email/calendar/contacts. The OS has been secured by Cisco and can be fully controlled by IT.
Intelligent Audio
The DX80 ensures that the person called always receives the best audio quality. Laptops or coffee cups shading the DX80 are no longer a problem. With its two separate microphones and shading detection the DX80 selects the optimal voice path to the microphones.
In open spaces or call centers where people speak while you are on a call and where confidentiality needs to be preserved, the DX80 fully suppresses these annoyances. The DX80 filters the sound coming from an angle that matches the camera field of view. This way what the far end see is also what they hear.
Static noises like air conditioning, computer fans are reduced to add comfort in discussions and help users focus on what really matters.
Intelligent Proximity
With Intelligent Proximity for Mobile Voice, users can wirelessly synch iOS and Android mobile devices when you come in close proximity of the DX80. You can easily access and import contacts and call history from personal mobile devices to your DX, simplifying the call management process.
In addition, you can move the audio path from your mobile device during a call in progress to the DX, taking advantage of the endpoint's superior audio quality.
Other Features
Large 23-inch, 1920×1080 LCD Capacitive touch screen
1080p30 with 65° FOV Camera
Dual-aray with 4 Microphones
HDMI Input for PC/Mac Display and Content Sharing
Tiltable Document Camera
802.11 a/b/g/n wireless and Gigabit Ethernet connectivity
Bluetooth and USB
Android 4.1 and Google Play Store access for third-party applications
Easy end user installation – unpack to video call in 5 minutes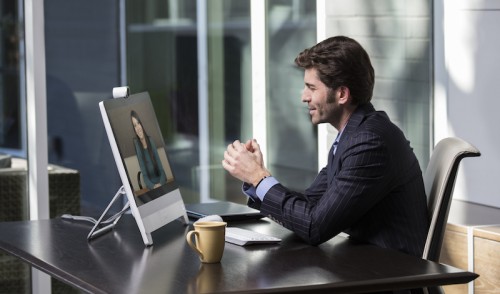 This product is for people who are not satisfied by not having incredible Communication and Collaboration technology at their Desk. The DX80 is designed to provide high quality audio and video, and to be simple and affordable with no compromise on the Experience.

Tags: