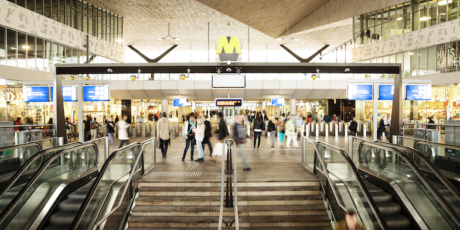 Country Digital Acceleration
Improving railway and mission critical applications
Cisco acquire Fluidmesh Networks, LLC, a privately held leader in wireless backhaul systems.
Fluidmesh, headquartered in New York with operations in Italy, provides technology that delivers reliable and resilient wireless solutions for industries with mission critical applications, whether that is on-the-move transportation such as high-speed trains and autonomous vehicles, or large-scale distributed sites that face signal impedance such as shipping ports and urban environments.
Fluidmesh's solutions are quick to deploy and configure and provide low operational costs and maintenance for users.Fluidmesh solutions address the reliability requirements of many industries and users, including:
•Rail: Provides high-speed and reliable connectivity between the trains and the trackside, eliminating potential gaps in data transfer, all without the need to stop evenwhen traveling at high speeds.
•Manufacturing and industrial automation environments: Provides resilient and low-latency wireless connectivity to moving assets such as autonomous moving robots for increased productivity.
Market Drivers
The need for reliable wireless connectivity is critical for Industrial IoT use-cases like manufacturing, mining, smart cities, ports, and other industries where autonomous operations improve safety and lower costs. While traditional wireless solutions work well for slow moving objects, Fluidmesh's technology is designed to provide zero loss of data transfer at speeds in excess of 300 Km/h. Today, customers are using Fluidmesh's reliable wireless technologies in rail, mining, ports, and public transit to improve productivity, safety, and the customer experience.
Strategic Value / Better Together
Fluidmesh will extend Cisco's industrial wireless offerings to industries with on-the-move assets and applications where reliable backhaul is mission critical. Cisco's scale, combined with Fluidmesh's industry-specialized sales team and systems integrator relationships, will accelerate Cisco's IoT business. This will also broaden Cisco's reach to key partners and end users. Products will be integrated with the Cisco Industrial IoT Networking portfolio.

Feel free to contact me Erick Caron,  to discuss Demo, Pilot or Proof of Concept for your organization with the support of Cisco CDA (Cisco's Country Digital Acceleration Program).

Tags: