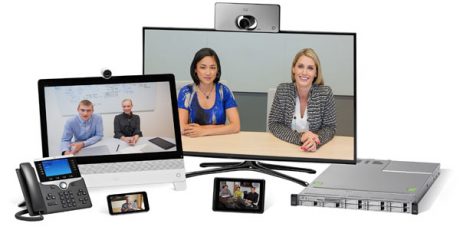 Collaboration
Power for SMB (KMU) with the Cisco Collaboration Business Edition 6000s
Der Swiss Cisco Community
Cisco has announced an extension to the well established Cisco Collaboration Business Edition Portfolio platform.
Its newest family member is the Business Edition 6000s (BE6Ks, or BE6000s)
Cisco Business Edition 6000 is a family of purpose-built, all in one collaboration solutions that are right-sized and affordable for companies ranging from 25 up to 1000 employees.
The solutions provide core capabilities that small and midsize businesses need for improved collaboration and productivity among employees, customers, and business partners. Fully integrated platforms deliver premium voice, video, messaging, instant messaging and presence, conferencing, and mobility capabilities, and a variety of advanced collaboration options, including video conferencing and contact center services, in single-platform designs that scale with business growth.
The Cisco Business Edition 6000 family now offers three packaged model options:
NEW! Small (S)(Availability from Q1 CY2015) – BE6000S is a centralized, voice-centric call processing platform for smaller-scale deployments of up to 150 usersand 300 devices. The solution supports 5 fixed core UC applications – CUCM, CUC, PCP, IM&P, and Paging Server – and any combination of IP and DX series endpoints – including 7800 and 8800 series phones, and DX video endpoints. BE6000S migrates to BE6000M/H, BE7000M/H, hybrid environments, or fully to Cisco Cloud services.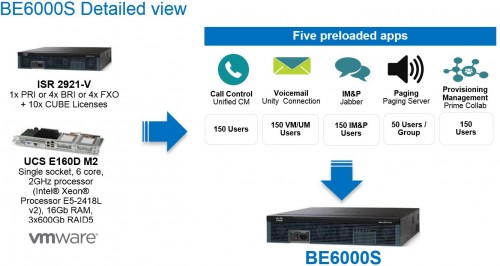 (click to enlarge)

Medium Density (M) (Shipping since Dec 2011) – BE6000M is an integrated, centrally-managed voice+video call control platform for midsize deployments of 25 to 1000 users, 1200 devices, and 100 contact center agents. The solution supports up to 5 concurrent applications (4 UC/Collab + 1 mgmt.) and a combination of IP and video endpoints – including, 7800 and 8800 series phones, and DX and EX video endpoints. BE6000M migrates to BE6000H, BE7000M/H, hybrid environments, or fully to Cisco Cloud services.

High Density (H) (Shipping since May 2013) – BE6000H is an integrated, centrally-managed voice+video call control platform purpose-built for conferencing-intensive midsize deployments of 25 to 1000 users, 2500 devices, and 100 contact center agents. The solution supports up to 9 concurrent applications (8 UC/Collab + 1 mgmt.) – including a fully integrated video conferencing applications suite – and any combination of IP and video endpoints – including 7800, 8800 and 9900 series phones, and DX, EX, SX, and MX series video endpoints and room systems. BE6000H migrates to BE7000M/H, hybrid environments, or fully to Cisco Cloud services.

For more and detailed information please follow this link: BE6000

Cheers, Niema

Tags: