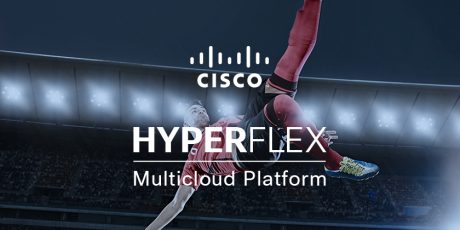 Data Centre
Kickoff – HyperFlex 3.0 Enabler of a Multicloud Platform
Why hyperconverged and multicloud are a perfect match? Hyperconvergence is hot topic right now. It also has the maturity to run a variety of applications. For a long time, organizations have needed to speed up and simplify the delivery of new IT services. A hyperconverged infrastructure (HCI) delivers the speed, simplicity, and flexibility required in today's digital economy.
But not all HCI solutions have the same characteristics. Until recently, HCI was not a good match for every application or workload. The addition of new capabilities such as NVME, GPUs, larger SSDs, and memory sizes has meant more workloads can be executed efficiently on HCI.
Why HyperFlex is different.
HCI solutions are available in numerous formats and come with their own capabilities. Yet many well-known solutions lack at least 2 crucial components in the HCI stack: the network; and unified management via a single console.
HyperFlex 3.0 is much more than just a new software release.
It brings important new features, including:
Stretch clustering for higher availability
Support for containers
Scalable to 64 nodes
Support for new hypervisor (Microsoft Hyper-V)
As part of the Cisco Intent Based Data Center, HX 3.0 ensures companies have the right "on-premise" foundation for operating multicloud environments.
If you want to use multiple cloud services and container services, HyperFlex v3.0 provides the necessary infrastructure-level features – from edge to simple virtual machines (VMs) and virtual server / desktop infrastructure hybrids (VSI/VDI), to additional compute nodes and All Flash for mission-critical applications (Oracle, SQL, SAP, Microsoft Exchange, Splunk) and 40 Gb networking for workloads with higher bandwidth requirements.
Cisco HyperFlex bundle with CloudCenter.
Do you need to find the most efficient cloud resources for your workload and get the best price/performance ratio? CloudCenter with HyperFlex allows you to create application templates independent of the cloud platforms you're looking to run them on. What's more, you can use CloudCenter to avoid cloud lock-in and support cloud-native applications.

Interested to learn more? Sign up for a personalized, free of charge,  live demo with our local experts.

Tags: