Data Centre
Hyperconvergence draws the crowds for clouds at VMworld
VMworld Europe 2018 took place in Barcelona last week. With technology-driven innovation disrupting every market, the Cisco team was on hand to help visitors discover the best ways to unlock more value for their organisations and shape their digital future.
IBM SVP and Director of Research, Arvind Krishna, joined Pat Gelsinger on the main stage to discuss advancements and partnership to accelerate hybrid cloud adoption and digital transformation.
Our team were showcasing several of our most important Cisco Data Center solutions that empower the multicloud world. This included:
Network Assurance Engine (NAE) – verifies the entire network for correctness, giving operators confidence that their network is always operating consistent with intent
Intersight – a cloud-based platform that makes IT operations management (ITOM) smarter and simpler
Cisco HyperFlex –our next generation hyperconverged platform that's the infrastructure foundation for multicloud strategies
Hyperconvergence draws crowds for multiclouds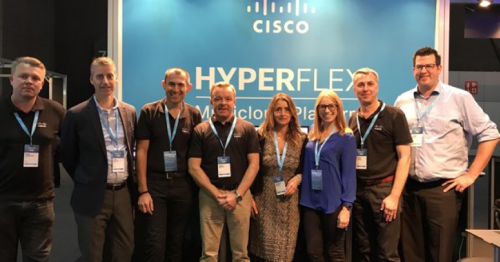 Our booth saw many visitors stopping by to learn more about our hyperconverged software-defined computing platform. Cisco HyperFlex provides a robust system to power mission-critical apps, in any cloud, with validated, market-leading performance.
The question we were asked often was: "What makes HyperFlex different from the competitors?"
I have listed the most important features and differentiators here:
All-in-one-appliance –Other hyperconvergence offerings miss one important thing: The Network. Only Cisco HyperFlex combines compute, storage and network on one single appliance with integrated management that makes it easy to use.
Scale as you growand pay as you go –It's always difficult for organizations to accurately forecast their IT needs as their business grows. What might seem a good fit today is not necessarily going to be relevant in just a few year's time. With HyperFlex companies can scale compute and storage independently rather than being forced to buy both as with other solutions. They can also scale quickly and easily with a subscription-based software model.
Hardware & software –There is one button to upgrade the full stack – hardware, software, and hypervisor supporting the compute nodes, as well as the file system.
Re-use of storage –Ensuring you have enough storage is always a challenge. With HyperFlex you are able to integrate your legacy storage into the solution, which makes it easy to shift data across the cluster into new, more efficient and flexible storage.
Cloud-based management –There is a need to simplify operations in the data center. HyperFlex comes with Cisco Intersight, which makes it easy to manage your entire data center infrastructure from the cloud.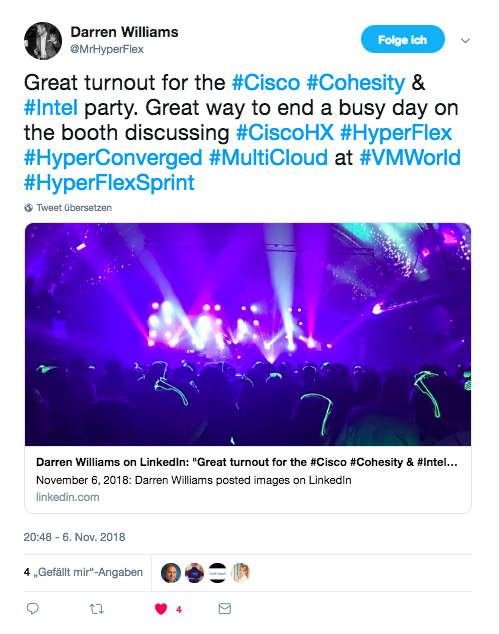 We are the champions
Our solution partner Cohesity, who expands data protection to physical servers and can double the performance of Backups in distributed environments teamed up with Cisco and Intel to host our customers for a fabulous evening with the '80s pop band Queen. Known for hits such as 'We are the Champions' and 'Bohemian Rhapsody', this iconic British band rolled back the years to put on an outstanding performance.  Thanks to Mr. HyperFlex for the great snapshot on Twitter.
Highlights of the second day – Pioneers of the Possible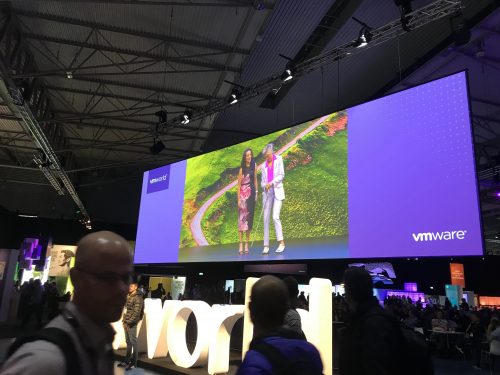 Many customers already started their journey to digital transformation  and shared their experience how enterprise warriors have transformed the business by embracing the software-defined data center, hybrid cloud, cloud native and digital workspace solutions and what their next steps will be for the future. Martha Lane Fox, British businesswoman, philanthropist and public servant and founder and executive chair of Dotevryone.org.uk, shared on stage her perspective on innovation, education and the development of responsible technology in the keynote on Wednesday.
And the party must go on
'Gin Gin' was the topic for the second evening, which took on a German theme, as we learned how to prepare the best mixes of this famous tipple with our customers. We took the opportunity to re-visit the highlights of VMworld Europe and enjoy delicious tapas.
Experience hyperconvergence
If you didn't get the opportunity to participate at VMworld in person and would like to know more about Cisco HyperFlex, request a virtual demo and experience the power of hyperconvergence for yourself.

Tags: