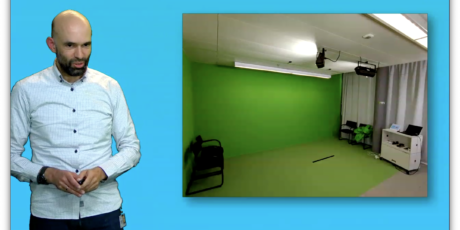 Collaboration
Green Room Cisco Switzerland Explained
Every week our management team uses our green room to record a video message with the latest news, call-outs, numbers, etc. The use is not limited to our management though, and the room can be used by any of us including our customers. It allows the presenter to appear in a different environment during a video conference or provide a training in a different format.
Please check out the video below and learn more about how the green room works:
How the room looks when it is ready for action:

How does the technology in the background work?
Most of the tools used to create the green room experience are standard Cisco video equipment as it is important to have the best possible audio and video quality. On top of this, a video mixer is required to filter out anything green from input A and replace it with the content provided to input B (make sure you don't come dressed in green). This combined signal is then sent to the Cisco video codec, which provides a local preview and is used to dial into a video session or a video recording platform. Please refer to our schema below for a brief overview:

Please comment on this blog post if you have further questions or get in touch with us via email or Webex Teams.
References
For reference, please find below a few links to the products which can be used to build a Green Room:

Camera

Video Mixer
Make sure it supports the camera output (in our case 1080p60) coming from the camera used above.


Video Endpoints

Green Wall
Please talk to your local room management service / painter.

Lights
Make sure the lights are positioned in a way, the least amount of shadow is generated by the speaker.

Recording
In order to create videos, the Cisco Webex cloud could be used or a video recording service such as vbrick.

Tags: