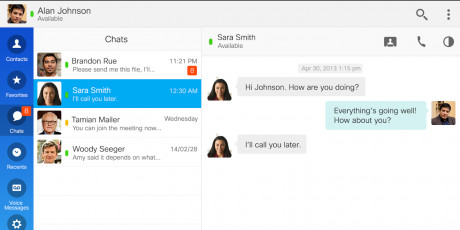 Collaboration
Cisco Jabber 10.5 for iOS and Android
As promised Cisco Jabber for iOS 10.5 and Cisco Jabber for Android 10.5 are now available respectively on Apple Store and Googe Play Store.
For those who don't know yet this great app, Cisco Jabber is a collaboration application that provides presence, instant messaging (IM), voice, voice messaging, and video calling capabilities on Smartphone devices. You can also Escalate your Jabber conversations into multi-party conferencing with Cisco WebEx® Meetings.
This new release gives number of enhancements and capabilities :
New Visual Design
Cisco Jabber for Android offers a new and modern design to align with the visual identity of Cisco's Collaboration portfolio and to improve user experience. New design changes improve ease of use, such as audio output device switching, application notifications, and tab management.
Single Sign On
Single Sign On allows Cisco Jabber users to securely access all services without being prompted to log into each of them separately. Cisco Jabber uses the Security Assertion Markup Language (SAML), an XML-based open standard data format that enables access to a defined set of Cisco services seamlessly after verifying credentials with an Identity Provider. It supports HTTP form, HTTP basic, and NT LAN Manager (NTLM) authentication methods.
Expanded Device Support
The number of supported Android devices has been expanded. See the list of supported devices. 
Tablet UI Adoption
Certain Android tablets are now supported. See Device Requirements for Cisco Jabber for Android for a list of supported devices.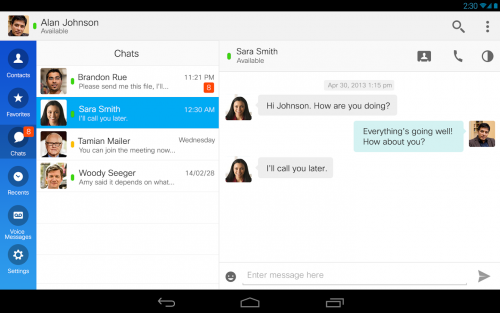 Receive Hunt Groups calls

Cisco Jabber supports to receive a call from a hunt group on your iPhone and iPad. The hunt group number is displayed in the incoming call toast of the call.

High Definition (1280 x 720) Video Call Quality

The quality for video calls is improved with sharper video calls that uses edge smoothing. High Definition video call is only supported on iPhone 5S, iPad Air and iPad mini with Retina display.

Cisco Jabber for Android 10.5 : 

Download : https://play.google.com/store/apps/details?id=com.cisco.im
Release notes

Cisco Jabber for iOS 10.5 :

Download : https://itunes.apple.com/us/app/cisco-jabber/id467192391?mt=8
Release notes 

Tags: