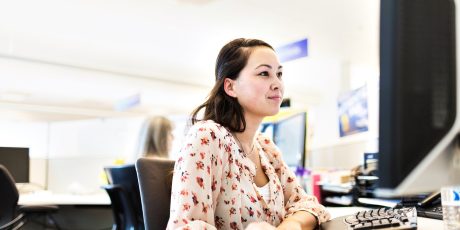 Government
How Hybrid Work Technologies Are Defining the Future of Government Work
Today's government workers must be flexible and able to work from anywhere. Like employees in other industries, we are all facing challenges in managing both our work and personal lives, and we want to be agile in our working style and location. Fortunately, today's hybrid work technologies allow for the flexibility needed for both employees and employers to succeed.
According to guidance from the Government of Canada, "The future of work will be enabled by technology and shaped by Canadians and their shifting expectations." It's important to remember that one size does not fit all, and the approach each government organization takes should be guided by its workforce.
The greatest challenge to success for almost any organization today is the competition for talent. The problem is rampant across the country, with places like British Columbia reporting that even if every unemployed person filled a vacant position, there would still be a 10% worker shortage. However, the shortage of workers varies in different areas across the country.
Allowing employees to work remotely most or all of the time can allow for a more even distribution of skills across Canada. However, to see broad success in hybrid work models, there are a few factors to consider.
Planning for Flexibility
Hybrid work is the convergence of people, places, and technology — which makes planning for the future a challenge. We can't predict exactly how people will want or need to work in the future or where they will need to do it from, and we can't foresee the innovative technologies that will be available 10 years from now.
Some level of informed guesswork is always required when designing a strategy that plans far into the future, and building in adaptability will set you up for success.
To build a tech stack that holds up to change, you must plan for uncertainty. Fortunately, cloud-based collaboration tools have the flexibility needed to enable employees to succeed whether they work from the office or a remote location. And cloud technologies allow for easy updates and upgrades.
The Human Element
I've had the opportunity to hire talent in this hybrid world, and I had to think about how to attract and retain top candidates, as well as onboard them in a way that makes them feel welcome. I want new team members to understand and be part of our culture , and often I do that virtually.
In years gone by, I would have sat down right next to a new employee and showed them what we were working on and the areas where I felt they could make the most significant contributions. I would introduce them around the office and take them out to lunch so they could meet colleagues.
It was a process that helped people feel a sense of belonging and loyalty to the organization.
Today, I schedule virtual calls, check in regularly, and ensure a new employee has video meetings with colleagues as soon as possible. For hybrid work to work, you still have to consider the humans using the technology.
Key Considerations for Success
Versatility: Public sector workers need adaptability and flexibility in the technologies they require to do their jobs. It's not one-size-fits-all. Emergency workers function very differently from employees at a courthouse.
Inclusivity: Accessibility and language requirements must be at the top of the consideration list for serving public sector workers. We have a very diverse population in Canada, and our government workers need to be able to communicate with anyone seamlessly. Everyone deserves the same experience.
Security: Without a doubt, the most important consideration for technology today is security — especially when dealing with Canadian citizens' personal information. No matter what other considerations or requirements a hybrid work strategy must meet, identifying and dealing with threats is paramount to any organization's success.
Hybrid work technologies are about connecting people and then fading into the background — never hindering their ability to collaborate. We need to support our workers in their complicated lives and support their well-being. Hybrid work allows us the flexibility to put people first.

I invite you to explore our Hybrid Work for Government website and, when you're ready to explore your options, let us know. Our hybrid work experts are always prepared to answer questions and help you plan for the future of work.

Tags: