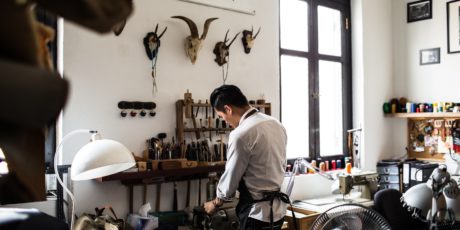 Retail
Hybrid Work Technologies Are Helping the Retail Industry Evolve
Retailers, just like many other businesses, are leveraging the power of hybrid work to empower their workforce and combat attrition. In Canada, 43% of CEOs across industries say they expect most employees to work remotely at least two days per week. While retail has traditionally been considered an in-person industry, customer expectations and innovative technologies are changing how they operate today.
Retail has dramatically evolved from the days when the shopping experience started on the sidewalk and concluded at the cash register. Today's customers are all about convenience – convenience is king – and retailers must be willing to meet their expectations and be available wherever and whenever their audience wants to reach them.
More often than not, shoppers are using multiple channels to research and make decisions about their purchases — and these omnichannel customers are particularly valuable. On average, they spend more on every transaction. And customers who use more than four channels spend 9% more in-store than those who use a single channel.
How Hybrid Work Plays a Part in Retail Success
Retail has been one of the industries hardest hit by the Great Resignation, and retailers have had to be creative in finding solutions. Making hybrid work available to workers who don't have to be in a specific location to do their jobs has alleviated some of that struggle.
A successful hybrid approach focuses on designing a work experience around workers' needs, wherever they are. It allows people to seamlessly and securely work onsite or offsite and addresses the unique needs and expectations of today's workers.
Employees who manage virtual retail channels easily fit into the category of employees who don't need to be at a particular location to do their work and could benefit from hybrid work opportunities.
How Hybrid Work Benefits Retailers
The typical employer can save almost $11,000 per employee annually by allowing them to work remotely half-time. The savings come as a result of increased productivity and reduced turnover rates, absenteeism, and costs for real estate.
Hybrid work can also alleviate the strain of hiring and retaining talent in an industry that has been hit particularly hard by the wave of resignations since the beginning of the pandemic. Studies have repeatedly shown that workers today require options that hybrid work can offer.
Keys to Successful Hybrid Work in Retail
To reap optimal benefits from a hybrid work culture, retailers need to prioritize five items:
Customer perspective and experience: Retailers must clearly understand their customers, including how and where they want to interact with the business and how they want to experience the company's products. Focus on personalization and multichannel experiences.
Security: It is essential to ensure customer privacy and the security of their information, as well as provide reliable and secure connectivity for workers. Secure networks allow organizations to consistently apply security policies across all workspaces, no matter where an employee works.
Internal stakeholders: Do you have the right technology for your users? Consider how your internal stakeholders work and the technologies required to facilitate efficiency and security. Some will be onsite and others will be offsite, and both need to be able to help customers without delays or having to restart a sale already in progress through a different channel.
Flexibility for financing business expenses: Consider whether flexible financing and payment options might fit your budget better than a lump sum payment. Can you manage your business in the cloud? Cloud solutions can allow you to quickly make changes as your business needs and technology evolve. Your financing choices should make your business agile and enable you to grow.
Scaling for the future: Never make technology decisions or purchases that only address current needs. Technology investments should always consider how your business is growing and the future needs of your workforce and customers. The right investment choices will allow your business to grow and your technology to evolve seamlessly.
Making significant technology investments requires research and talking to experts who can guide you through the process and help you focus on the most critical decisions.

If you'd like to learn more about the technologies that can help you successfully leverage hybrid work for your business, explore Cisco's portfolio of hybrid work solutions for retail and let us know how we can help. We've worked with some of the biggest retailers in the world, and our experts are ready to help you make the right decisions for your business.

Tags: