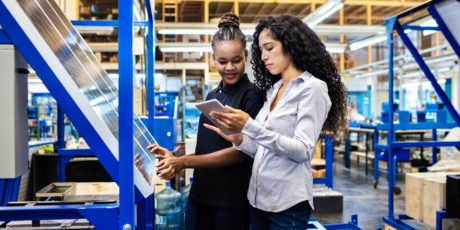 Manufacturing
3 Must-Haves for Success in Implementing Hybrid Work Models in Manufacturing
Businesses in the manufacturing industry, like so many others, are incorporating hybrid work models into their employee offerings. Manufacturers traditionally only offered jobs that require all employees to be on-site. Now, they're finding ways to allow employees some flexibility in the way they work while taking advantage of business benefits that come with not needing to have everyone on-site every day.
Assembly, fabrication, and material handling are not likely to be performed from alternate locations anytime soon. But manufacturing workers who do a lot of their work on a computer — like engineers, designers, office workers, sales staff, and some management functions — can benefit from a hybrid work model.
Looking to the future, a Manufacturing Leadership Council study found that over one-third of manufacturers expect technologies that enable work to be done remotely will amount to a game-changer in production over the next five years.
The Benefits of a Hybrid Work Model
A hybrid work models that is well designed and supported can provide better work-life balance for employees, who can skip the commute and costs associated with being on-site five days a week. It also allows employers to reconsider the purpose of offices and turn them into collaboration hubs where people come together with a clear purpose.
Offices that don't require as much space, power, insurance, office supplies, and snacks can reduce the cost of doing business.
And then there's the topic of talent recruitment. Secure, cloud-based networks allow businesses the flexibility needed to hire and retain the best talent possible. If you can hire employees without regard to where they live, you expand your candidate pool and potential for making successful hires. Businesses have the opportunity to grow in ways that are not possible when restricted to local talent — especially as we consider the trend of people moving away from major cities.
The Must-Haves to Succeed with a Hybrid Work Model
Security: The security of information and networks must be a top priority when serving dispersed teams — and it needs to be provided across all the communication devices and platforms employees use. Hybrid and remote teams often use personal equipment (computers, routers, and mobile devices), which can be challenging to manage and secure. A well-managed hybrid work model effectively addresses flexible cloud-delivered security, email security, and user, app, and device verification.
Network: The infrastructure for hybrid work requires having processes, applications, security, and other functions in the cloud — where workers can access the information and tools they need no matter where they're working. And the network needs to be easy for employees to deploy without the help of on-site IT.
Collaboration: The need for collaboration between employees doesn't go away in a hybrid work model. The ability to work together on projects and solutions is still critical for business success, and the right collaboration tools can have an extraordinary impact. According to a McKinsey & Company study, digital collaboration has the potential to unlock more than $100 billion in value. The study cites productivity boosts of 20%-30% in collaboration-intensive work processes such as root cause investigations, supplier management, and maintenance.
Cisco solutions empower manufacturing workers at home, in the factory, or anywhere else they need to be. If you want to explore using hybrid work technologies to support your manufacturing business's digital transformation, let our experts guide you. Start by reading our simple guide for getting started, Must haves for Hybrid Work in manufacturing, and then talk to one of our experts who are always ready to help.

Tags: