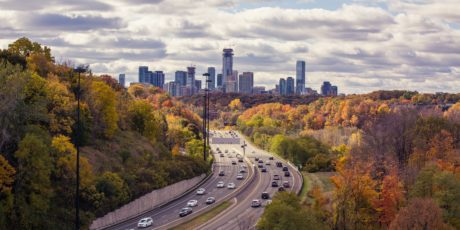 Canada Perspectives
Leading Cisco Canada's next phase of business transformation
Ten months ago, I took my own advice: to start preparing for my next role.
It's a talk I've given several times to Cisco's Emerging Talent and Women of Cisco employee groups – why you should start preparing for your next role while you're still in your current one. And how you can evaluate what you've learned and apply that to what comes next.
When it came to my own next step, I hadn't landed on the 'what' but I knew the 'why' – I was ready to build on my experience as a strategic leader and transform an area of Cisco's business.
When the opportunity arose to take the leadership role in Canada – one of Cisco's top performing regions – the decision was easy for me. I saw an opportunity to lead this team to new heights and build on its best-in-class reputation, one that was reaffirmed when Cisco was recognized as Canada's Best Employer by Forbes Magazine in January of this year.
That award is a testament to the strength of our Cisco family and the commitment of our teams to support our customers, partners and communities. The past 12 months haven't been easy, but Team Canada is resilient and I'm so proud to be part of it.
Our impact across Canada
In the time since I've joined the Canada team, I've come to realize just how much this team has shown up for our customers, partners, communities and – just as importantly – one another. Perseverance, passion and purpose have propelled this team to respond and make an impact across the country:
We've made an impact in education, by ensuring that 20,000 students across the remote north have had access to virtual education and mental health resources during the pandemic through Connected North at Home.
We've made an impact in healthcare, setting up IT infrastructure in field hospitals and responding to the needs of clinicians to deliver virtual care via Webex—the new "virtual PPE". Employees even disinfected and hand-delivered networking equipment to community hospitals to enhance their infrastructure during this time of need.
And we've made an impact at the community level by helping local not-for-profits – like Food Banks Canada and WoodGreen Community Services – digitize their programming so that they could continue to support society's most vulnerable, and by launching the City of Toronto's Digital Canopy to deliver WiFi access to some of the city's most underserved communities.
Not to mention, Cisco Canada is committed to continued innovation, with a robust research and development program and an exceptional Innovation Centre to demonstrate the power of our technologies.
Cisco has made tremendous strides in having a positive impact across the country over the past 12 months, and we're not done yet!
Digital agility and business recovery
With Canada undergoing one of the largest economic recoveries in this country's history, the role that technology will play in facilitating that recovery for Canadian businesses, governments and communities can't be underestimated.

According to Cisco's Accelerating Digital Agility Research, a survey of more than 23,000 CIOs and IT Decision Makers across the globe, there's no slowing down in the move to enhanced digital and cloud capabilities and increased protection from an expanding threat environment.

Twelve months after IT teams orchestrated a massive shift to remote work, these leaders are still defining what the future of work looks like for their companies. In Canada, 67% of respondents anticipate redefining what productivity looks like compared to how they did so pre-pandemic, and 65% are unsure of what the future looks like for their business in 2021.

The increased IT spend we've seen recently is also expected to continue. 68% of Canadian CIOs predict that up to half of their IT budget will be spent on investments that enable the future of work – including secure access and top collaboration experiences – compared to 52% of global CIOs.

This is an exciting time to take the helm of the Cisco Canada business and lead us forward. While our research shows that lingering uncertainty remains among Canadian CIOs about the future, Cisco can help them navigate through these uncharted waters. We have an extraordinary opportunity to help our customers and partners define what the future of their organizations looks like.

Now really is the time to build a better future and fuel an inclusive recovery. It won't be easy, and we need to address our biggest challenges – from the digital divide to social justice to sustainability to cybersecurity and data privacy. However, Cisco has a stake in the ground here. We're committed to playing a key role in accelerating the recovery and unifying our communities because that's our purpose as a company – to power an inclusive future for all.

Tags: