Collaboration
Using technology to build relationships: my Cisco Collaboration story
Every week there is a new article or study uncovering the secret of the multi-generational workplace and how different generations work and communicate differently.
I've had to change how I work as technology evolved from phone calls to texting to video conferencing to always-on connected work. It's not news to anyone that the nature of work is changing faster than ever before. And it can be hard to keep up with the demands on your time and the desire to have instant answers, 24 hours a day, 7 days a week.
When, I joined Cisco Canada, like any new job, there was a learning curve. Starting at a new company always means learning their tools, their systems, and how people work together. Plus I was moving from a national to a global company, which meant I was working with people across multiple time zones.
To help take the "over" out of "overwhelming", I had access to Cisco's collaboration (voice, video, meetings and messaging) products. I took full advantage of the support around me, from online resources to marketing colleagues to our skilled collaboration team. Getting tips and tricks from colleagues who have been using the tools has been invaluable and uncovered little gems, like the "Brady Bunch" view in Webex Meetings or the video device that allows you to see all meeting participants at the same time.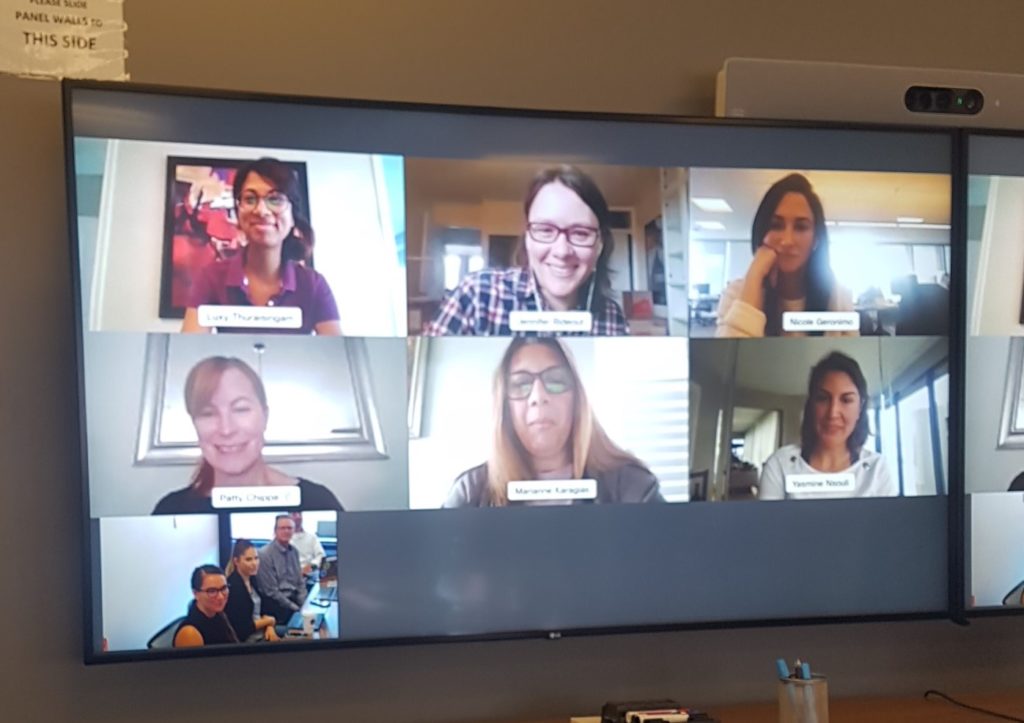 Our weekly team meeting
My first step was getting a handle on how people, especially my team, communicated. Yes, email is still very much used at Cisco. But Webex Teams is gaining users at an exponential rate. With Webex Teams, I can connect with colleagues in a more informal, conversational way, either 1:1 or in groups. So rather than a "reply-all" apocalypse in my inbox when it is someone's birthday…those messages are contained in a single Teams space, with a single notification, and I can quickly scroll through to enjoy the birthday gifs.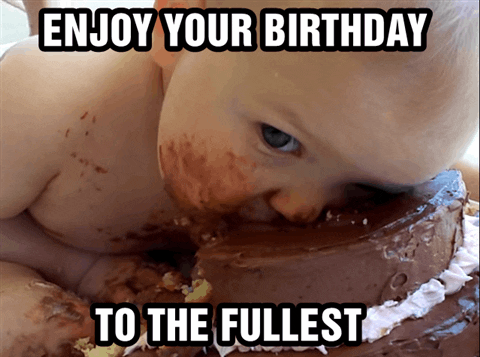 A favourite gif
Like email, I can share files in a Teams space. Unlike email, using One Drive or SharePoint online, everyone in the space can edit the file without worrying about version control or not looking at the latest version. It is automatically updated with any changes.
Email and messaging apps like Webex Teams have not made in-person or face-to-face communication redundant. Meetings are always going to be needed. Sometimes a quick chat can resolve an issue that would have taken 25 emails or messages. Establishing a personal relationship is important to how I work, how I build trust, and how I develop a strong, cohesive team. To do this, we have created rituals that include in person team huddles and 1:1 coffee chats.  However, this is not an option with colleagues that work across the Americas.
So how do I build a relationship when we can't sit in the same room?
Video meetings.
Like my fellow video meeting evangelist, Jean-Claude Ouellet, shared in his blog post, video humanizes communications in the workplace, bringing people in far flung locations together in a way that makes it feel like you are in the same room. My office was set up with a Webex Board 55 so joining meetings was as simple as hitting the green 'join' button or saying "OK Webex, start meeting".

Global Webex Meeting statistics here 
At home was a different story. I usually work out of my home office twice a week, saving almost 3 hours commute time and giving me more time with my family. Thanks to my newfound mastery of Webex Meetings and Teams, I was able to be just as connected at home as in the office. It was easy to join meetings through my laptop, but I missed having that dedicated video device. While chatting about this to a colleague one day, she mentioned that Cisco makes desktop video devices which double as a second monitor – the DX 80. Having one for my home office has been life changing. Like the set-up at the office, the DX80 prompts me when it is time to join a meeting and all I do is click the green button and voila! meeting started, in HD with crystal clear audio, no less.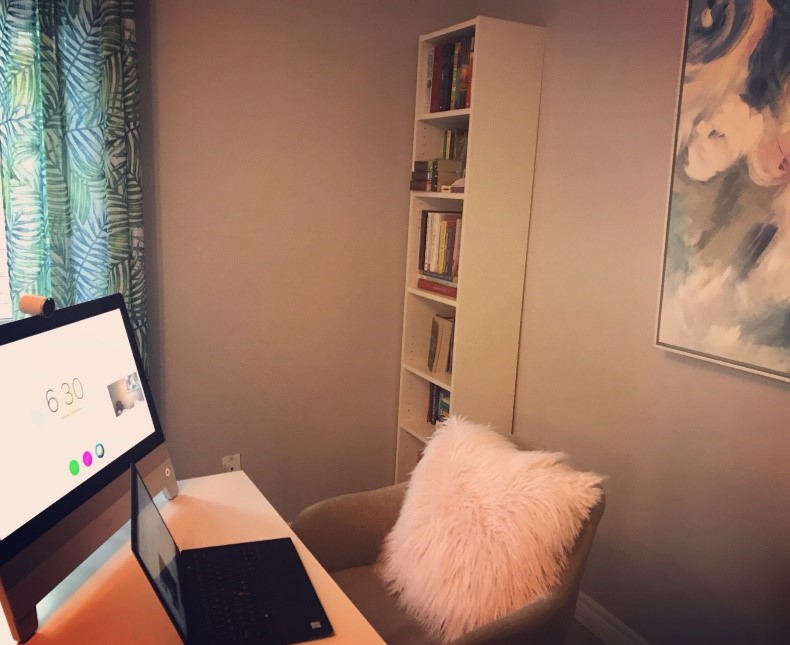 My home office
When I am in meetings all day, it lifts a bit of weight from my shoulders by giving back some time and reducing the number of times I check my calendar to make sure I'm not missing a meeting.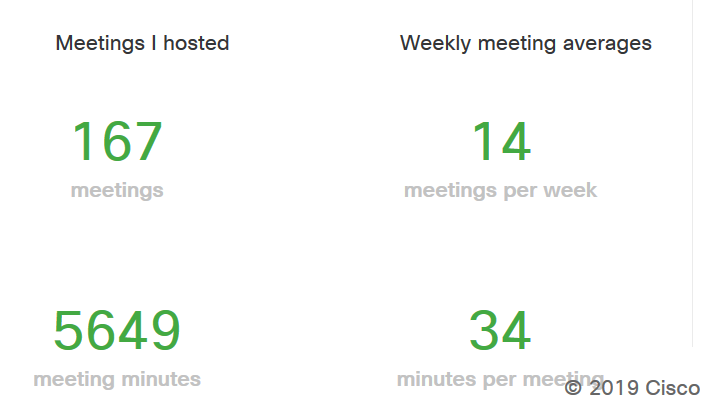 My Webex Meeting stats – and these are just the meetings I host!

My work timeline is now separated into two eras: pre-Cisco and Cisco. Like taxi services before UBER or hotels before AirBnB – I didn't know how much better it could be, until I experienced it first-hand. My experience at Cisco has re-defined collaboration and enabled me to truly connect across boundaries and borders!

Tags: