Life at Cisco
#1 Best Place to Work
Around the world, every day millions of people get out of bed and go to work. Some drag their heels, while others jump out of bed at the thought of a new day, an opportunity to make a difference. Since joining Cisco, I consider myself the latter. I've said I'm obsessed with this company because of its rich culture; a culture that is rooted in creating a world of potential for our people, society and planet.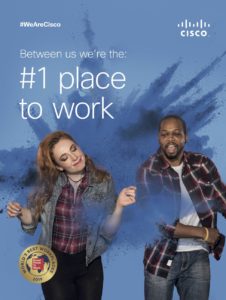 Recently, Great Place to Work – a global leader on building, sustaining, and recognizing high-trust, high-performing workplace cultures – conducted their largest ever study of global workplace culture. More than 8,000 organizations participated in the survey, representing the perspectives of more than 12 million employees. And this week, Cisco was recognized as the #1 Best Place to Work in the World!
What an incredible honour for every one of our more than 70,000 employees around the globe. What a reason to get out of bed!
(Read the Twitter Moment now to see what people had to say)
As I've said before, in a world where technology is changing everything, one thing that will remain the same is the importance of the human element. It's what distinguishes Cisco from the pack. We're a technology company that is helping to transform the way we work, play, live and learn. But we know that it's not our technology that gives us an edge; most importantly, it's our people.
With our eyes cast towards building a culture of the future, Cisco focuses on four key elements:
Diversity and inclusion: A strong culture requires continuous evolution and adaptability, which is why diversity is so crucial. A diverse workforce means different experiences, ideas, and approaches. In order to survive and thrive, we need to embrace diversity of thought to push us to grow and evolve.
Hire for EQ and train for IQ. In the age of the machine, what makes someone stand out is their emotional quotient – their ability to connect with, lead and inspire others. At Cisco we harness and nurture EQ to ensure the adaptability of our people.
Equip our employees with the tools to succeed anywhere, at any time. This means that if an employee needs to care for a sick child, lives outside an urban area or works remotely, our Webex collaboration tools give them the flexibility to succeed.
Make a meaningful difference. We do the right thing by cultivating our communities so that employees are proud to work at Cisco. We do this by:
Recognizing that mental health is health by extending benefits coverage, and providing workplace training and resources to better care for our employees' wellbeing. Additionally, we're leveraging Cisco's technology to enhance access to mental health services for Canadians in need.
Investing in our communities through our Connected North program which provides live, virtual education, and youth mental health and wellness resources to schools and students in remote, Indigenous communities.
Supporting economic development initiatives including investments in IT skills building. Most recently, Cisco announced a $15M investment towards Western Canada's digital transformation.
Creating awareness on the importance of attracting and retaining global talent to help build Canada's workforce of the future. We've partnered with governments to invest in re-skilling our labour force through our Networking Academy program.
Giving our employees paid time off through our Time2Give program that encourages them volunteerism for causes that mean the most to them.
While we've always known that we work for the best company, now the world knows it too. It's a great reminder of why I jump out of bed and bring my best self to work each and every day.

Tags: