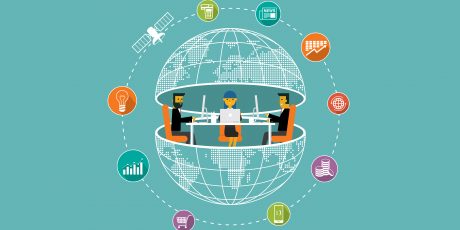 Enterprise Networks
Meet the Cisco Canada Solutions Architect Who is Part of Internet History
I can truly say that I love working at Cisco for a lot of reasons: the constant innovation and newness that this organization never fails to bring to the table is definitely up there on the list (we have our very own R&D center, right in our own backyard in Kanata, ON).
The work-life balance isn't too bad either—something that's so entirely embedded into our culture, we have a people deal manifesto built around it. And the pure nature of my role allows me to continuously act as a sponge, picking up new learnings as this industry continues to evolve more rapidly than ever…there's never a dull moment.
But for me, perhaps one of the best reasons how we differentiate from other technology companies is the sheer number of such talented, brilliant women in our organization that inspire me on a daily basis. I caught up with Cisco Canada's Lila Rousseaux—a Senior Technical Solutions Architect (TSA) who has spent the last 20 years in the industry working with a variety of customers and partners specializing in core routing, switching, and intent-based networks. In lieu of International Women's Day, I was curious to hear how she got started, what it's like to be a fierce female at the forefront of our products and solutions, and where we're headed next.
N: Tell me, how did you get started in your career? Did you always have a passion or knack for technology?
L: I have a Master's degree in Computer Science, from the University of Buenos Aires. I wouldn't say that I always had knack for technology, but I did have a knack for numbers… I was good at it. When I was a kid I lined up all of my dolls and would 'teach' them math, or my friends, but studying math alone didn't take you very far from a job perspective at the time.
Both of my older cousins studied Computer Science, which appealed to me because math is a big part of it (1/3 of the curriculum). I started to really enjoy computers, then programming. While studying at University I had a job programming and making quite a bit of money. But there was this group in the faculty doing some 'dial-up thing' to the US where you could get email, which caught my eye. This group worked in a small room in a corner of the faculty, and I started showing up trying to understand what was going on.
Long story short, they offered me a job. I accepted, making much less than my current job. But this group actually connected the first point to point / dedicated link for the country; it was the first real connection to the internet in Argentina. I didn't really know it at the moment – but I was a part of the history of internet in my country. With this same group we then built the first network of all the national universities… using Cisco routers of course!
As for my career at Cisco, I started in Cisco Argentina in 1999. One of my first wins was a very big ADSL network for a very important service provider. In 2002 I moved to Toronto with the plan of having a 2-year international experience. However, I loved it so much here that I decided to stay. I love Cisco Canada and I love Canada in general. Well, the cold weather not so much [laughing]. I'm now a proud Canadian citizen with two Canadian boys!
N: That's really amazing, honestly! So what do you think now excites you most in your role at Cisco, and what challenges you?
L: What excites me the most is the ability to always learn new things, new skills—I can have the same title of a Technical Solutions Architect for years but be exposed to so many different things. Our technology is always changing, and therefore so does the way we interact with our customers, or even the type of customer we're working with. I'm part of an advisory board for the Enterprise Networks BU [business unit] where we provide input on product strategy and career development for our engineers. I am also a speaker at our Cisco Live series, so that allows me to always be challenged. It's one thing meeting with or speaking to a small group of customers here in Canada, versus two hundred people in the audience [at Cisco Live]. And that keeps it fun.
N: If you think about your career, your move to Canada, etc.- what stands out as one of your most memorable projects?
L: For me – memorable isn't really per project, it's more about me making a real impact on the people that I've helped or worked with; my colleagues, partners, and customers. When someone randomly stops me to tell me they remember me from presenting a couple of weeks back, or a new colleague wanting me to mentor them. That's the stuff I come home and talk to my kids about at the end of the day – that I did something for a person… that's what resonates with me.
But I guess it's hard to think of anything more memorable than that first connection in Argentina, it was a historic moment. After that, for me it was hard to beat [laughing].
N: No doubt about that! Well it sounds like you influence a lot of people around you. Who do you think influences you from a personal or professional standpoint?
L:  People who I respect. My mentor is a DSE – a Distinguished Systems Engineer—and I try to emulate a lot stuff that he does. But I also take cues from managers and peers. I'm in awe of so many people at Cisco.  There are also a few speakers at Cisco live I can think of who have really influenced me in the past, and how they present. And how Rola [Cisco Canada leader] came in and just totally disrupted what we were doing in Canada from a business perspective, people perspective, and her positive energy. And then my Dad, actually, too. I learned a lot about work ethics and developing a 'can-do' attitude from him. I think if I can learn from people's behavior and strive to be a better person from it, that's what influences me.
N: Let's go back to the technology. What are you most excited about when it comes to some of the current trends we're seeing in Enterprise Networks, and what do you anticipate making a big impact in 2019?
L: There's a lot to be excited about! Right now our main focus is around expanding our intent-based networking portfolio, which takes a software-delivered approach to automating and assuring services across networks. I think when we first announced the Catalys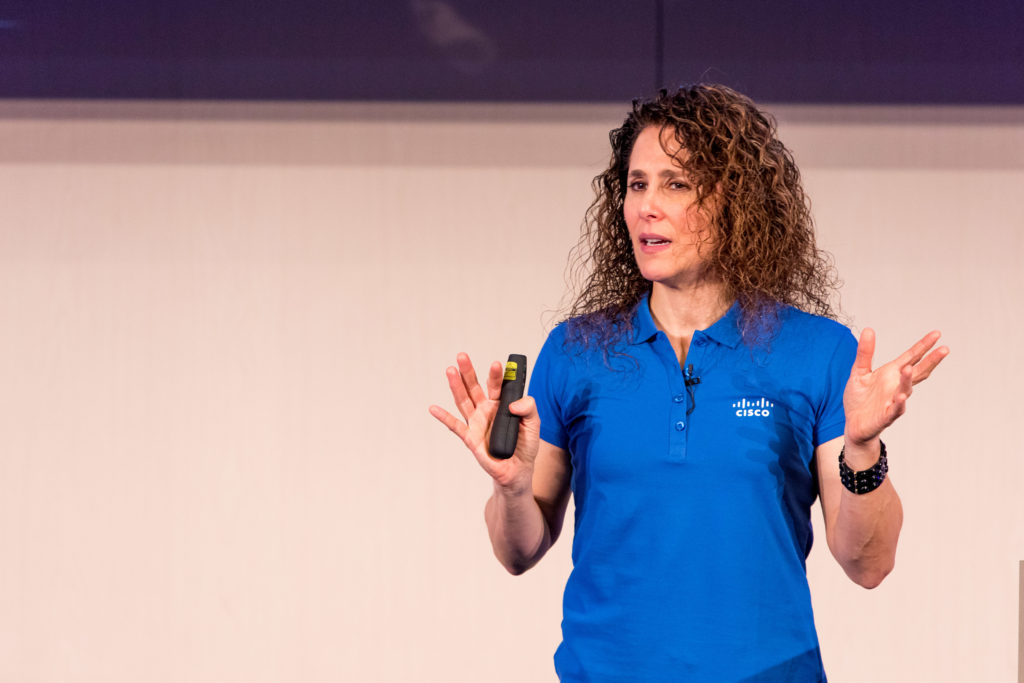 t 9k a couple of years back, that really became a significant turning point for us. Suddenly we weren't just a hardware company anymore. That in itself is pretty big. I also think that with the rise of multi-cloud we're seeing security being part of the network conversation more up front, and the importance of analytics providing that full end-to-end visibility. Our networks are going to keep getting smarter, and it's not just an IT conversation anymore… it's become a business outcomes conversation. And new technologies are being introduced that will have significant impacts on how individuals access the Internet and campus networks with 5G and Wi-Fi 6—which should really improve user experiences.
N: What advice would you offer to young women who want to pursue a career in STEM?
L: When we do our Girls Power Tech sessions in the office, I always say to them: talk to people who are actually doing the job. Don't just assume or go with a cliché of what you think engineering is. Don't be concerned that it's 'too male dominated'… try find out about what's really happening in the field, or areas you're interested in. There's so much variety in what's out there from a technical perspective—it's really a great time right now for the younger generation.
N: So what's next? I heard you re-certify your CCIE every 2 years – any big exams coming up for you in the near future?
L: I'm done! I've renewed my CCIE until 2020. Even though I'm not in exam-mode right now, training and education are always top of mind for me. I do a lot of ad hoc trainings, where the product team or engineers will keep me updated and have me testing stuff hands-on… we have a great relationship that way. And of course customers and partners always keep me on my toes [laughing].
Happy International Women's Day!
>>Click here to watch a recap of our recent #CiscoChat, Women in Technology: Building Bridges to Possible
>>Opportunity awaits. Take the first step; learn more about Cisco Network Academy
#IWD2019 #BalanceforBetter #WeAreCisco #WomenInTech

Tags: