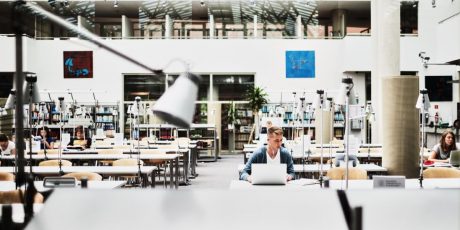 Enterprise Networks
SD-WAN: Laying the Foundation for 21st Century Learning
Looking at the current education landscape, it's so interesting to see just how much things have changed from when I was attending school in the 90's. We definitely didn't carry around laptops or tablets back then (Hilroy notebooks for the win!), and online resources were pretty scarce, or—unheard of—in most cases until much later on in my academic career. It was a different time.
But the demands of the future—and of the present—are entirely redefining the learning experience with technology at the forefront. Both students and educators are becoming increasingly mobile with the rise of digital curriculums and connected devices in the classroom and on the go.
Fact: 78% of students agree that technology contributes to the successful completion of their courses. Students and educators require access anywhere, anytime, and on any device. Yet many institutions are slow (or hesitant) to implement change.
In a new world where information is shared and consumed in new ways, the network too must evolve to meet the growing demands of a new ubiquitous standard of learning.
From an IT perspective, the wide network area is the backbone of how information is shared and received across multiple sites, or campuses. Until recently, the only option to guarantee performance and efficient traffic flow was through traditional MPLS connections, but with more devices, users, and new applications emerging in a multi-cloud environment, this approach is no longer scalable or sustainable. And as digital resources become more and more content-rich, the demand for additional bandwidth to deliver these will grow exponentially. In Ontario alone,  the Ministry of Education recently established a mandate to provide for 1 Mbps for every student—but currently only meeting 10% of the target goal (source: OECM).
In our always-on world, how can our school's networks keep up with the pace of change? The answer: SD-WAN.
Modernizing the WAN with a cloud-based approach
SD-WAN (Software-Defined Wide Area Networking) gives IT the ability to manage WAN infrastructure to deploy new networks faster, reduce day to day operational costs, as well as prioritize critical applications—such as those which deliver online curriculum or lessons. The software-defined piece essentially means that decisions about how traffic can route between all the sites in the WAN is now defined by policy, and its behavior adapts to the condition of the WAN as opposed to having a fixed configuration. It trumps MPLS from mainly a budget efficiency and agility perspective with higher bandwidth, better reliability, and improved Quality of Service (QoS).
Without a doubt, the most notable and innovative feature behind SD-WAN is zero-touch provisioning. One of the main challenges for IT staff is managing oversight of branch networks and multiple locations—without having to send a technician every time routers need a tune-up or replacing. The ability to configure and manage branch routers from a central point—a single pane of glass approach—alleviates much of the time and travel expense of maintaining traditional MPLS WANs. This also means speeding up the deployment time across multiple or remote locations, making it easier to connect any user to any application across any cloud.
For the education industry in particular, SD-WAN opens the door to provide more relevant and immersive experiences for students, while keeping sensitive data and / or research secured across all devices. For those organizations and institutions undergoing transformation or looking to modernize their network infrastructure, here are some other benefits to consider:
Faster connections with a seamless user experience and predictive performance across distributed locations;
Roll out new services and applications in minutes – eliminating the complexity of manual or box-per-box configurations;
Reduced risk with security everywhere: Protect your campus from internal and external attacks with embedded threat detection;
Flexibility to control or tweak bandwidth at each individual location;
Increased administrative and management efficiency using analytics for traffic patterns and effective resource planning
The rise of cloud-based app and IoT is disrupting existing wide area networks across all industries, with education being no exception. The need to increase bandwidth, optimize cloud connectivity, and ensure end-to-end security is challenging with traditional WAN architectures. Further to this, the disparate and siloed nature of WAN infrastructure makes it difficult to maintain full visibility of applications, users, and devices across the network.
Gartner estimates that "by 2020, more than 50 percent of WAN edge infrastructure refresh initiatives will be based on SD-WAN versus traditional routers. SD-WAN is safer, significantly cheaper, and will save the organization time and resources in the long haul.
As students continue to expect a digital experience that mirrors the one they have at home and in their personal lives, institutions must adapt and implement new solutions to fuel anytime, anywhere learning and engagement. And it all begins with the network.
Interested in learning more about SD-WAN? I've got you.