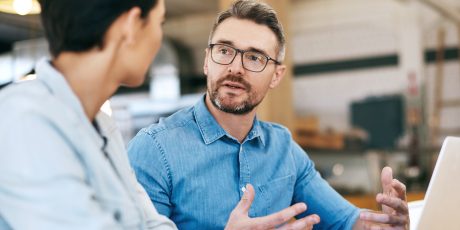 Small and Midsize Business
Looking for a Technology Partner? Here are 5 Key Questions to Ask.
So you've decided to invest in IT solutions for your small or medium-sized business, but now what? Despite the pervasiveness of technology in our personal and work lives, it can still be daunting to take those first steps toward procuring the right tools for your business. But with so many vendors and products on the market, many SMBs choose to work with a reseller that can provide advice and help determine the right solutions for their business.
There is great potential for SMBs to build valuable, long-lasting partnerships with resellers. But how do you make sure to pick the right technology reseller? Her are five questions you need to ask (and get the right answers):
1. Do you specialize in working with small and medium-sized businesses (SMBs)?
Not all resellers cater to SMBs, and those that are more familiar with large enterprises may not be able to provide you with the necessary guidance. So ensure that your reseller partner specifically focuses on providing technology solutions and support to SMBs. It can also helpful if your partner of choice is an SMB as well, as they are more likely to understand the business challenges you face and the goals you have in mind. Things to consider: do they have the training, support and services to design, deploy and optimize networking solutions for SMBs? Do they stay up to date on the latest software and hardware changes?
2. What do I need to add to my network?
A good technology partner will be able to assess your business requirements and evaluate your current systems and network infrastructure. From there, they will be able to present solution options that will meet your needs today, grow with your business over time, and fit within your budget.
3. How can I minimize my overall costs?
A worthy partner should always be looking out for your bottom line, and help you minimize costs when possible. For example, they can recommend an end-to-end solution from one vendor such as Cisco, which is easier to maintain and support than a piecemeal, multivendor solution. They should also be able to provide budgeting insight to take into account all the cost factors, such as any software not included with your hardware purchases; maintenance; training; support; additional staff (if needed); and other factors. A strong technology partner can help you budget effectively for all direct and indirect costs related to your network enhancements.
4. What happens if there's a problem?
Ask your partner detailed questions about the support they provide after the sale. For example: Does the partner offer after-hours or emergency support? If so, during what hours is that support available? The specific support levels offered should be detailed in a Service Level Agreement (SLA).
5. What do we need to do to prepare?
Before the installation, ask your partner what information — about your network, users, business procedures and security requirements — they need from you to make the network upgrade go as smoothly as possible. Also ask your partner what common oversights or challenges businesses like yours typically face when upgrading their networks, and how you should prepare for them.
Cisco has a network of certified partners who specifically focus on providing technology solutions and support to SMBs, to make choosing your technology partner a little easier:

Tags: