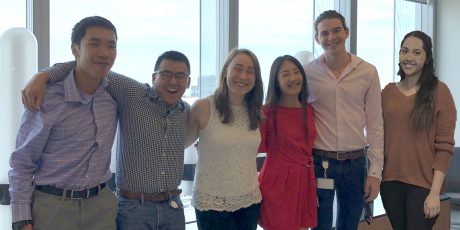 Life at Cisco
Summer '18 at Cisco
One of the first thoughts that popped into my mind right after clicking "Accept" on my University of Waterloo program offer was that while my friends get to relax and tan every summer, I have to work full-time jobs. Don't get me wrong – getting valuable job experiences is one of the reasons why I chose this school, but being an 18-year old, of course I was a little sad to give up the precious sunshine. To my surprise, my first co-op job has exceeded all my expectations and given me a summer that I'll never forget.
My name is Ruby Tang, and I just finished a very tough first year in University of Waterloo and Wilfrid Laurier University's double degree program in Mathematics and Business Administration. All through high school, I was indecisive on what I wanted to do – finance, engineering, and medicine are all quite different – so I thought that being in two programs at the same time would broaden my horizons. Working for Cisco's Women Entrepreneurs' Circle program, just like my education, is an opportunity that once again gave me abundant resources to explore.
My job at Cisco has been anything but typical. I work with two small business owners at the beautiful Cisco office in downtown Toronto, which strikes the perfect balance between entrepreneurship and the corporate environment. My main focus is to help Lise and Lara, the two entrepreneurs I am paired with, with their digital strategies in order to grow their companies.
Lise, of This Space Works, is a driven and energetic lady with tons of new ideas, always pushing me to think deeper and make connections. This Space Works is a B2B company based in Toronto connecting businesses that have unused spaces to customers who want to change up their meeting venues. For Lise, my task is two-fold: to help improve user experience for the new website and back-end bot currently being created, as well as to use social media platforms to attract new customers and drive summer sales.
Lara, the owner of IT Experience in Montreal, is the sweetest CEO you'll ever meet. Her business is an established recruiting firm for IT personnel in the Quebec area. She trusts me immensely with the redesign and rebuild of the company website, and is always available to support me. For IT Experience, I am learning for the first time how to brand and market a business through web design, in a landscape as competitive and saturated as this one.
The exposure to Cisco resources in addition to working for these two businesses is the cherry on top for my summer. Of course, the technology that I'm able to use is of great help in my tasks. But more importantly, it's the people at Cisco that I love.
This year, there are six co-op students hired from University of Waterloo, and we all work alongside each other. Even though we're all from the same school, everyone is in different programs and getting to know each other for the first time. Never have I imagined meeting five kids that I'd become such close friends with in one co-op term, all with diverse skills, interests, and talents.
The summer interns helping out at Cisco Girls Power Tech Day!
Even more, not only do I get to befriend people my own age, I also get to make meaningful connections with Cisco employees. Through numerous mentor meetings, I learned about Cisco as a multi-national corporation and the wide variety of positions people uphold here. I've been given the chance to shadow customer meetings such as the Peel Region long-term care smart facility briefing, attend learning events like DevNet Express, and discuss my own future interests and goals with people both early and late in career. For someone unsure of her future, these opportunities are beyond valuable – they are literally life-changing.
If there's anything Cisco's welcoming and supportive culture makes me think of, it's a famous line from a Dr. Seuss poem. "Oh, the places you'll go!" perfectly encapsulates my feelings towards succeeding in this role, and I plan to carry this experience with me for the rest of my career.


Tags: