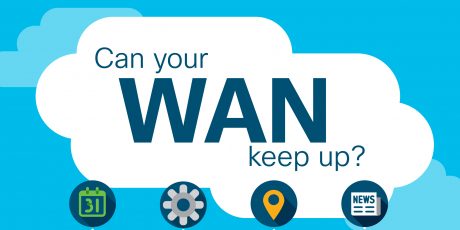 Retail
How SD-WAN is reinventing the retail IT environment
It's overdue, but retailers are finally beginning to reevaluate their traditional IT environments.
Why? Cost (cloud and subscription-based solutions require less capital to deploy), staffing gaps (too few IT staff to manage networks at every location), and security (guest Wi-Fi and devices present new cyber threats).
But there is another reason. And it's also the most significant driver of the retail industry today: the customer experience.
Consider how the typical shopper interacts with a retailer. Before ever making a purchase, they may follow them on social media, sign up for email promotions, and visit their website. If they visit in-store, customers expect free Wi-Fi so they can take compare prices, take photos to share on social media, and locate the email coupon they received. They also expect store associates to know where a product is (and whether it is in stock), and that their loyalty and past purchase information is reflected in the experience. In short, shoppers expect a personalized, seamless customer experience that accounts for their relationship with you.
(Not sure why customer experience is so important to the future of retail? Read this post.)
All of this brings me to the network. The backbone, literally, of a company's IT environment upon which every application runs. To deliver the customer experience described above, a retailer likely requires video applications, a data analytics resource, CRM software, and specialty software for retailers from a vendor such as Tulip or Phunware.
All of this needs – you guessed it – a network to run on. In fact, without a network made to handle the increased traffic required for these applications, none of it would be possible. Guest Wi-Fi becomes slow and unusable. Data ceases to be available in real-time, making it impossible for associates to know which customers, and products, are in the store. Video consultations with experts stop entirely.
If this were a math equation, it would look like this: IT Network = Customer Experience.
Cue SD-WAN. Aka "the software-defined wide-area network." SD-WAN is a relatively new software-based approach to managing wide-area networks (networks that span multiple locations, such as retail stores). The deployment of SD-WAN in retail IT environments is gaining traction because these networks address all of the challenges facing retail business owners: SD-WAN deployments cost less, provide better application experiences, and offer robust security features.

In addition, Cisco's SD-WAN solutions offer policy-based configuration, automated bandwidth prioritization, and allow IT managers to reroute traffic to improve service.
Perhaps we should rewrite that math equation.
SD-WAN IT Network = Customer Experience.
That's better.
Learn more about our SD-WAN solutions now.
---
Like what you see? SUBSCRIBE NOW and never miss another post.

Tags: