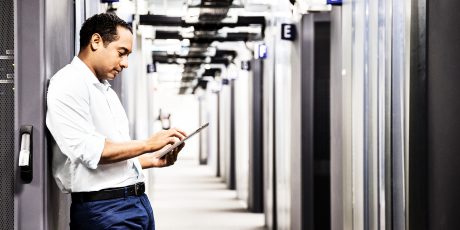 Small and Midsize Business
How to select the right cybersecurity solutions for your business
Cybersecurity should be the top concern for small business executives. In addition to the costs associated with a data breach, small businesses often suffer damage to their reputation, brand loyalty, and future revenues. Depending on the report you read, a single data breach can cost a small business from $14,000 to more than $100,000.
To help small and growing businesses understand which cybersecurity solutions are essential, we spoke with Insight Canada. Insight was recently named Cisco's Canadian Commercial Partner of the Year, and the company has 30 years' experience working with Canada's largest organizations.
Jump to the full interview with Insight here.
What are you hearing most from smaller and mid-sized organizations regarding cybersecurity and their security posture?
Insight Canada: We try to have a cybersecurity discussion with all of our clients. The most common statements we hear, and how we address them, are described below:
"We have a lack of commitment and support from top management on investing in security solutions."
Answer: To demonstrate the business benefits of cybersecurity solutions, IT leaders must build a business case and present it to their executive/ownership teams through proof of concept/proof of value scenarios. Our experience is that this helps top management understand why investments like these are required.
"We have a shortage of qualified people with the right security skillsets."
Answer: Small businesses do not need security engineers at all times. There are easy-to-use and easy-to-manage security solutions that take the pressure off in-house IT staff, while keeping everything secure and managing costs. Trusted partners like us have the expertise to help organizations build and execute a security strategy, without breaking the bank.
"There are too many single-purpose solutions, and none of them talk to each other."
Answer: There are vendors that provide multiple cybersecurity solutions to alleviate this problem. We partner strongly with Cisco in this space because organizations can get perimeter security, email security, and endpoint security from one provider.
"There are too many vulnerabilities to keep track of."
Answer: We agree, but by deploying the right solutions and security strategies, businesses can eliminate 99% of vulnerabilities.
You have 2 minutes to explain the importance of cybersecurity solutions to a business owner. What do you tell them?
Insight Canada: Most organizations today are enabled, and empowered, by technology. The security of your client data and your intellectual property should be your number one technology priority. A security related event, even for a small business, can end up doing irreparable damage to a brand and expose client data, intellectual property, and trade secrets.
Security events pose an existential threat to your business, and will not only damage your brand but also expose you to potential litigation from your partners, clients, and suppliers due to lost revenues and data theft.
---
Like what you see? SUBSCRIBE NOW and never miss another post.

Tags: