Manufacturing
Beyond the Barrel: How Data and Analytics will become the new currency in Oil and Gas
As commodity prices continue to stay lower, longer, the Oil and Gas industry is facing continued pressure to improve operational efficiencies and reduce capital expenditures.
CAPEX has dropped by approximately 25% since 2014. The easy cost savings have been achieved, but simply reducing headcount and maximizing production throughput by "squeezing" existing assets is no longer a sustainable long-term strategy. For this industry, the next step is automation. From the wellhead to the gas station, automated operations will determine who succeeds in the long term.
When compared to the level of automation present in other industrial and capital-intensive industries, such as manufacturing and automotive, the oil and gas industry lags far behind. These industries have digitized multiple aspects of their business through the holistic application of digital technologies. The opportunity for oil and gas companies, now, is to leverage the transformational impact of digitization that has become more evident.
Digital transformation will be evolutionary rather than revolutionary, but one of its pillars has the potential to dramatically change how oil and gas operators manage field operations: edge analytics.
The Size of the Prize
Big data and analytics can help our industry innovate by supporting companies in the analysis of structured and unstructured data from many sources, in near or real-time, to drive operational decisions. Cisco is helping bring the oil and gas industry closer to its peers in manufacturing, who already embrace analytic driven business decisions.
According to a McKinsey report, the Internet of Things (IoT) – of which analytics are a huge component – brings with it a total potential economic impact of $3.9T to $11.1T by 2025. Nowhere will this be felt as significantly as in the energy sector, where the economic impact of leveraging connected devices and analytics could reach $930B from mining, oil and gas companies in the next ten years.
Data is not the problem. Moving it is!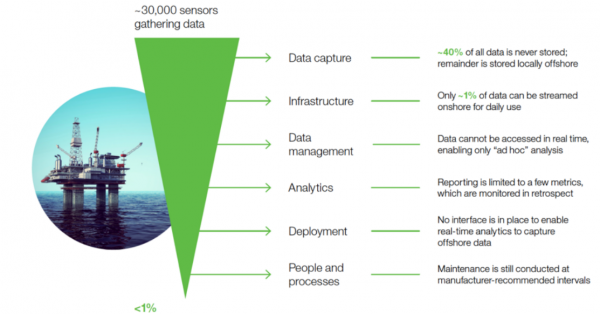 A single drilling rig can generate over a terabyte of data daily, but less than 1 per cent is ever analyzed and used for decision-making.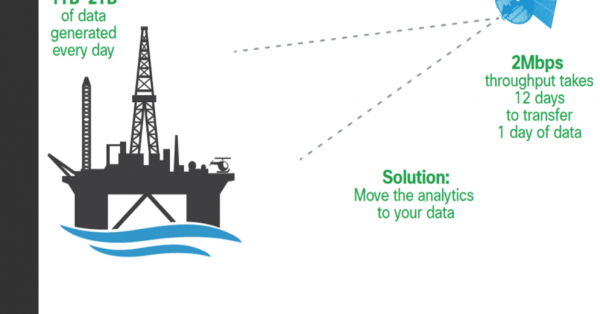 So where is the other 99 per cent going? Nowhere.
The real challenge lies within the inherit geographical nature of the industry. Whether a rig is offshore or operates remotely in northern Canada, moving large amounts of data to a central data centre to apply analytics is simply not practical. The communication link, assuming it's a satellite connection, would take 12 days to send a single day of data from the rig to the data centre. Additionally, latency is an issue because the usefulness of data is often lost if not used immediately — particularly data related to platform efficiency and safety.
Though sensors have become inexpensive and are widely used, the sheer volume of data being produced has become unwieldy. Massive amounts of data are being created at the edge of the network:
Utility companies may process 1.1 billion data points per day.
A large refinery generates 1TB of raw data per day.
A single large offshore oil rig can produce terabytes of data daily.
Oil and gas operators need to find a way to get the insights they need from data, despite the fact their equipment may be remotely operated, have an intermittent network connection, or be in a location where bandwidth costs are high.
What if your network was your analytics engine?
According to Deloitte's Technology officer, Robert Schmid, "By 2025, 45 per cent of IoT-created data will be stored, processed, analyzed and acted upon close to or at the edge of the network."
Performing analytics closer to where data is being gathered is ideal for many oil and gas operators. Edge analytics, also known as edge or fog computing, can help an organization leverage existing networks that have compute capability embedded. The network becomes the compute platform: collecting, analyzing and acting on the data produced by your machines without needing to send it to your data centre first.
Edge computing is ideal for oil rigs, factories, mines and plants, where time is of the essence but bandwidth is often lacking. And Cisco's edge computing solutions are now part of Cisco Kinetic.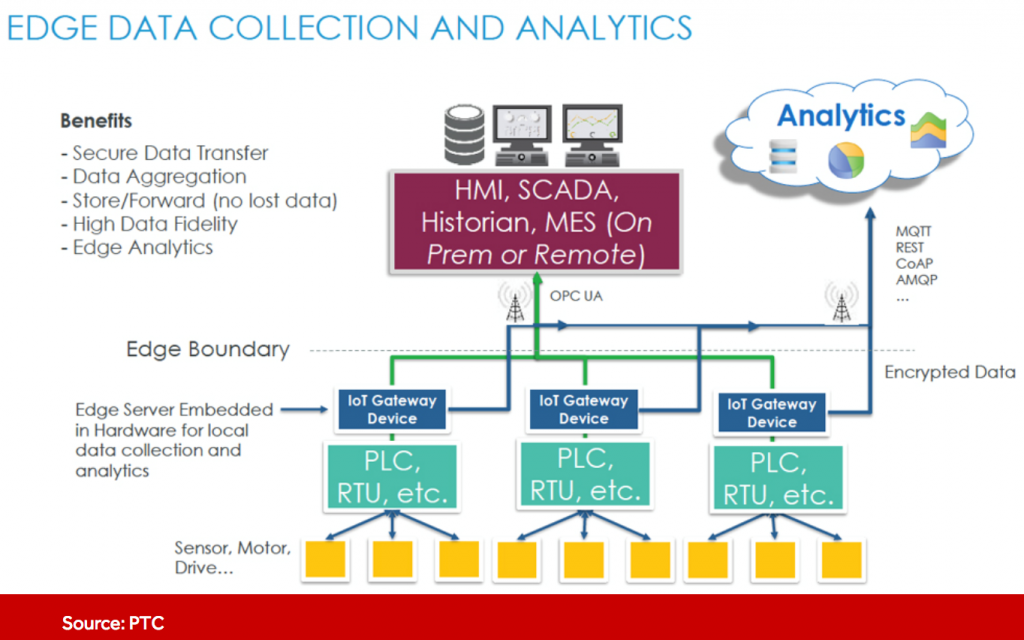 Cisco Kinetic
Cisco Kinetic provides a single operational view of your IT and OT environments along with your broader network of IoT devices. It includes an embedded, operational reporting and visualization dashboard and, because it is sensor and system vendor agnostic, can collect and analyze information from all types of plant devices, applications and assets. Kinetic provides automated near real-time alerts on gas measurements and equipment performance, leading to optimized equipment maintenance.
Cisco Kinetic performs three key functions: it extracts data from its source; it computes data anywhere in the network, from edge to destination; and it moves data to the applications and business intelligence systems.
By doing analytics in real or near real-time Cisco Kinetic can:
Improve reliability and manage risk: Minimizing the risks to health, safety, and the environment by reducing disruptions.
Optimize operations: increasing productivity and optimizing the supply chain through the cost and capital e cadency of business operations.
Create new value: exploring new sources of revenue and competitive advantage that drive business transformation.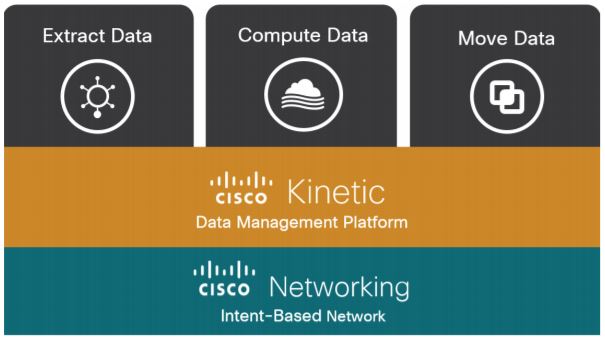 Oil and gas operators must act. Those that leverage digital technologies such as Cisco Kinetic and edge computing to simplify, automate, and optimize operations will be at the forefront of industry transformation. They will thrive in volatile market conditions. Competitors will merely fight to survive.
---
Like what you see? SUBSCRIBE NOW and never miss another blog.

Tags: