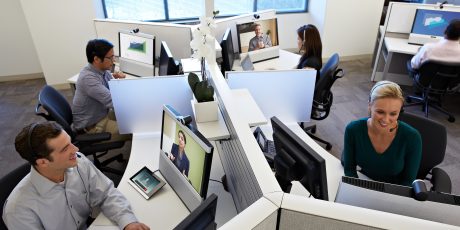 Collaboration
Top Three Contact Center trends for 2018
Customer expectations are changing. This is not ground-breaking news. Studies are showing that customer experience, whether positive or negative, has an out-sized impact on their willingness to repeat business with an organization. According to a recent CCW Digital Executive Report on Customer Experience, 62% of customers would consider switching to a competitor after only one or two negative interactions. It is vitally important to get the customer experience right – the first time. Contact centers need to evolve to meet these heightened customer expectations and help drive business growth.
Ready to take your customer care to the next level? Check out these top trends for contact centers in 2018:
AI/Chat Bots
 Robots or AI might seem antithetical to customer care and personalized interactions. But when applied thoughtfully and appropriately, they can actually improve the customer experience. According to the CCW report, wait times before connecting with a live agent is the most frequent customer complaint.
Employing a sophisticated Chatbot, powered by AI, can help to resolve this. A customer is able to serve themselves by asking a Chatbot simple questions rather than waiting on hold to speak with an agent. If the issue is too complex to be easily resolved by the Bot, the customer is gracefully escalated to an agent. Ideally, this agent would have all information gathered thus far, including answers provide by the Bot, allowing the customer to feel appreciated and grateful that they don't have to repeat information.
Want to learn more about Bots and Customer Care? Check out this blog post
Customer and Agent Experience
By the time a customer reaches out to your contact center, they have probably already searched the web and social media to find answers. They've tried everything to get answers on their own and are looking for special help with stickier, more personalized problems.
From the agent's perspective, they are no longer handling soft ball inquiries, churning out answers to easy questions and trying to get as many calls done in as short a time as possible. They have to answer different, difficult questions and find solutions to a customer's individual issue.
Agents are the heart of the Contact Center – Learn More
So how do you give both Customer Care agents and customers equally good experiences? Context Service puts agents and customers on an equal footing. A cloud-based storage service, Context Service acts a repository for customer journey data.
Great. So what does this mean? This means when you, the customer, calls or emails customer service, the agent is able to see what actions you have taken prior to picking up the phone or sending the email. This makes them better prepared to help you. It can even be taken one step further – routing a customer to the agent they spoke with previously, either with regard to the same issue or a previous one.
The Cloud
For very understandable reasons, businesses tend to be conservative with their contact center technology decisions. It is often the last area of the business to move to a new technology. As the main point of contact with customers, an organization can't risk installing a new solution without it being proven. Contact Center providers need to be rock solid – a trusted partner, with fully validated technology, and a healthy balance sheet.
So when would you put your Contact Center in the cloud? For small to midsized businesses, without the resources for a full, in-house Contact Center, the Cloud provides a cost-effective alternative. Solutions such as the Cisco Hosted Collaboration Solution for Contact Center delivers all the benefits of an on-premises contact center, but without the same CapEx costs, lengthy deployment times, and upgrades.
The newcomer to the customer care game is Cisco Spark Care. While not a formal contact center, it enables small businesses to provide digital care to their customers through website chat and call-back features. Like more robust Cisco solutions, it also features context service to provide that excellent customer experience. As it is fully cloud-based, new features are delivered all the time so your business will have the latest and greatest version with the click of the "update button"
Interested? Check out this demo of Cisco Spark Care:
2018 is shaping up to be a critical year for customer experience and contact centers need to be prepared to bear the brunt of these increased expectations.  The organization that delivers a superior experience will thrive – 25% of customers are willing to pay more for a better experience, regardless of product type (CCW).

Tags: