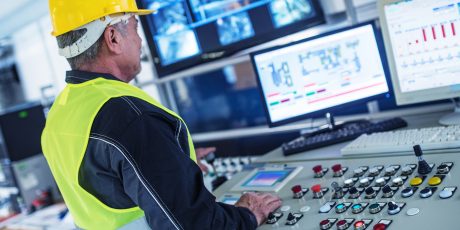 Manufacturing
IT/OT Convergence: 5 questions answered
IT/OT convergence is the integration of IT systems with the operational technology (OT) systems traditionally used in industrial environments.
For factory and IT professionals, the reality that information technology (IT) systems are being integrated with operational technology (OT) systems to better manage industrial control systems is nothing new. It is a trend, however, that has risen in popularity alongside the Industrial Internet of Things (IIoT), leading some to believe the convergence of IT and OT is a new concept.
If you have questions about the convergence of IT and OT, scroll on.



What is IT/OT convergence?
IT/OT convergence is the integration of IT systems with the operational technology (OT) systems traditionally used in industrial environments to monitor processes and devices. Put another way, IT/OT convergence is the introduction of a factory-wide IT network into the industrial environment.
Why are IT and OT systems converging?
IT and OT systems have been converging for several years. In 2011, global analyst firm Gartner had this to say about the emerging trend: "the benefits that come from managing IT and OT convergence, alignment and integration include optimized business processes, enhanced information for better decisions, reduced costs, lower risks and shortened project timelines."
So certainly, part of the reason these systems are converging is because of the business outcomes the resulting visibility and simplification of management produce when connecting disparate industrial controls to an IT network. These business outcomes include, but are not limited to, enabling real-time decision making, eliminating unplanned downtime, and securing the factory floor from cyber threats.
Another reason why IT and OT systems are converging is the emergence of the Industrial internet, or IIoT. A converged IT and OT system provides more direct control and better visibility into machine performance, as well as enhanced analytics capabilities that can provide insights on factories around the world.
What is the impact of this convergence?
There are two outcomes of a converged system: the business and the technical. The business impact – outcomes – of converging IT and OT systems include more efficient factory operations, higher machine performance, a safer factory floor, and a reduction in production costs.
The technical impact of IT/OT convergence is that manufacturing leaders – on the floor and off – need to understand what it takes to operate (and maintain) industrial networks. A flat, layer-2 network is not enough, not anymore.
Your factory needs a robust, redundant network that can scale with it, keeping your data safe in the process. I cannot underscore this point enough: the network is the foundation of this convergence. It needs to be the strongest, most reliable part of your IT stack.
How do I converge my IT and OT networks?
All roads to IT/OT convergence begin with your industrial network. Once machines on the factory floor are connected and sharing data, manufacturers can begin to make use of that data to make better decisions and improve results. This free whitepaper has great examples of how manufacturers are creating converged systems – and the results they are achieving.
What are the risks of converged networks?
The most commonly touted risks of converged systems are vulnerabilities to cyber threats, an increase in management complexity, and the transfer of factory control from operations to IT. These are fallacies.

The truth is that an industrial IT network does not increase your vulnerability to cyberattacks, does not make floor management more complex, and does not surrender control of your factory to your IT colleagues. In fact, the right IT network will not only make your factory more secure, more efficient, and give you more control – it will make the job of your operations lead easier. I delved further into this topic in a recent blog post.

Do you have questions about IT/OT convergence? Leave them in the comments.

This post is part of a continuing series dedicated to the questions that surround Industry 4.0, the Industrial Internet, and manufacturing.

Tags: