Corporate Social Responsibility
Stories of Connected North – Parr Josephee: Coming home again
This post is part of a series highlighting the Stories of Connected North, a transformative program bringing education and mental wellness resources to remote communities.
For 18-year-old Parr Josephee, coming home doesn't require getting on a plane.
Born in Cape Dorset, Nunavut, Josephee attends high school in Toronto. He moved to southern Ontario a few years ago, but maintains a connection to the Cape Dorset community by mentoring students through video sessions with Connected North.
I had the chance to sit down with Parr to find out more about his experiences as both a student and mentor in Connected North sessions, and to get his thoughts on how the program is helping Indigenous youth. An excerpt of our conversation is below.
Jennifer Rideout: You are from Cape Dorset, but attend high school in Toronto. How did you wind up in southern Ontario?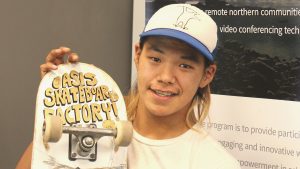 Parr Josephee: I grew up in Cape Dorset for 16 years. Then I went on an exchange trip and met an amazing guy and his mother, who worked so hard to give me the opportunity to go to school in Stratford, Ontario. So I did, and after one year I came to school here in Toronto. I go to an entrepreneurial high school where they teach us how to make our own brand and run it, so they are helping us a lot for our future. Next year I'm going to Nunavut Sivuniksavut, a university for Inuit people, in Ottawa. I want to go there because it will teach me about my culture. I like that.
"[W]ith Connected North, everyone is a student and everyone is a teacher."

JR: While in Cape Dorset, you attended Connected North video sessions as a student. What were those experiences like?
PE: The first call was cool. I was in school, one of our teachers brought us in to call someone and I remember looking at the screen and thinking 'whoa, this is like a big phone.'  Another time we connected with a school in Saskatchewan. It was pretty cool because there were quite a few kids and they were First Nations. They're kind of like us, but different. I was learning. I was teaching them, but they were teaching me. That's why I like to meet a lot of people. I learn from them and they learn from me. And with Connected North, everyone is a student and everyone is a teacher.
JR: In addition to your development as a student, has Connected North benefitted you personally?
PE: It has given me more knowledge and allowed me to see my friends in Cape Dorset. All of the people I meet in Toronto, they have a different life. They tell me something that's a usual thing for them and I'm like 'woah, that's usual to you?' because it's a totally different lifestyle in the North. So I learn from them, I get more knowledge. Then through sessions I get to see my friends. I get updated on what's happening back in Cape Dorset. I saw my old friends one time on the screen and it helped me a lot, because I felt like I was with them. I feel like we can hang out and talk about what's been happening in our lives. I feel like I'm home.
"Take every opportunity you have. People need to be less shy up North."
JR: What are the benefits of using video conferencing in the classroom?
PE: You get more connections. You meet all of these great people and find out where they are, who they are. More connections are amazing. You're learning a lot of stuff from a distance, you can actually see the object [you are learning about]. Somebody doesn't need to go up north and pay a lot of money. They can just go in front of the unit, talk, and show you what you're learning about. For the kids who can't afford anything, like me when I was up there, Connected North helps a lot.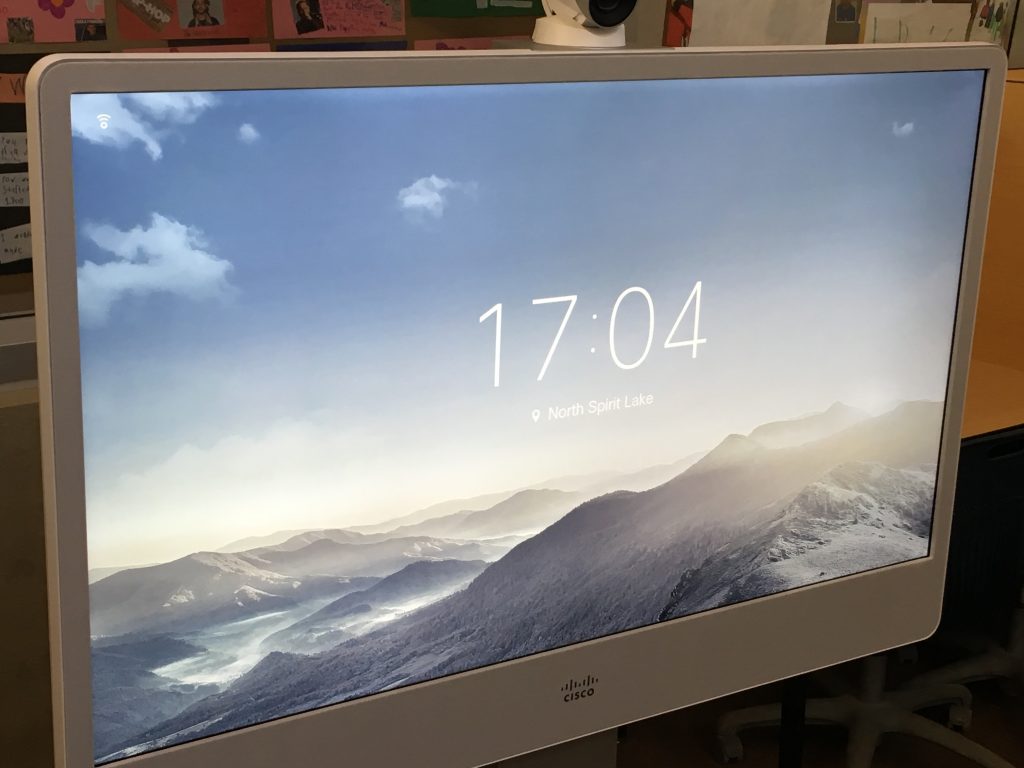 JR: You are now a mentor, running sessions with students in the Cape Dorset community. What kinds of sessions have you led?
PE: I talked to kids in Saskatchewan learning about space, and it was pretty cool. We made a guessing game about the planet. This was after their session with the NASA Space Station so it was great. I also did a session with teachers and principals, I told them what I do [at TakingITGlobal, the charity that operates Connected North] and that the Cisco sessions are amazing. It's just great, I never thought I'd talk to principals or teachers like that.
"We led a workshop on Connected North where kids made playdough snowmobiles. We 3D scanned and printed them, five times larger, and cast them out of aluminum from the burned down Peter Pitseolak School [in Cape Dorset]. The sculptures are now in the Art Gallery of Ontario."
JR: What advice do you give students in these sessions?
PE: Take every opportunity you have. If I didn't go to Stratford I wouldn't have met some amazing people. Take every opportunity. People need to be less shy up North.

JR: You're a real advocate for making learning fun and engaging. Can Connected North help kids be more outgoing?
PE: Yeah, the students are interacting with new people and that can help them a lot. When new people come, the kids act more mature. The more people and experiences that teach them something cool, something they can try and practice until they learn and get inspired, the more they learn to look at people in different ways. It makes them more curious. Kids up North come down and won't talk to anyone, but we need to somehow get them outgoing so they know more people.

JR: You are also involved with Embassy of Imagination's art project. How is Connected North helping that project develop?
PE: It helps a lot. My friends Patrick and Alexa run Embassy of Imagination with the kids, actually the kids are the ones who are running it, and it's amazing. It's collaborative art. Because we're here in Toronto and they're in Cape Dorset, it's hard to choose which kids should participate. So we did a session through the Cisco unit and we saw who is drawing and who's actually doing stuff, because they're right in front of us. We pick a theme, like sea animals, and we all think of an idea. Then we draw it out. It's amazing.

Embassy of Imagination even led a workshop on Connected North where kids made playdough snowmobiles. Their teacher brought them down south, they 3D scanned and printed them – five times larger – and cast them out of aluminum from the burned down Peter Pitseolak School [in Cape Dorset]. The sculptures are now in the Art Gallery of Ontario [AGO]. It's called Towards Something New and Beautiful + Future Snowmachines in Kinngait, and the exhibition is Every. Now. Then: Reframing Nationhood.

Versions of the sculptures are being sold to buy real snowmobiles for a local youth land trip program.

JR: If you were in charge of the future of education in Nunavut, what would you do to create the best opportunities for students there?
PE: I would find all of these great artists, everyone is an artist in their own perspective. Someone can write a book and someone else could love that book, or photographers, or even scientists, I'd bring together the best ones I could find and bring them to the school and show the kids what they do.

Tags: