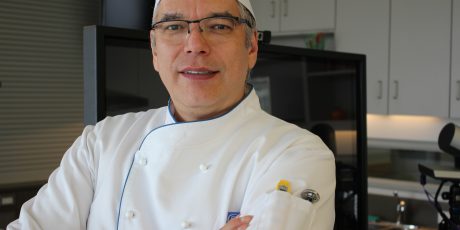 Corporate Social Responsibility
Giving Back and Sharing: Chef David Wolfman
This post is part of a series highlighting the Stories of Connected North, a transformative program bringing education and mental wellness resources to remote communities.
Chef David Wolfman is a Culinary Arts professor at George Brown College in Toronto, Ontario (and an alumnus of the program from the late 70s), an accomplished television personality, Indigenous cuisine chef, and cookbook author. Chef Wolfman sat down to discuss his career and why he became involved with the Connected North program. An excerpt of our conversation is below.
SS: You have a successful television show, an upcoming cookbook, decades of success as a chef at the forefront of Indigenous Fusion cuisine, and countless awards. You are also a mentor and motivational speaker. Which of these successes means the most to you?
DW: Writing the cookbook has probably been the most challenging of all the things I've done in my entire life, but it's probably going to have the most impact in terms of promoting Indigenous Fusion, and I'm proud of that. One of the greatest things I was ever taught was to find a career that I love, and I have a passion for food and for sharing food. I have the best job in the world, which is giving back and sharing. What other job could you ask for?
SS: What made you want to participate in the Connected North program?
DW: Students in the North don't have the same level of access to professional role models and career educators as, say, urban students do, so I thought it was important that I do my part to show the next generation of Indigenous youth that they can be successful in culinary arts and hospitality and can have a career in this field regardless of where they live.
SS: What did you do in your first Connected North session?
DW: What I wanted to do in my first class was just get to know them. I introduced myself, asked them if they had seen me before [on TV], if they knew much about cooking, and if they liked food. They all seemed to like food and a couple of them recognized me. I was just getting to a comfort level with them at first. Then in the next class I asked "Do you guys like eggs?" and "Do you make breakfast often?" and they said "No." So I did an egg class in the next session and I showed them just some basic things for handling eggs, cooking eggs, and just giving them some general knowledge about eggs and how to make a really good omelette and fried eggs.
SS: And how did they respond to it?
DW: At the next class, some of them were saying they had tried cooking eggs at home and the teacher said they were asking other questions. Then I gave them the opportunity to tell me what they wanted to cook, and they said "I'd like to see this" and "I'd like to see that." Some of the things they wanted would be a little complex at that stage for them to make, and I wanted to get it back to basic skills. So I taught them to make pancakes from scratch, because all of them had eaten pancakes (but it was always from pancake mixes). I was trying to show them that you can take these simple, simple ingredients and create a full meal for yourself.
SS: Do you mix other lessons into your sessions, beyond those in the kitchen?
DW: Learning basic culinary skills is important. Even just learning to make pancakes. All of a sudden, they learned how to make it from scratch, they can feed themselves, they can feed their families for less than if they bought pancake mixes. They learn skills, including math skills because they know 'I need 200 grams of this,' and have to ask, 'how much is that?' And I ask them questions like that to get them to do some critical thinking. Cooking requires planning, time management, and problem solving, too. But I think the most important skill that I'm giving them – that they're giving themselves actually – is confidence…confidence that they are actually talking to me. At first, they weren't even looking at me or the camera but just walking in front of it. So those were some of the challenges. Now they are coming in and asking, "Hey can we make this next week?" They are throwing questions at me in between my cooking instructions. I'm not even getting as much of a chance talk since they are asking me a lot more questions, which is great.
SS: How would you describe the value of the Connected North program?
DW: To me, what I think is valuable about Connected North is the sessions not only give them confidence but self-esteem to grab a knife, to grab a frying pan, and take charge instead of just going to a store and buying something that's already made, and that they can take some raw products and assemble them together. It's important for them to know that they are in control – that they can go to the cupboard and pull out certain things and use them. I also tell them, "You can be creative." Like when they say, "I don't like mushrooms," well, "Don't put them in!" Right? And they are like "Really?" "No, you can put in other things" I say. So giving them that self-esteem that they can come up to the camera and tell me they have an apron now. That's a great thing to hear. Especially when they come and they say "I like what you made, but I've changed it this way." To me, that's one of the best things.
SS: What do yo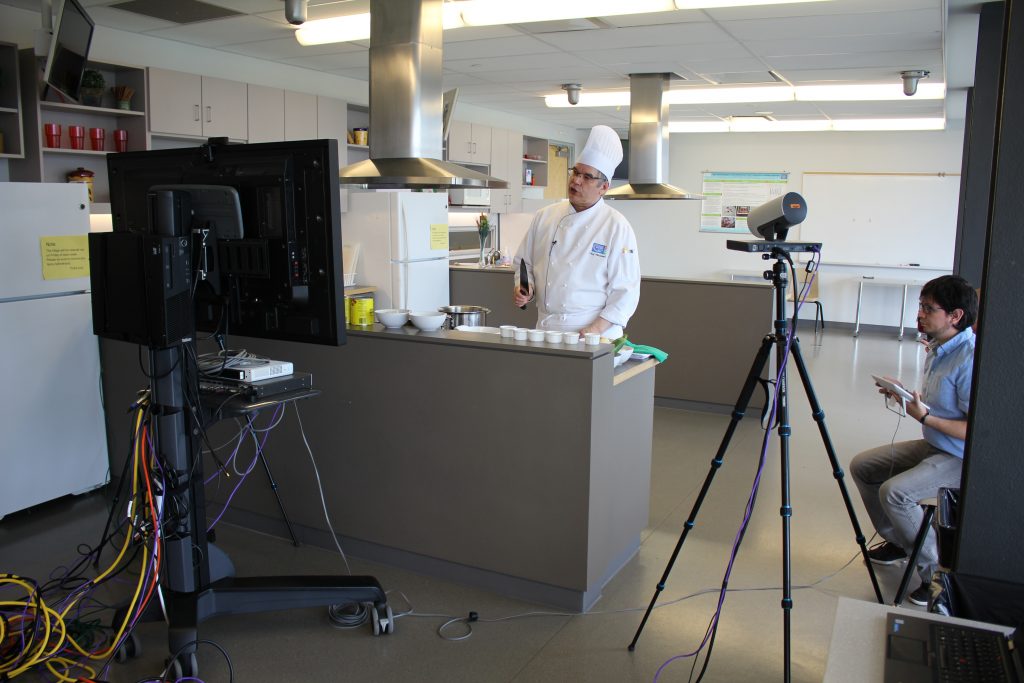 u think about the economic opportunities these technologies, that aren't usually available in these communities, present? Can you talk a bit about that?

DW: When I was first approached to work with Connected North it was mostly to talk about my career and to sort of entice kids to think, "Hey, I can become a chef or a television personality," or something like that. And when I first looked at [the program] I thought "Now, there's a great opportunity. They can communicate with me." But immediately the wheels started rolling and I thought "Here's what I think they should do. I think we should send them the same food I have. I'll cook, and they'll cook at the same time." And I knew they would be making mistakes and I wouldn't be able to taste their food and they wouldn't be able to taste mine. But it would be more than just a one-sided, sort of, "Let's watch a video session" class. There's that interaction where I could ask them questions. "Have you ever tried garlic?" "If you did, what kind?" "Maybe you've never tried it. It's similar to onion." There's that communication that happens back and forth. And I think it's really valuable that they are able to speak up and talk to me, ask questions, and answer questions too. It works both ways. The other thing is, now that we've sent some equipment to them, they are actually cooking. It's not just what I am teaching them but other things as well and they are sampling different recipes and I think that's very important for both of us.

SS: What advice do you give students during a Connected North session?

DW: The first thing I say (and I say this to all my students whether it's in my class here in Toronto face-to-face or via Connected North), is be on time, have questions, and engage! And I get them engaged. And I think for the Connected North students, how you get them engaged is you ask them questions about what we are making…so they aren't just sitting there watching this and drifting off somewhere. And I have to do this constantly with my students, I have to keep them engaged because it's so easy for them to go to their mobile device and to look at something else. So getting them involved, getting them thinking about food, asking them questions, having them ask me questions really generates that and it keeps them engaged.

SS: If you could describe Connected North in a single word, what word would it be?

DW: Overdue. It should have been done a long time ago. And it's a great project. I do a lot of travelling to the North myself and I travel with a lot of gear, like 500 pounds, but this is another way of doing it on the fly and on an ongoing basis. And it's interactive, which I think is a plus.

Tags: