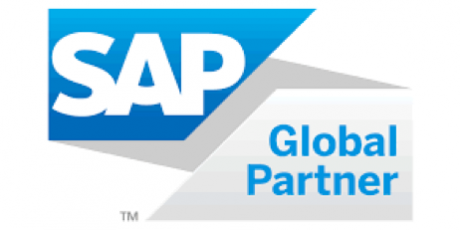 Data Centre
CenturyLink expands SAP offers with Intent-Based Data Center Solutions from Cisco

CenturyLink is one of the top 3 SAP IT Services companies in the world.  They have over 60 Data Centers globally, including 3 here in Canada. Most recently, they opened their newest Data Center in Markham, a Tier III Uptime Certified site with over 100,000 sq/ft of space.
Leaders flock together, so CenturyLink and Cisco partnered to create the first Intent-based Data Center Solutions for SAP.  Based on Cisco Application Centric Infrastructure (ACI) and Cisco Unified Computing Systems (UCS)/NetApp FlexPod, our unique converged infrastructure provides clients an end-to-end, dedicated and managed private cloud solution that unlocks the full value of SAP ERP applications and SAP HANA, while simultaneously reducing risk, lowering cost, and enhancing security.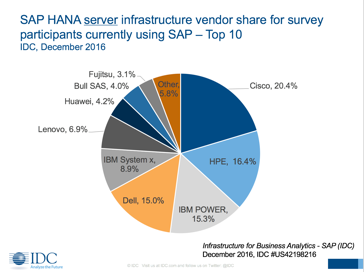 To accelerate their clients' enterprise digital transformation, CenturyLink delivers innovative SAP solutions through deep SAP and data analytics expertise.  But powerful applications still require a platform equally up to the task.  By partnering with Cisco, the #1 preferred SAP HANA server and storage infrastructure vendor (IDC) and leader in SAP policy-driven automated deployment and security, CenturyLink ensures that their clients benefit from the most agile and secure SAP landscape currently available.
For this reason, Cisco's converged infrastructure for SAP HANA has become so popular that we receive more views and clicks on SAP's authorized web repository for certified and supported HANA solutions than any other platform in the industry – nearly doubling the attention generated by the next closest competitor.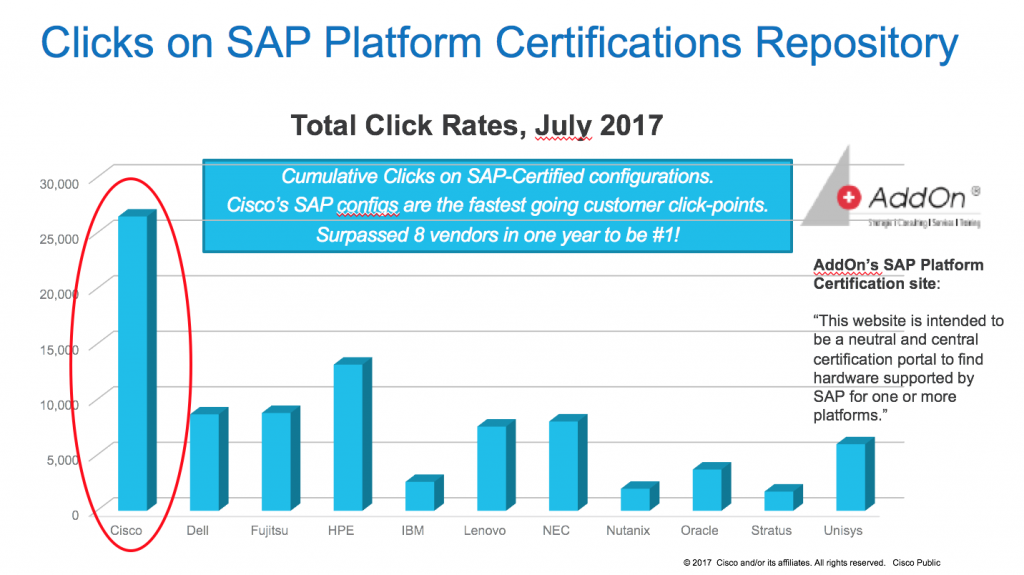 CenturyLink's offers leverage automated delivery and governance software from Vnomic, tying the power of application modeling with SAP S/4HANA, Business Suite, HANA and Hadoop, to the flexibility of Cisco Unified Computing Systems (UCS), Application Centric Infrastructure (ACI) and NetApp data management to rapidly deploy SAP in days or even hours, and configure applications with programmable, policy-based automation.  The policy-driven governance and auditability of the solution automates the delivery of SAP HANA landscapes, while enforcing your company's specific security and governance requirements, for rapid deployment.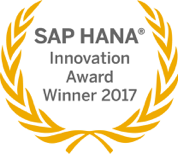 This innovative breakthrough has the power to fundamentally alter the economics of SAP data centers.  With this next-generation architecture and a steady stream of advances in SAP-based IoT, end-to-end data protection, SAP Vora-based Big Data designs, and machine learning, it should be no surprise that at their Sapphire conference in June, SAP awarded Cisco their 2017 SAP HANA Innovation Award!
Learn more about this exciting solution in this video.
---
To learn more about how CenturyLink Solutions for SAP with Cisco UCS and NetApp can optimize your business today, visit http://www.centurylink.com/business/enterprise/managed-hosting/sap-solutions.html

Tags: