Life at Cisco
Cisco Interns Team up with Ladies Learning Code
Technology has become integral to almost every industry in the world, and along with it, coding has become a key secondary language for individuals to learn. As with any language, it is best learnt while the mind is still developing – and organizations like Ladies Learning Code are at the forefront of this education.
Ladies Learning Code is a Toronto-based not-for-profit that aims to engage and promote women and youth in STEM industries by teaching coding and technical skills in camps and seminars across Canada. Since their launch in 2012, they have grown to operate in over 29 cities with workshops for women and children as young as 7 years old.
As returning interns, we both worked with LLC in our previous summers at Cisco and were excited to take on the role of leading the Intern Give Back initiative. We both have a passion for promoting women in STEM and knew Ladies Learning Code was the perfect organization for Cisco to partner with in order to expand this initiative.
Kids Learning Code Camp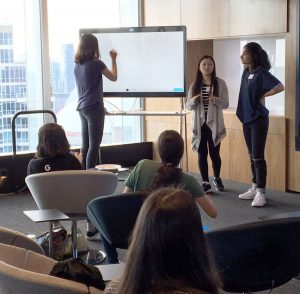 One of Ladies Learning Code's major initiatives is Kids Learning Code camp, hosting sessions every week in the summer at various tech hubs across Canada. Each camp week has a different coding-related focus, so the kids can choose based on their areas of interest.
Our enthusiastic Toronto interns went to mentor the campers of Kids Learning Code at the MaRS Discovery District for a few days in mid-July. We were welcomed by the LLC team and were each paired with groups of girls ages 10-13. This particular camp was focusing on the kids building their own websites using HTML and CSS, and our interns were more than happy to lend a hand guiding them through the technical issues they were facing. We were amazed by their enthusiasm – the energy in the room was infectious and we felt so fortunate to be able to work with these intelligent young girls!
Ladies Learning Code Teen Club
Since we have such a great relationship with LLC, we decided to expand this partnership to additionally volunteer with their Teen Club group and incorporate our Vancouver and Montreal interns via Cisco Telepresence. We decided it would be great to host the teens at Cisco Canada's HQ office in Toronto, where they were able to experience first hand what it is like working for a global technology company. After a quick tour of the building – showing them everything from our Cisco Customer Experience Centre to our Internet of Things Connected Pig – we brought all of our Canadian interns together for a Q&A-style panel. This allowed the girls to ask us questions, ranging from tips on how to get involved in tech early in their academic careers to advice on key skills we thought helped us throughout our careers.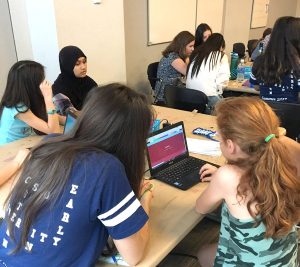 Following the panel, we broke the girls up into groups for a fun, brainstorming activity. We asked them to think of a problem they think could be solved using technology – being as creative as possible! The ideas they came up with blew us away. They incorporated all different technologies to solve global issues, such as utilizing drones to deliver key resources to remote areas in need. Both showing this amount of interest in technology so early on in their lives and being able understand how it can solve large-scale problems was incredible and made us so proud to have a partnership with an organization that fosters this kind of thinking.
With the help of the Cisco Foundation, the 106 volunteer hours our interns contributed were matched – enough money donated to LLC to send two girls to camp. Not only is this incredible for LLC and their campers, but it also made us proud to work for a company who invests so much time and energy in giving back. Thanks to Cisco for giving us this opportunity and encouraging social responsibility as a core value. After a wonderful internship experience, we were glad to conclude it with this volunteer initiative.
On behalf of all the interns, we want to thank LLC for being an outstanding organization and placing such importance on developing young girls and women in STEM industries. We hope the campers were able to gain some insights from us – we know we definitely learned a lot from them! We had a wonderful summer and are looking forward to seeing how the Cisco-LLC relationship grows in the future!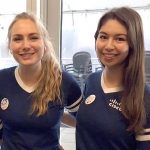 Our authors: Avalon (right) and Mackenzie (left) are both interns in the Cisco Toronto office this summer. Avalon is working with the Strategy & Planning team of the Canada Partner Organization and is a third year student at the University of Pennsylvania studying Science, Technology & Society. Mackenzie is working with the Services Sales team and is a fourth year student at Ryerson University, studying Marketing and International Business.

Tags: