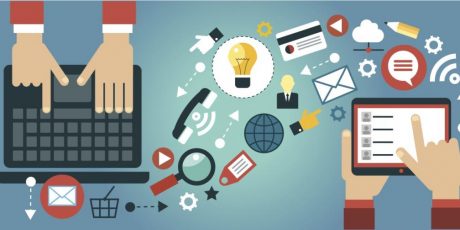 Enterprise Networks
LOB & IT: The Dream Team of Digital Business
Always-On is the new norm.
More and more organizations are adopting customer-centric applications and "as-a-service" models to keep up with the pace of digital business and improve the quality and flow of information.  These days, for work, play, and everything in between, people want demand to be digitally connected at all times with the flexibility to click and swipe away at their own leisure.  And those who choose not to embrace this mindset will be soon forgotten (R.I.P Blockbuster—what's up, Netflix).
While once upon a time the sole purpose of the network in an organization was "keeping the lights on," it has shifted to become a fundamental piece of the business that can make or break company success.  The role of IT has now crossed over to the realm of customer experience, while LOB's (that is, 'Line of Business') and C-level executives are becoming increasingly more involved in major technology decisions. Goals therefore need to be clearly articulated in order to align on a cohesive and collaborative digital strategy, ensuring the right infrastructure is in place to drive the desired outcome for customers and employees alike.  And not just about the hardware selection.
Connected Customers = Happy Customers.
I can't lie.  It's pretty great that when hunger strikes, at any given moment I can open up my Uber Eats app, skim through the various menus—*tap; confirm*—and 30 minutes later my (insert delicious item) arrives at my door like clockwork.  No hassle, no payment transaction, little conversation…and I wouldn't have it any other way. It's easy.
And you can bet I'll always take advantage of that limited time promo code for free delivery, too. It gets me every time. Because, hey—a deal. Apparently I'm not alone; Gartner predicts that by the end of 2018, businesses that utilize targeted messaging in combination with [traditional] internal positioning systems will see a 20% increase in customer visits.
Case in point: Turnstyle, the Toronto based start-up-turned-marketing-machine. Their entire value proposition is based off delivering a unique, branded guest Wi-Fi experience, where companies have the ongoing ability to grow contact lists and automate their promotions based on proximity once a customer has opted in—all managed through a simple, cloud-based dashboard.  From the customer's perspective (per my above Uber Eats example), they're getting exactly what they want, in a relevant and contextual fashion, while the business reaps the benefits of collecting user data and location-based insights.  And at the heart of the platform—making this all possible—lies an intuitive, adaptable network.
Elevate the Employee Experience.
Incorporating application-centric, digital elements into your business not only benefits customers and guests, but also adds immense value to your internal teams, improving day-to-day operations to keep your people connected and productive.
With a network revamp for the modern enterprise, execs and employers can also easily support a "work anywhere" environment by providing employees with anytime access to corporate widgets and information to connect across the organization, gain insights from one another, and enable an overall healthy work-life balance.  Introducing tools for collaboration can also produce significant cost savings; this especially rings true if you have offices spread across multiple provinces and locations with remote workers (think about all of the unnecessary $ spent annually to hold trainings, meetings, and their associated travel costs).
For IT folks and network admins, this means freeing up a LOT of time.  While traditional roles entailed managing the network in a siloed, box-per-box fashion, a holistic view of the network allows for simplified provisioning and automation capabilities.  A network-centric approach also enables IT to provide valuable information to LOB's (such as tracking visitor and customer behavior) and using those insights to make better business decisions and respond to new preferences and trends.  IT can finally say goodbye to mundane, repetitive tasks, with more time to innovate and grow!
The bottom line: a "good enough" network does what you tell it to.  A great network doesn't have to be asked, and differentiates itself by these key attributes:
Context:  Understands the who, what, when, where, and how of everything in your network.
Intent:  Moves from manual to automated at scale, making it possible to manage multiple devices in minutes.
Intuitive:  Delivers actionable, predictive insights to help make business decisions faster, and mitigate threats in real time.
As connected users and devices continue to transform the business landscape at record speed, it may be time to assess (or begin) your digital strategy—and it all starts with communicating your vision to work smarter, faster, and safer. So go ahead and join forces, IT and LOB's—you're playing for the same team.

What are some of the ways you've seen recently, or would like to see, digital business innovations impact your experience as either a customer or employee?  Let me know in the comments!

Tags: