Manufacturing
Are Canadian manufacturers ready for Industry 4.0? Sadly, the answer is no.
If you are an avid reader of this blog – as I'm certain many of you are – then you know I often write about the intersection of business and technology in manufacturing. And that I say often that this intersection – AKA the process of digital transformation – is typically a catalyst for growth, a reduction in downtime, and greater productivity.
(If I could, I'd shout this from the rooftops of every factory from Windsor to Brossard.)
But I understand why you, manufacturing industry executives, engineers, floor managers, automation directors and IT administrators*, haven't taken my word for it. I'm undoubtedly trying to convince you to purchase routers, switches, security and collaboration products that you don't actually need … right? Or is it possible that advanced technologies like these actually do help your organization run more effectively, for less money and less waste?
(Spoiler alert: Yes. Yes they do.)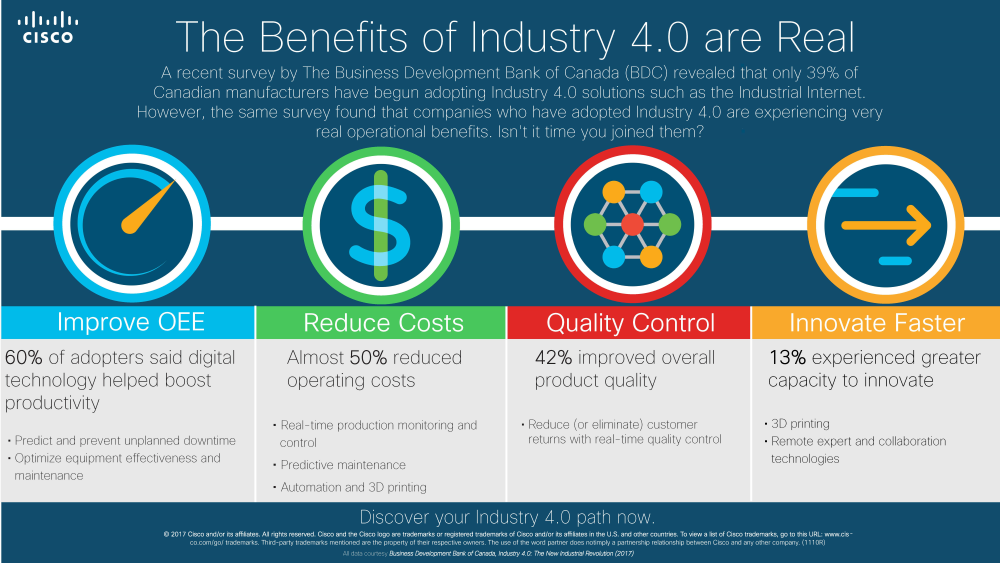 BDC, the Business Development Bank of Canada, recently released a report on Canadian manufacturers and Industry 4.0. BDC defines Industry 4.0 as "the use of digital technologies to make manufacturing more agile, flexible and responsive to customers," very similar to the intersection of business and technology I mention above.
[Related: BDC Study – Industry 4.0: The New Industrial Revolution | How to Start your Journey on the IIoT]
So what does this have to do with you? Plenty.
BDC surveyed close to 1,000 Canadian manufacturing entrepreneurs to understand how many have adopted Industry 4.0 technologies, and what effect those technologies had on operations. Sadly, just 3% of manufacturers have fully digitized. 42% have not even begun planning for digital projects.
Those figures are more staggering when you read the benefits experienced by manufacturers who have started to transition to digital technologies:
60% experienced a boost in factory productivity, mostly due to the ability to predict and prevent downtime and optimize equipment effectiveness.
Nearly 50% reduced operating costs through real-time production monitoring, quality control, 3D printing, and predictive maintenance.
42% improved overall product quality because real-time controls ensure every product is made right, the first time.
BDC also asked manufacturers how ready they were to adopt new Industry 4.0 solutions, based on how much they invested in digital technologies thus far. Not surprising, companies who invested the least also felt the least ready to use new technologies. The report concludes, and I agree, that investment in this area remains low and must change if Canadian manufacturers want to catch up with international competitors.

The stakes are high. The benefits of digital technologies are real. Your move, manufacturers.

*Not a comprehensive list.

Tags: