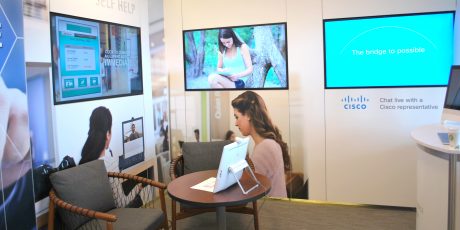 Financial Services
The Innovation Centre Presents: Digital Transformation for Financial Services
The Financial Services industry is undergoing huge changes – from regulations to technological innovations, the way you do business is evolving. It can be hard to keep up.
But don't worry. We're here to help.
The Cisco Toronto Innovation Centre, with spectacular views of the city from the 29th floor, is home to a unique space dedicated to demonstrating the latest and greatest innovations that can impact your business. Now, and until September 18, 2017, the demonstration space is dedicated to Digital Transformation in the Financial Services industries.
The room is set up to put you in your clients' shoes, to demonstrate what a customer might experience at the bank or insurance brokerage of the future. It's hands on and immersive, and will truly exemplify just how important new technology can be to improving customer experience and increasing your ROI.
Some of the solutions you'll discover are:
Digital and Mobile Engagement with Cisco CMX: Wi-Fi, targeted communications, and enhanced personalization.
Enhanced Customer Experience with Cisco Remote Expert: Increase access to experts without staffing up; reduce costs, connect with clients, and increase visibility across the entire experience both in your branches and online.
Advanced protection with Cisco Security and Ransomware Defense: Reduce your risk, no matter who is on your network and layer your defenses from the DNS layer to each endpoint.
The Internet of Things: Each day more and more devices are being connected to the internet, transforming how we interact with our environment. You'll see how these connected devices can transform the client experience.
But more than that, you'll see these technologies in action and learn how they impact your clients on a day-to-day basis. You'll discover how something as simple as a chatbot can make your scheduling easier, how video conferencing can transport your experts where they need to be, and how easy it to improve customer experiences whether they're at home or on premises. You'll also discover how you can put Big Data to work for you, with timely offers and insights into your clients' lives, making it easier to close sales and connect in a more personal way.

Sounds good, right? The good news is that the Financial Services demonstration room located at our Toronto Innovation Centre is already open to the public. Connect with your Cisco Account Manager or email TOinnovate@cisco.com to set up a visit.

Tags: