Enterprise Networks
Aironet 1815:  The Little AP that Could.
By the time we reach the year 2021, the average mobile-connected end-user device will generate up to 5.6 GB of mobile traffic per month, up from 977 MB per month in 2016.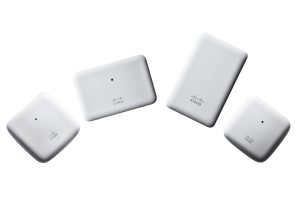 Quick, easy, WiFi access is no longer an option, we truly depend on it both in our personal and professional lives day to day—and unreliable, choppy connections can be frustrating for both customers and employees.
On March 29th, 2017 Cisco announced the Aironet 1815 Series access points.  With the SMB space in mind, budget restrictions no longer have to impede on performance and versatility.  The four AP's released can be used in a broad range of environments, each with a simple out of the box set-up and deployment—i.e. requiring zero help from IT—making it ideal for smaller organizations to function at an enterprise level at an attractive price-point.
With industries in mind such as education, healthcare, and hospitality, the new series include the following features with 802.11ac Wave 2 support:
1815i: This is the overall ideal solution or 'go-to' for any small- to medium-sized business, featuring flexible deployment through Mobility Express, integrated Bluetooth low energy 4.1 radio, and easy wall-plate mounting;
1815m: Perfect for those budget-conscious organizations requiring wider areas of coverage, with 3 dB more transmit power than the 1815i;
1815w:  This sleek and discreet model is designed for multi-dwelling units such as hotels, dorms, and assisted-living facilities to handle increasing high-bandwidth devices;
1815t: Appealing for a micro-branch office or the remote teleworker across all industries, extending the corporate network to provide seamless, real-time mobile connections.
We've also made some updates on the software side with Mobility Express, now capable of supporting up to 100 access points without requiring a separate controller appliance. And as an added bonus, one year of CMX Cloud is included at no additional cost which increases the wireless experience immensely for users. In a previous post, I explored some of the incredible benefits of CMX such as intelligent, location based services and real-time customer analytics.

Don't let poor Wi-Fi slow down your business—let us help you simplify your wireless strategy and improve productivity.  With the 1815, we've got your network covered (literally).

Check out more details on the mobility announcements in a blog from our VP of Product Marketing, Prashanth Shenoy.

Accelerate your business with a digital-ready wireless network.

 

Tags: