Cisco
Cisco SDN Controller for Enterprise Networks: APIC-EM and IWAN App
In my previous blog "APIC-EM: The evolution from traditional management to SDN-led, policy-based automation" I discussed how traditional management is transitioning to an abstracted model which will hide implementation details in order to accomplish simplification … something we are all looking for.
Today we will be going a bit deeper into this concept and discuss a very exciting application of APIC-EM: IWAN App.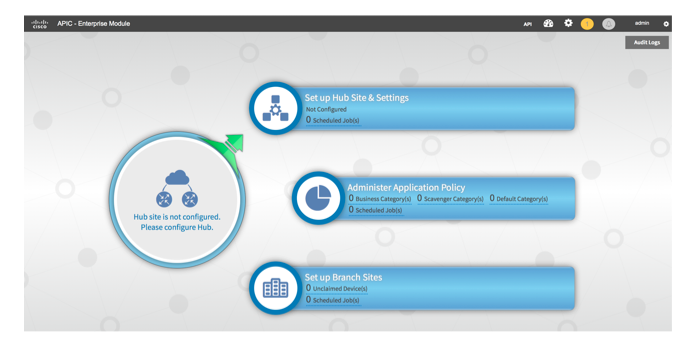 Cisco IWAN solution or Intelligent WAN is an architecture that allows customers to leverage lower cost transports in their branch offices in order to increase performance and application experience without compromising security and operational costs.
In order to accomplish all these goals, Cisco IWAN leverages multiple technologies like DMVPN, PfRv3, AVC, QoS and security among others. All these technologies were tested together creating Cisco IWAN solution and the result best practices are documented in the Cisco Validated Designs.
With the Cisco Application Policy Infrastructure Controller Enterprise Module (APIC-EM), Intelligent WAN delivers all the benefits and automation of a software-defined WAN (SD-WAN). Cisco IWAN App for APIC-EM is one of Cisco's management options for IWAN which allows customers to control and deploy the IWAN solution from a centralize controller. The deployment of IWAN can now be realized in an automated and abstracted way.
What does this really mean? It means that we can now completely roll-out IWAN without having to manually configure any of the technologies we mentioned above. IWAN App will require a few basic parameters from the network administrator and will leverage those parameters together with Cisco best practices to deploy the solution automatically.
The snapshot below provides a view on the information we need to provide the IWAN App. As we can see in the GUI, the parameters required a very basic: physical interface, service provider and link bandwidth, for each of the links in the branch. The controller will leverage this information together with the embedded intelligence to automatically push the correct configuration to the network devices, that is, sophisticated technologies like DMVPN, PfR, QoS, AVC, etc. are pushed with the touch of a button.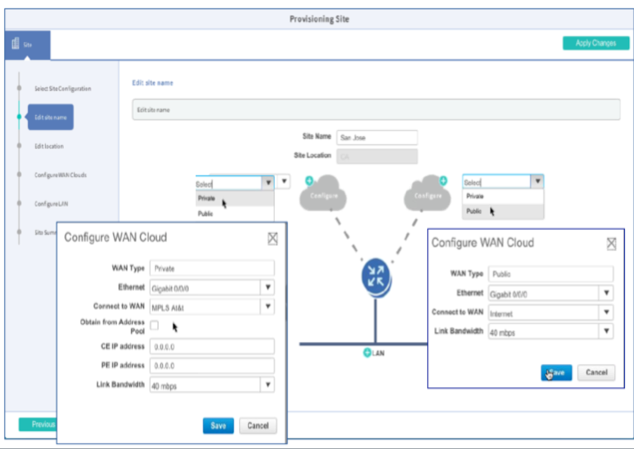 IWAN App also allows customers to easily administer their own application policies. For example a customer could to leverage a private link for business critical applications while a public link could be used for non-business critical applications. We can see in the snapshot below, how network administrators can easily dictate how each application group will be accessing the WAN links: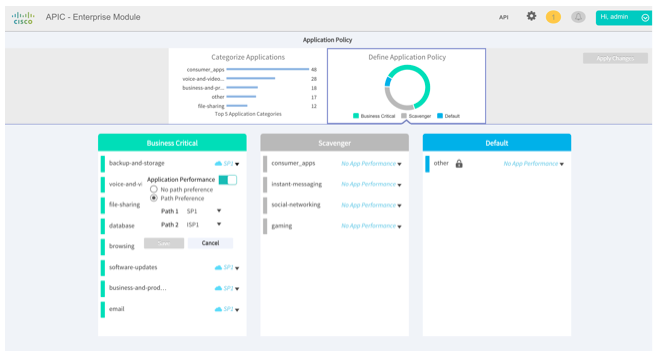 For some customers IWAN app is an excellent choice when starting an IWAN deployment. For other customers, the transition to an SDN-based network might take longer time. For those customers, Cisco has other management options like Prime Infrastructure 3.0 for IWAN.
Are you interested in this topic? Would you like me to expand on any of these concepts? Please stay tuned for future blogs and leave me a message with topics of interest.
For more information on APIC-EM please visit here.
For more information on IWAN please visit here.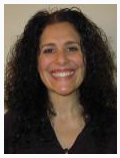 Lila Rousseaux has spent over twenty years in the Computer Networking industry in a variety of roles, from programming, implementation, design and architecture. In one of her first jobs, Lila had the opportunity to participate in the connection of the first Argentinian high speed link to the Internet as well as build the IP network connecting the 33 National Universities in Argentina.

Lila Rousseaux is currently a Consulting Systems Engineer within the Enterprise Networking group based in Toronto, Canada. She joined Cisco Argentina in 1999 and moved to Canada in 2002. In her roles within Cisco, Lila has had the opportunity to work with a variety of customers: Service Providers, Enterprise, Partners and Commercial. Lila currently specializes in core routing & switching technologies and she is a Field Advisor for the Cisco routing and switching technology groups which allows her to provide feedback on strategy and direction of technologies and architectures. Education and knowledge transfer are a passion for Lila so she thoroughly enjoys speaking at events like Cisco Live and Cisco Connect.

She got her CCIE certification in 2001 and diligently re-certifies every two years! In addition, Lila holds a degree in Computer Science from the University of Buenos Aires.

Tags: