Cloud
The Journey to the Cloud
The Journey to the Cloud represents a transformational evolution in the IT industry. It is changing the way we all work and manage our systems, regardless of industry and size. Along with SaskTel, we would like to introduce our first coauthored blogging series discussing Cloud services. Stay tuned and hear from Cisco Canada and SaskTel industry leaders monthly.
In our first blog we interview Patrick Skinner, Technical Sales Consultant/Client Technology Manager, SaskTel and here is what he had to say about the journey to the Cloud…
Q1. What types of public cloud services are being adopted most by customers in the markets that you serve? 
 It really has been only in the past 3 years that I've seen a significant increase in businesses willingness to adopt and even depend on the use of cloud services as part of their core business. I think one of the reasons for the recent increase has been the transition of traditional business application vendors like Microsoft moving to cloud application delivery (Office 365) rather than locally installed applications. Even proprietary business systems that used to be only offered as locally installed applications, used for tracking parts, doing service orders and for accounting, are moving to cloud-only delivery models.
There is also an increasing variety of business-focused cloud services – not only are there the Salesforce's of the world, but consumer cloud-application providers like Google and Microsoft are also offering more business-grade cloud applications and services that are becoming increasingly popular.
However, one of the biggest drivers that I'm seeing for businesses to adopt cloud services in earnest is to enable simplicity of collaboration – enabling remote sites and mobile users to quickly and easily stay connected with both the internal business as well as external customers.
 Q2: What do you think will be the main impact of cloud computing on IT professionals over the next five years?
That's an interesting question. One trend that I've definitely seen over the past 12 months is an increasing number of business and IT leaders looking for help, not only with figuring out which cloud applications might best fit a business's needs, but also with how to adapt business processes to get the best use out of potential cloud applications. This points to a gap or a growing need for some sort of cloud services architect or "broker" – a trusted partner that works with both internal business and IT leaders to find and integrate a collection of cloud services that best enable a business to gain a functional competitive advantage.
With the migration towards using more cloud services comes an increasing importance for businesses to define, monitor and enforce security and security policies across both internal and external platforms. Organizations aren't able to simply rely on the basic firewall as their primary means of providing security, especially when there is as much or more corporate data outside of the physical walls as inside. Assessing the potential business risk and finding the best ways to minimize that risk when looking the use of cloud services should play as important a roll in the decision as the potential gains of using the cloud service itself.
The third key impact that I believe will be on IT professionals, with the increasing evolution towards cloud computing, is the need for IT professionals to become business visionaries rather than overseers of the boxes with blinking lights. Cloud computing brings the ability to adapt and adjust much more quickly than can typically be done with in-house systems. But that potential gain can only be realized by regularly evaluating the use of technology, not just in terms of supporting current business needs, but rather by looking for opportunities transform and evolve the business. It means spending time assessing and managing costs, partnerships and services based on continually changing business needs rather than simply maintaining status quo because of the time needed to recoup capital investments. When IT doesn't have to spend time managing and maintaining IT infrastructure, it has the opportunity to focus more on building and supporting business strategy.
A recent report from IDC Futurescape lists the top 10 imperatives that CIO's and IT will need to focus on to respond to this transformation to cloud, mobility, big data and analytics (Figure 1). While it too ranks, in the top 5, the importance of having a business strategy focus (2 and 5) as well as a focus on enterprise security (3), I don't think it stresses strongly enough the importance of having a trusted cloud integration partner that can assist with successfully integrating the use of cloud services into the business ecosystem (visionaries still need experienced and available resources to implement a vision).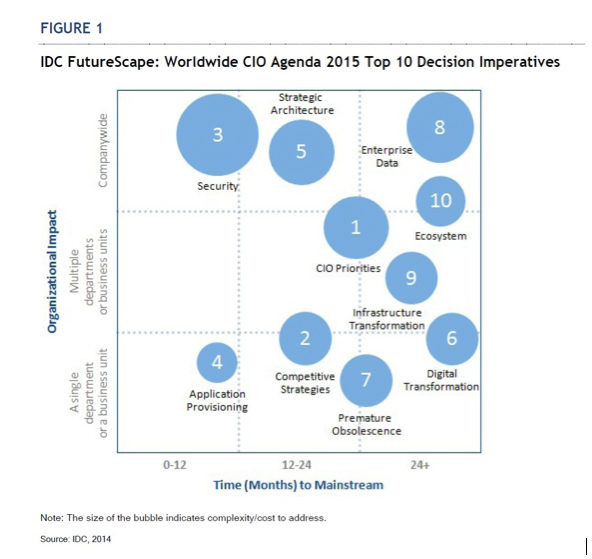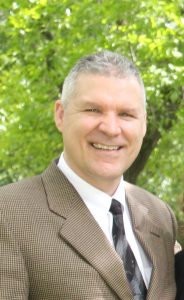 Patrick Skinner has worked as a Technical Sales Consultant / Client Technology Manager with SaskTel since 2006.  In this role, he has worked with businesses of all shapes and sizes, using his extensive technical experience across a broad range of technologies to help translate business needs into targeted viable business solutions.  Prior to joining SaskTel in 2004, Patrick developed extensive hands-on solution implementation experience through his work as a programmer and IT systems manager in the manufacturing and transportation sectors.  While having developed and successfully implemented business solutions that encompass a wide range and combination of technologies, Patrick's specialization is with network design, data center and virtualization systems, communication technologies (wired and wireless) and process control and automation systems.  Based in Saskatoon, Patrick has a B.Sc. in Computer Science from the University of Saskatchewan, he is a SABSA Chartered Security Architect (SCF) and he has been an active member of the UofS Ballroom Dancing Club for the past 25 years.