Education
Behind the TO2015 Games: Cisco I CAN Learn STEM & I CAN Develop Programs
This post is second in a series taking readers behind-the-scenes of how Cisco technology is powering the TORONTO 2015 Pan Am/Parapan Am Games.
Although Cisco technology is powering the TO2015 Games, it is our people that are truly the driving force behind it.
But it may surprise you to know that not every technician and technology expert making these Games a success are Cisco or TO2015 employees. In fact, many of them are volunteers giving their own time for this once-in-a-lifetime opportunity.
And of those vol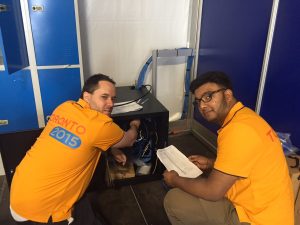 unteers are 350 incredibly talented, driven people that I'm proud to work beside. They are our Networking Academy instructors and students, working at 31 different venues during the Games including the Cisco Milton Pan Am/Parapan Am Velodrome, CIBC Hamilton Soccer stadium, Oshawa Sports Centre and – during the Parapan Am Games – the Whitby Abilities Centre.

Why did we bring in students to support these Games? Why trust troubleshooting to a high school student, or the network to a first-year college student? Because this is the best learning environment these students will ever have, period. And every moment of what they do is under the supervision of their instructors and experienced Cisco and TO2015 engineers.

These are also some of the best and brightest minds across the GTA, who have taken computer science and networking classes, earned designations and are on their way to a career in technology. And every day they are learning so much about networking and technology, and gaining the soft skills – the people skills – they need to be successful in their careers.

We didn't want our role these Games to only be about technology. We wanted to leave a legacy for the City of Toronto and the GTA. For me, that meant instilling a passion for technology inside the students of our region. We are doing it with high school and post-secondary students through this program, which we named Cisco's I CAN Develop program, and we are also doing it for 120,000 Grade 7 students across Ontario through our I CAN Learn STEM program (which you can read more about here).

You can also read our other posts on Cisco's I CAN Develop program here and here.

If you're attending the Games this summer, snap a photo of our Networking Academy students in action and share your experience with us using #CiscoTO2015.

Tags: