Corporate Social Responsibility
A Torch Bearer is a Local Hero
Torch Bearers represent individuals that have proven to be a local hero. What are some of the challenges you had to overcome?
My name is Brianna Buckle and I'm 1 of 200 people in the world with the rarest heart disease called Truncus Arteriosus.  It's a disease where I had no pulmonary artery, so my heart wasn't connected to my lungs.  I've had 4 major open heart surgeries. Life hasn't always been easy or kind.  My biggest challenge was when I was 20 days old during my first heart surgery; in recovery I was 24 hours away from dying, even though I don't remember, I know I fought to live! I remember the surgery when I was ten. I was frightened in the operating room and I remember in the recovery room not knowing where I was or what was going on.  At home, stairs were incredibly difficult and I couldn't do anything. Going back to school was worse, staff and students would treat me like I was a snowflake.
At beaches or pools I would wear a bikini, but feel people staring at my surgical scars and this saddened me because I'm proud of them, they're my battle-scars.  I am a fighter. I even joined the cross country team, while I knew it would be difficult to compete and I was discouraged, I proved that I am no quitter. I finished the season and was awarded "Athlete of The Month".  I find the positive in all the challenges I have faced and so has my family.  After gym class, it's difficult for me to cool down and I walk around with a rosy face a little longer than other students, but my parents say it just gives me a more beaming smile, and they are right!
What does being a Torch Bearer mean to you? 
It's an incredible privilege and honour to be chosen to carry the Pan Am Games torch on behalf of Sick Kids Hospital and Cisco Canada. I was ecstatic when I found out I would be a part of this once in a lifetime event where a unique group of individuals were selected to participate. I view this as an opportunity to participate in an amazing event and proudly represent Sick Kids as a very proud Sick Kids Ambassador! I am a fierce competitor and I don't like to quit. Being a torchbearer provides me and lots of other kids a unique opportunity.  There are many of us who suffer from some type of illness and we want to show everyone what we are made of.  Running in this event allows me to run on behalf of all of kids who were treated by Sick Kids Hospital, to show that we are strong, determined and fierce. Even though we have major health issues that we must battle with every day we are not defined by our problems.  I refuse to allow my heart problem to slow me down and I will represent other children sitting in hospital beds wondering when they are getting out.  I am carry this torch for them!  I want this torch to bring hope, inspiration and courage to my fellow Sick Kids Ambassadors – because as I carry it for me, I proudly carry it for all of them.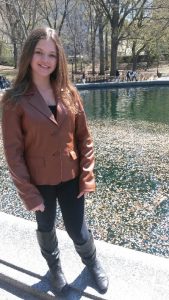 My name is Brianna and I am the second of five children.  In my family, I am known as the miracle child after having survived multiple open heart surgeries, the first at 21 days old, for a very rare heart condition.  I have been an Ambassador for The Hospital for Sick Children in Toronto since I was four years old,  sharing my story and the heroic efforts of the medical team that continue to support my condition and keep me alive.

I am currently in grade 9 and I love to read, run, swim and skate.  I also love to participate in soccer, archery and most of all street hockey with my 6 year old brother.   I know I have been given the gift of life and I intend to help others with it!  I am truly thankful and blessed for every day!

Tags: