Corporate Social Responsibility
What Does Being a Torch Bearer for the TO2015 GAMES Mean to You?
What does being a torch bearer mean to you?
Being a torch bearer means participating in a pre-games event across the Provinces that brings attention and visible representation to the group of Networking Academy instructors and students that are volunteering in a technological capacity.
Further, participating as a torchbearer celebrates the Games arriving to the Province of Ontario, and demonstrates pride in our Province and our heritage.
If you had a chance to do one thing out of the ordinary when carrying the torch, what would it be?
One thing out of the ordinary that I would love to do when carrying the torch, would be to reinforce the culture of our area, as follows:
At the end of my turn and just before passing the torch to the next runner, I carry the torch through a local Tim Horton's drive-through and place an order for a Medium double-double and a Canadian Maple donut.  It signifies a food, habit and meeting place that is widely prevalent in Ontario, a part of our work and leisure life, and a business that is wildly successful.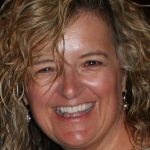 Author: Susan Monachino

After graduating with a Computer Science degree from McMaster, Susan worked for ten years at IBM, before leaving the corporate world to be a stay-at-home Mom.  She pursued teaching, earning her OCT and gaining 17 years' experience teaching computer courses to adults and high school students.  She is currently the Head of Technology at St. Jean de Brébeuf Catholic Secondary School in Hamilton.

Tags: