Education
Rare and Cherished
By Mike Druiven, Craig Kielburger Secondary School
I've been a high school technological studies teacher in Ontario for 27 years. Very early in my career I learned that what students enjoy and remember is the extraordinary. Students tackle thousands of math problems during their education but the measuring, cutting and calculating needed to build something physical are the problems they enjoy and remember. Students learn about economics and history but raising money for a team or a cause are events that stand out. Students learn Newton's Laws in Physics class but applying those lessons to build a working trebuchet is an exercise they'll remember forever.
Teaching Computer Technology, I know that students learn more and have more fun by building a video editor computer or by building a robot. More than the curriculum, life lessons of the importance of teamwork and cooperation will put these students on a more solid footing then any textbook.
Cisco Canada is the official technology partner of the TORONTO 2015 Pan Am/Parapan Am Games and Cisco Networking Academy students will be taking part in networking the games. I knew immediately that this could be one of those extraordinary experiences; learning that extends and goes beyond the curriculum with life and work meta skills thrown in for good measure. When Wadih Zaatar, Cisco's Networking Academy lead for Canada, told me about his company's role in the TORONTO 2015 games and the plan to enroll students through Cisco's I CAN Develop program, I said yes right away. I started to recruit grade 10 students who would be in between their grade 11 and 12 year during the Games.
The idea is simple. High school students enrolled in an ICT Specialist High Skills Major (SHSM) program earn two mandatory Cooperative Education credits by taking on ICT support roles at the TORONTO 2015 Pan Am/Parapan Am Games. The timing doesn't fit the normal mould of the summer Coop course, but the learning opportunity is incredible. I decided to take the join my students in the role of summer Coop teacher. Why? Because I'm excited about participating and contributing to the success of the TORONTO 2015 Pan Am/Parapan Am Games.
In the spring of 2014 the students were still in grade 10 and hadn't started the SHSM program. Nevertheless they chose to stay after school once a month for TORONTO 2015 Pan Am/Parapan Am Games webinars where they met key people, heard key messages and learned about their role in the Games and the Cisco's I CAN Develop program.
But the TORONTO 2015 Games aren't the only opportunity for my students to learn through the practical application of skills. Many of the students participating in the Games are also on my First Robotics team, 4992, the Spartans. The First challenge is to build a 50 kilogram robot in just six weeks. Every year the tasks the robots perform is new, and therefore an engineering challenge. The robots compete in three day-long events where they work in teams. High scores are awarded for both cooperation as well as task completion.
In the midst of our robot build season the students took a day off to attend Cisco's I CAN Develop kickoff on Saturday, February 7 in Toronto. I'm exceedingly proud of the way the students organized themselves to travel independently and represent Craig Kielburger Secondary School. As I write this piece our second and last robotics competition for 2015 is drawing to a close. The team did well and made it into the playoffs.
Now I will be able to devote more time to getting ready for the TORONTO 2015 Pan Am/Parapan Am Games this summer. My supervisors at the Halton District School Board support this extraordinary summer internship opportunity. They know that experiences like this one are rare and cherished.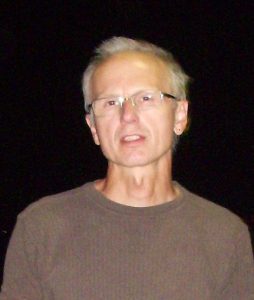 Mike Druiven is the lead teacher of the ICT Specialist High Skills Major (SHSM) program and lead mentor on First Robotics team 4992 at Craig Kielburger Secondary School in Milton, Ontario. Cisco certifications such as IT Essentials are taught in the SHSM program. Mike lives with his wife Sandra and daughters Sarah and Rachel in Milton, Ontario. In his spare time, Mike likes to sail his Hobie Cat on Lake Erie.

Tags: