Borderless Networks
Cisco Canada's Networking Academy Volunteers Shine at the I CAN Develop Kick-Off!
What do you call an event venue teeming with enthusiastic students, despite a snowy Saturday morning? A grand success! On February 7 Cisco Canada, together with Toronto 2015 Pan Am/Parapan Am Games Organizing Committee, kicked off the I CAN Develop student program at George Brown College to help facilitate the Games.
Over 350 Cisco Networking Academy student volunteers from high schools, colleges and universities across the GTA and as far away as Iqaluit, will help build, test and deliver the massive technology solutions that will connect the sporting venues and media centre to the world.  What does this mean for our Networking Academy volunteers? Besides providing a great platform for the students to partner in the success of the Games, this unique opportunity will also empower them to gain hands-on experience and help begin to reach their full potential in their careers. Check out this video showing students already in action at the recent test event at the Cisco Pan Am Games Velodrome and during the construction of the Cisco TORONTO 2015 Countdown Clock.
I had the pleasure of welcoming all participants, thanking our key partners for TORONTO 2015 including Allstream, Beanfield Metroconnect and Scalar, and introducing Saad Rafi – CEO, TORONTO 2015 Pan Am/Parapan Am Games. From my vantage point, I could tell that the excitement of volunteers was palpable when I shared that this wasn't just a full day of training. Volunteers were encouraged to take pictures throughout the day and share them across their social networks using #ICanDevelop and the response was tremendous! The best picture was awarded to @JaimeBravosoto who bagged an iPad Air and runners-up won tickets to Pan Am Basketball events. That's not all, social media enthusiasts were also encouraged to come up with ideas for our corporate Facebook page and even share their Toronto 2015 experiences through blogs.
Saad, during his speech, reiterated what an amazing opportunity this is for each volunteer to partake in the Games and that it marks the first time any international multi-sport Games of this stature is bringing together over 20,000 volunteers. He motivated the students to come together and help make the TORONTO 2015 Games the best ever. Brian Cook – Vice President, Technology, TORONTO 2015 Pan Am/Parapan Am Games – explained the various roles that the volunteers would be assigned including Service Desk Specialists, Technology Specialists and Print Distribution. Brian emphasized to the volunteers, "We are an important cog in the very large wheel that will make the Games work through technology."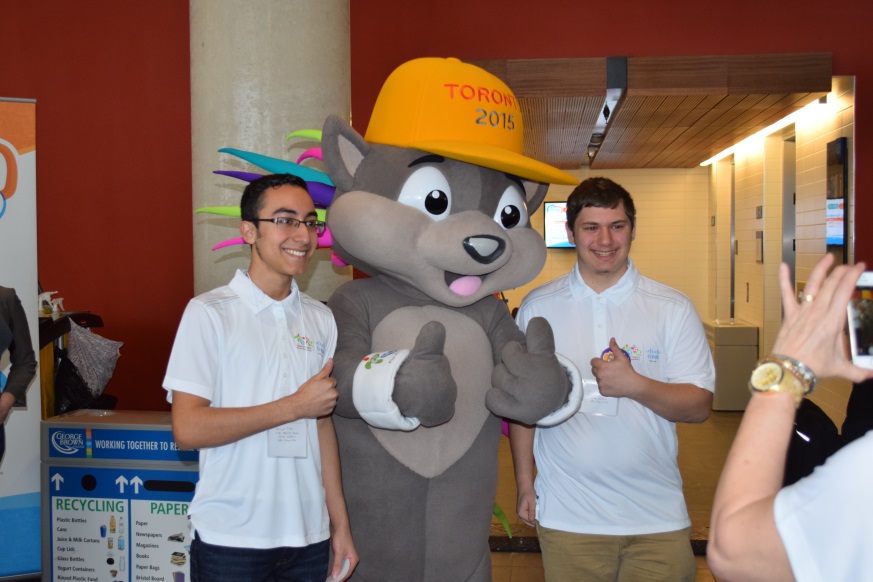 Kevin Harshaw – Director of Venue Technology and TEC managers for TORONTO 2015 – gave the energized volunteers an overview of the venue by zones and outlined how various volunteer groups will work in specific zones throughout the Games. Kevin and the managers have the experience of having delivered many Olympics and shared a great time-lapse video from London2012 to show how impressive it is to see a venue come together.
Everyone was later directed to venue and zone team workshops to network and meet team members and learn about the venues to which they will be assigned. The workshops were aimed at helping students understand the specifics of the venue, sport, user communities and technologies.   Some of the students were even featured on the CBC evening news.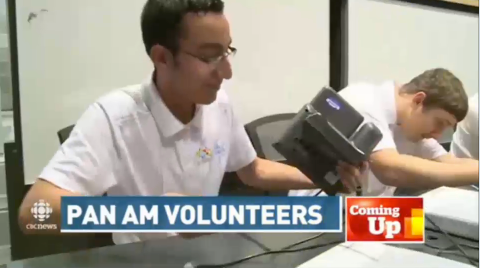 This is an exciting start for our student volunteers who are at the heart of the TORONTO 2015 Games to help make it a success!

Cisco is very proud to be the Premier Partner for Information Communications and Technology for the TORONTO 2015 Games.

For more information on the TORONTO 2015 Games and how to volunteer or purchase tickets please visit www.toronto2015.org.

Tags: