Cisco Canada
Harnessing the power of "What If?"
Sabrina Greupner is the Ontario Science Centre's new Cisco Science Fellow for Innovative Learning Technologies. This is Cisco's first museum-based fellowship.
My love affair with all things geeky started in 1968. An inquisitive—and frankly, nosy—five-year-old, I happened to be passing a neighbour's open door in our west-end Montreal apartment building when I spotted one of those things that can mark a child for life.
It was a colour television. Showing Star Trek.
It was the first time I had seen either, and the fact that I can still picture it clear as day (His shirt is BLUE! He's got POINTY EARS!) indicates the extent to which my imagination was captured and happily held hostage for life.
I was reminded of this while listening to Charles F. Bolden, Jr. speak at the Ontario Science Centre recently. He's the current Administrator of NASA and a former space shuttle commander. He did a presentation for several hundred middle-school students about the importance of STEM education, and kept them interested, focused and engaged for over an hour.
The success of the presentation had partly to do largely with the fact that he's a fantastic motivational speaker. But the rest was a combo of "it's NASA, and he's been in space, and he's an astronaut, and it's soooo freakin' cool!" Charles captured imaginations through humour, honesty ("Okay, so let me explain how you go to the toilet in space…"), and the sheer, unadulterated romance of space exploration and humankind's ongoing quest to explore strange new worlds.
All of this made his primary message of "go to school, study hard, be curious, ask questions" not only relevant to his audience, but compelling. Science, Technology, Engineering and Math (STEM subjects) became inextricably linked not just with careers and marketable skills, but with hearts and minds. They become tickets to boldly go where no one has gone before.
This is what's so exciting about the new collaboration between Cisco and the Ontario Science Centre; by creating a "connected museum" we have the potential to forge a hands-on, informal- learning environment that gives young people the opportunity to see and experience STEM subjects from new, exciting, and sometimes unusual, perspectives.
Like all good science fiction, innovation is all about the "what ifs?". What if young museum visitors could collaborate on climate change research in real time with other citizen scientists around the world? What if our exhibits could provide visitors with personalized content related to cutting-edge medical research and synched to their smart phones? What if new Cisco infrastructure allows the Science Centre to host bigger and better hackathons like the one this past fall in which young people were given access to NASA's open data and encouraged to create apps to help further exploration on Earth and in space? What if we were able to blur the boundaries between museum, school and workplace to capture all that creativity and imagination?
Part of my role as the new Cisco Science Fellow for Innovative Learning Technologies is to help facilitate those "what ifs". The goal is to help young people make the giant leap from bits and bytes, to undiscovered lands. The museum becomes a place where technology helps us go beyond the walls of a physical building and make those exciting connections that allow kids to not only see the potential of science, but develop a vision for the future.
Got some great ideas for ways in which technology can help spread science engagement and literacy? Give me a shout @SabrinaGreupner or sabrina.greupner@osc.on.ca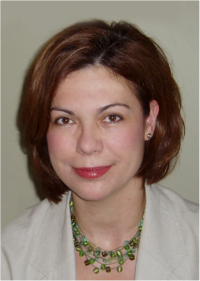 Sabrina Greupner is the Cisco Science Fellow for Innovative Learning Technologies. She is also the manager of the Weston Family Innovation Centre at the Ontario Science Centre. In addition to managing daily operations, Ms. Greupner leads a team that produces science communication content for the Science Centre's online and on-site experiences, including the current science featured in the Weston Family Innovation Centre's "Hot Zone" and online through the Science Centre's virtual tour and ScienceNOW content portal. Learn more about Sabrina at https://www.ontariosciencecentre.ca/Media/Expert-Greupner/

Tags: