Manufacturing
Digging Deep @ The 3rd Annual Global Mining IT and Communications Summit
As we collectively enter the next transition of the Internet, the Internet of Everything (IoE), traditional industries such as energy, manufacturing and mining are recognizing the unprecedented opportunities of intelligently connecting people, process, data and things. However, for these industries embracing the IoE opportunity is often a complex and challenging journey to transform traditional business processes, of many of which existed prior to the Internet. The complexity can range from economic factors, such as fluctuating commodity prices affecting capital investment, to cultural and organizational challenges in digitizing (connecting the unconnected) operational assets such as plants, oil fields and mines through the adoption of information and communications technology (ICT).
For many of these industries, it is not uncommon for the Information Technology (IT) and Operations teams to still work in silos. Fundamentally this becomes a cultural barrier to achieving an IoE-enabled organization.
One event that takes a bold step in bridging collaboration between Information Technology and Operations within the mining sector is the annual Global Mining IT and Communications Summit. This year's the event was held in early November over two days in beautiful Vancouver and brought in over 120 IT and mining industry executives from across the globe to discuss and collaborate on the future of IT for the mining sector.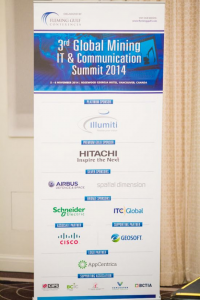 With key sponsors such as Hitachi and Schneider Electric bringing their expertise in mining operations technology and bridging conversations with mining CIOs and traditional IT companies, this event continues to pave the way forward to link mining business imperatives with IT. Conversations change from traditional "IT speak" (cloud, network, computing) to ones on enabling business outcomes such as predictive maintenance for equipment to prevent unplanned downtimes, asset management and visibility for real-time reporting of all aspects of mining operations, and improving safety for both above ground and underground staff. My keynote on the Internet of Everything as a platform for mining innovation highlighted the value of convergence of IT and Operational teams.

My keynote discussed how the challenges in moving from proprietary machine networks to converged IP networks were similar to the days when voice and data network were converging, yet the outcomes yield new, innovative ways of collaborating and increasing worker productivity.

Already, we are seeing a wave of mining companies leverage the IoE by integrating operations and IT and introducing new business models to drive efficiency, productivity and safety. For example:

John McGagh, Head of Innovation for Rio Tinto, showcased the company's "Mine of the Future project" at the recent Internet of Things World Forum (IoTWF). His keynote showcased autonomous mining trucks equipped with over 200 sensors all communicating in real-time to the operations centre for improved control and monitoring of critical assets.

Canada's Goldcorp ventilation-on-demand (VoD) project improves air flow and quality to miners underground through the deployment of sensor-enabled ventilation systems while reducing energy costs by $1.6-2.5M annually.

And of course, Dundee Precious Metals is another Canadian mining company that realized exceptional results through the implementation of a Cisco Unified Wireless network. The network allows underground workers to connect more efficiently to above-ground operations and for Dundee to track usage and proactively identify maintenance needs of underground equipment. The result is an outstanding 400% improvement in production while improving worker safety through real-time location based tracking.

Transforming established and traditional industries such as mining is not an easy one by any means. It requires cultural integration as well as IT and operational technology integration, but the results are proof positive as Rio Tinto, Goldcorp and Dundee have shown. Events such as the 3rd Annual Global Mining IT and Communications Summit are making this possible for the mining industry, and I can't wait to attend again in 2015.

Did you attend the Global Mining IT and Communications Summit, or work in the mining industry? What do you think about the rise of the Internet of Everything? Leave a comment below.

Tags: