Collaboration
Cisco on Cisco: The New Workspace in Action in our Canadian Headquarters
By: Chris Wheeldon, Industry Manager – Smart + Connected Real Estate, Cisco Canada
Over the past few months, we've heard from a variety of participants who are helping to build the modern workplace. Increasingly, interior designers and technology providers are working together to provide occupants with the best experience possible. It's no longer viable to assume that the role of either one or the other is sufficient to yield good results. Both parties have to collaborate to deliver an optimal experience.
Cisco has been developing and improving its Connected Workplace for about seven years now. Although it is continually evolving and being refined, there are several consistent expectations of our workplaces:
– Work anytime, anywhere
– Collaboration spaces and technology
– Demand-based usage
– BYOD and flexible working
Many people are involved in this effort, from both within and outside of Cisco.
In 2015 we'll be moving to new offices at RBC WaterPark Place, a LEED-Platinum office tower currently under construction in downtown Toronto. There, Cisco will occupy four floors to house its Canadian headquarters. Our offices will be state-of-the art, incorporating all of the ideas and concepts we've discussed in our Workspace Webinar Series and published in our blogs.
Smart + Connected Buildings: WaterPark Place is a Smart + Connected building that has been described as the most highly converged building in the world. What does that mean?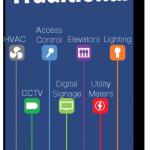 In a traditional building, each different system – HVAC, lighting, access control, CCTV – has its own network, usually proprietary or of low quality. These systems don't share with one another, and often are not designed to be connected to the Internet, so security is a huge concern.
Collaborative control or data gathering is difficult or impractical in traditionally-controlled buildings.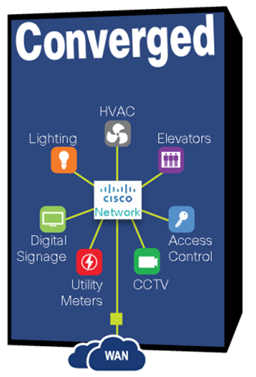 In a WaterPark Place, Cisco has installed an enterprise-grade network to connect all of the various devices together. This makes a building connected. The network is easily extended and can be better managed using either the landlord's IT staff or through cloud-based services. The building's control systems will be much more secure.

Adding software that simplifies data gathering and visualization, and provides the ability for systems to work together makes a building smart.

In Waterpark place, reporting will be easier, and tools such as real-time energy dashboards will be much more comprehensive.  The landlord will be able to find problems faster and save money on operations by using more sophisticated diagnostics.

The new office will offer a variety of benefits for our employees, including the ability to control lights and thermostats from mobile devices and using automated processes. Energy management tools will shut down systems in unoccupied areas and after hours. Overall energy and operating costs should be lower.

Register now for the December 2nd webinar on our new Toronto headquarters.

The employee floors will be fully flexible and encourage mobility by providing a wide array of space types. Need to make a quiet call? There's a space for that. How about an impromptu collaboration session with a whiteboard and a couple of colleagues? There are informal collaboration areas for that as well.

In such a large office and with so many mobile employees, finding people and the right place to sit can be a challenge. We'll be implementing Cisco Maps to help with that. From a mobile device, web browser or kiosk, Maps will help us quickly find colleagues as well as easily locate, book and personalize available workspaces. It will also greatly simplify finding and booking formal meeting rooms, because sometimes an informal collaboration space isn't enough.

Digital media walls and signs will deliver information and highlight Cisco technology. TelePresence will be available not only in conference rooms, but also throughout the entire office. And we hope to install new desktop TelePresence units to provide secondary desktop displays. This will free up desktop real estate and provide more functionality to individuals using laptops.

Cisco's employees are excited about moving into our new digs. The new design, improved technology, and better alignment to how we work are going to make it a great experience.

I encourage you to learn more by attending the final webinar of our Workspace Series, where we will go into greater detail on our new Toronto headquarters.

Tags: