Uncategorized
My Experience at the One-Year Countdown to the TO2015 Games
What a day I had on Friday July 11th! I had the privileged honor of unveiling the Cisco TO2015 countdown clock which officially marked the one year countdown to the Pan Am games!
My day started off by bumping in to fellow Cisco colleague Ron Dekker, Cisco Canada VP, as I exited the elevator of the hotel. For those who know Ron, you will agree that his enthusiasm and high spirits got me more excited to be there than I already was before even entering Nathan Philips Square. I then met my fellow clock "unveilers" Melanie Hawkins, Canadian athlete, and Nitin Kawale, Cisco Canada President. To my amazement, Melanie had just competed in the Wheelchair Basketball World championships where Team Canada won the gold medal. Way to go Melanie! Nathan Philips Square was quickly filling up with kids, press, cameras and Torontonians eager to see the clock. The ceremony started, and after a few memorable speeches and a particularly inspirational speech by Ontario's premier Kathleen Wynne, Nitin took the stage and introduced Cirque du Soleil. I was fortunate to have a front row seat to watch the amazing acrobatic display which ended with the clock being unveiled. We then all huddled together to take the official first selfie with the TO2015 mascot, Pachi!
Not only did this mark the one year countdown to the TO2015 Pan Am Games, it also marked my personal countdown to the games! The fact that in less than one year I will be back in Toronto competing for Canada is something I think about every day! I have participated in major competitions in front of big crowds before: the world championships (Tunisia 2005) and two Pan Am Games (Guadalajara 2011, Rio 2007); but the fact that the 2015 Games will be in Canada is extra special for me. Competing on home soil and having the home crowd cheering for me is an experience every athlete dreams of. Although the sport of handball is not well known in Canada, it is my passion. The fact that Cisco supports my dream and passion is just another reason I love being part of the Cisco family.
With now less than a year to go, my training schedule has ramped up considerably. A typical week for me consists of several handball practices, four weight training sessions and two track sessions. My day usually starts off early, where I will go through my work emails, plan and review my daily meetings, and check items off the to do list. Once lunch time rolls around, I am ready to work out!   A quick 10 minute bike ride gets me to the gym, where I usually spend an hour working on strength and speed. After my work day has ended, I either lace up my running shoes to work on my speed and agility at the track or grab my handball gear and head to practice. These next few months are crucial for me as I will be preparing for two very important Handball Canada training camps, the first in Mexico in October and France in early January. Working with Cisco has given me the freedom to balance my work, to bring my office on the road and to excel at my sport.
Being part of the 1 year countdown is a cherished memory that will be with me for a long time. Thank you Cisco, Toronto and the entire Pan AM team for such a wonderful day!
For more information on Cisco's involvement in the TO2015 Games, please visit our website here.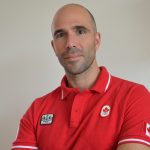 Author:  Ryan Homsy, Human Resource Policy and Complient Management.

Tags: