Cisco
Engaging Students in the Classroom with Video
Today's generation of students are digital natives. Their lives outside the classroom are dominated by the non-stop rich media experiences delivered by video games, smartphones and the Internet. Education has to keep innovating to catch up with its students, particularly in the way it's delivered, and technology will be one of the most powerful drivers of this evolution. In order to truly engage these students, their learning experience has to match the quality of their personal lives and devices. This realization has been our guiding light in the development of active learning classrooms, to improve classroom experiences for teachers and students. Learning in class should be fun, and technology can help.
The Québec region is an exciting prospective case study for collaborative learning. As Canada's second largest in both population and landmass, the potential impact of collaboration technology is significant. Students of all ages learning in French or English across the province would benefit from the interactive and connective power of collaboration in their classrooms.
Here are some of the leading classroom enabled collaboration tools that I believe will have a huge impact on education in Québec and Canada as a whole.
Collaboration in the classroom
Avizia brings two products that are turning video into an engaging experience.  With the Avizia Educator, a teacher can share laptops, document cameras and all sorts of videos on multiple displays across the classroom with simple drag and drop gestures on their tablet. Finally, the teacher is unsequestered from the desk, allowing him/her to provide personalized help to students while sharing content in real-time. Collaborating with remote guests is also made easy by Avizia's Synch, which merges Cisco TelePresence video calls within an interactive whiteboard (such as SMART and Promethean). On this large collaboration surface, participants can see remote collaborators while sharing their work on the board. Synch calibrates everything on the fly and since Cisco TelePresence sessions can be recorded, students can always access the recordings anytime, from anywhere.
Learning with Video (regular and flipped classrooms)
Salman Khan has popularized the use of short videos for his Khan Academy, as Sal explained at Cisco Live!. Cisco has been offering Lecture Vision as a comprehensive solution to create, edit, share, search, comment and retrieve analytics on recorded lectures. Vyopta makes the experience simpler and smarter for teachers by providing a one-button access to start and stop recording a lecture. Vyopta integrates with the Student Information System and the Learning Management System to determine how to tag the video and in which course folder it should be available to students. Vyopta offers a number of great solutions to schedule meetings, control devices in the classroom and allow students/teachers to connect from any browser.
Smart, Simple, Secure
Cisco aims to provide a delightful experience in and out of the classroom and our newest line of collaboration technology, which recently won the prestigious Red Dot Award, is a bold step in that direction. For example, the SX10 (the small TelePresence device at the bottom right of the following picture) is ideal for small businesses and schools on a budget, as it can be easily moved from class to class, needing only a simple HDMI-capable display and an Ethernet port. Although the SX10 comes with a remote, teachers can use their smartphone instead, with the free Proximity app. One of the coolest new features for teacher training is the SpeakerTrack camera which is packed with smart technology to automatically detect and frame the specific speakers.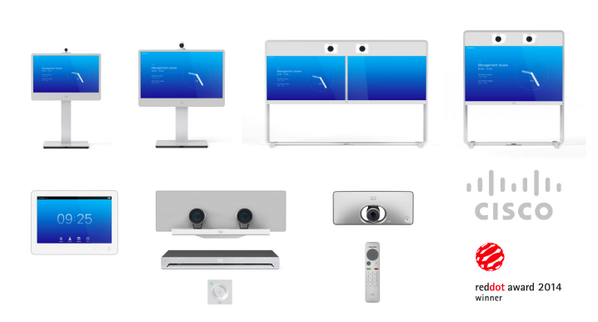 The new DX series for all desks adds to the excitement, providing a single touch-screen device, powered by Android which can facilitate TelePresence, phone calls, and "office" work capabilities with Android and web-based apps. It can also be used as a HD monitor, and computer screens can be shared with remote collaborators via TelePresence or recorded with Lecture Vision. This is the perfect desk for teachers actively engaged in flipped learning, from their home office or on the shop floor.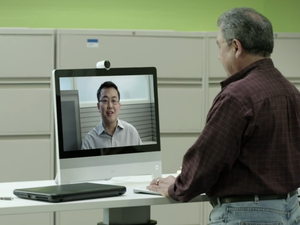 Collaboration is fun and it is a critical skill for a professional in the 21st century. Students and teachers can engage today in their classroom with real-life collaboration scenarios. Great things can happen when we connect the unconnected!

Let us know how you use video to engage students, and stay tuned for updates on technologies to make teachers' lives smarter and simpler.

Tags: