Cisco
Enabling New Levels of Accessibility Through Interactive Technologies
The Abilities Centre, located in Whitby, Ontario, is a state-of-the-art facility dedicated to enriching the quality of life for people of all ages and abilities through an inclusive, innovative environment. The Abilities Centre has been recognized by the International Paralympic Committee (IPC), as one of the most accessible facilities on the planet. Cisco was proud to announce the first step in our partnership with the Abilities Centre last week to introduce and jointly develop technologies that will assist this dedicated team with their mission.
In our first phase, Cisco combined our Interactive Services (iServices) technology with software from Canadian innovator Jibestream to donate a Cisco iServices kiosk in the main atrium of the Abilities Centre.

The Cisco iServices kiosk provides significant capabilities including:
– Wayfinding capabilities around the Abilities Centre including assistance for people with visual impairments.
– Video, pictures and stories about the Abilities Centre and the TORONTO 2015 Pan Am/Parapan Am games for which the Abilities Centre will be a venue.
– Content from the Canadian Paralympic Committee (CPC) to inspire the next generation of Canadian Para athletes.
– Videos and pictures produced at the Abilities Centre highlighting the significant accomplishments of its members who have overcome adversities.
– Two-way Cisco TelePresence (video) capabilities for future live events.
– Real time GO and Durham Transit schedules to aide visitors with local transportation information.
During the event, Jibestream CEO Chris Wiegand took the audience through a tour of the content and interface that were co-developed by Cisco, Jibestream and the Abilities Centre. And in a surprise moment, Bill Bridges, Paralympian (Sledge Hockey), called Karen O'Neill, President of the Canadian Paralympic Committee, live from Ottawa so that the audience could interact with her via our TelePresence technology.
The vision is for this kiosk to serve as a portal to connect Para-athletes from remote locations all over the world. This includes connecting future PARA games in interactive sessions that will inspire the next generation athletes as well as provide mentoring opportunities in support of the great work being done at the Abilities Centre.
The iServices kiosk is built on the Cisco Interactive Experience Client (IEC-4632), which embeds sophisticated interactive capabilities into digital displays when combined with content and software from our partners of the Cisco Developer Network. When we looked to deliver this capability to the Abilities Centre we looked no farther than our own back yard.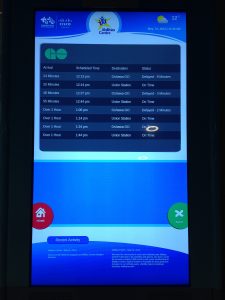 Toronto-based Jibestream has demonstrated a strong history of wayfinding and Cisco iServices capabilities through deployments in mission critical environments like Toronto's Pearson International Airport and hospitals throughout North America. Together Cisco and Jibestream worked jointly with the staff at the Abilities Centre to understand how technology could assist people with all ranges of needs in their every day interactions. And moving forward, Jibestream is an excellent example of an innovative company and of the Cisco partner ecosystem that we want to accelerate as part of our involvement in the TORONTO 2015 games.

In the future, Cisco will work with TORONTO 2015 to leverage this platform to deliver content and interactive experiences at the Abilities Centre and across other TORONTO 2015 Pan Am/Parapan Am venues. All this as Ontario gears up for the largest sporting event to ever come to Canada (yes the TORONTO 2015 games will be larger than the Vancouver, Calgary and Montreal Olympics!)

We will also be working with TORONTO 2015 to enhance the legacy of the games by enhancing network connectivity throughout the Abilities Centre with further technology donations. The TORONTO 2015 games, although one point in time, will leave technology that will continue to serve communities for years to come.

A key role of the Abilities Centre is engaging the community. We like to think of it as a hub in Durham Region for connecting people. Supporting the Abilities Centre and its technology in a sustainable way is critical, which is why we are turning to our Cisco Networking Academy institutions in Durham Region, like University of Ontario in Information Technology (UoIT) and Durham College, to support this venue.

Through our Networking Academies, Cisco has built the I CAN DEVELOP program that will engage Cisco employees as mentors to teams of students supporting venues during the TORONTO 2015 games and beyond.

Cisco remains committed to providing games-enhancing programs and initiatives that will support the community, youth and people of all abilities. Stay tuned for more on how we are creating the most connected Games in history.

Tags: