Cisco
Cisco and Polytechnics Canada Support the Next Generation of Workers
I'm honored to have said a few words of welcome to the attendees of the Polytechnics Canada's 2014 Annual Conference, and to the supporters of education who accepted our invitation to the opening night reception. Cisco is seriously committed to changing the way we learn. Nitin Kawale, President of Cisco Systems Canada, was recently awarded 2014 Champion of Public Education by The Learning Partnership.
This is the second year that we supported this event (last year it was at George Brown College). Cisco values the partnerships we have built with Polytechnics Canada, as we share a common interest: developing the workforce for the 21st Century.
Cisco Canada is growing. In December of last year, we announced the largest job-creating investment in the history of Ontario's technology sector. We will grow our workforce to 3,000 in Ontario by 2020, and potentially 5,000 by 2024. And we will look to fill all these positions with post-secondary graduates. We are looking for exceptional talents, with deep technical knowledge, a very good understanding of the customer experience, and the ability to innovate. 
On March 5th, we announced that Toronto was selected as the location for one of four global Cisco Internet of Everything Innovation (IoE) Centres, representing a planned investment of up to $100 million over 10 years. This North American hub for thought leadership and experimentation will bring together start-ups, technology and services partners, academia and customers to rethink and transform the status quo, while continuing Cisco's tradition of making IT relevant to decision makers and business leaders.
As John Chambers, CEO of Cisco, forecasted, this year will be a pivotal transformation point for the Internet of Everything. As more people, process, data, and things are connected, new markets and better standards of living become achievable. Cisco estimates this opportunity to be worth $19 trillion over the next decade (2013–2022), including approximately $500 billion in value across Canada.
On my way back to the hotel, I made a brief visit to the Ottawa Chapters Indigo store. As it turns out, the magazine section had been shifted way back to the far end of the store to make space for a mobility area, with everything for tablets, e-readers, and smartphones. Among the plethora of accessories, you can find connectors, covers, speakers, a full wall of Connected Health & Fitness devices… What caught my eye was the Connected Home shelves (see pictures below taken with the permission of the salesperson). It's exciting and its happening: these connected devices are making their way from our Innovation Centre to the shelves of your friendly neighborhood's retailer!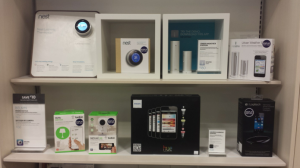 This year will also be significant as we prepare for the 2015 TORONTO Pan Am/Parapan Am Games. As a premier partner and official ICT provider of the Games, Cisco is committed to making these the most connected Games in history. And we will be looking to the talent within our Networking Academy students to make that possible.

Cisco has always been ahead of market transitions. We want to continue to work closely with polytechnic institutions and leading colleges and institutes across Canada, such as the members of Polytechnics Canada. Together, we can prepare students to succeed in the new economy. We can offer them the knowledge, the tools, and the kind of practical experience they need to capture their fair share of the 'Apps' economy, to design new services for citizens and to create the next generation of Smart and Connected devices that will radically improve our economy and our quality of life.

I met a lot of great people. Judging by the caliber of our discussions, the Polytechnics Canada Annual Conference will be the theater of intense reflections on the future of post secondary education in Canada. I am looking forward to imagine the difference we can make together by delighting teachers and learners with new approaches to learning, skills acquisition, experiential learning opportunities, to prepare the next generation of business and social innovators.

Tags: