Corporate Social Responsibility
How Video Conferencing Delivers Education and Mental Health Care to the Arctic
The territory of Nunavut, Canada is incredibly cold and remote. It's roughly a four-hour plane ride north of Toronto, with temperatures well below the freezing mark for eight months of the year, dark in the winter months and light all summer long. The communities in the north face unprecedented challenges. The school dropout rates average around 75% by the time students hit Grade 8. There is high incidence of youth mental health and suicide – the highest in the world. And yet, there is much hope and potential in this corner of our planet.  And a deep, rich Inuit culture and tradition that informs us all as Canadians. When Cisco Canada set out to build a Corporate Social Responsibility (CSR) program for Canada – it didn't take long for us to connect the dots and understand the vital role we could play in bringing much needed services to our most remote communities.
On April 2nd, Cisco Canada will launch Connected North, a program established in 2011 to do just that,  leveraging our core competence in Internet, networking and collaboration solutions. Our first stop in the development of our strategy was Inuit Tapiriit Kunatami – the organization of the Inuit people of Canada. Their direction was clear – find a way to make the classrooms more exciting. Help to stem the high dropout rates. We knew video held the key. 
And so we worked to establish an ecosystem of partners to deliver the program. Cisco is an organization that has partnering in its blood. To bring telepresence to the north we knew we were facing a big challenge. We knew we couldn't do it alone, but were uniquely placed to pull together the partners that could help us. With the great support of ITK, the Royal Bank Foundation, The Government of Nunavut, satellite provider SSi Micro,Virtual Researchers on Call and many others we delivered a full solution from connectivity to content.
Our pilot program in education launched in Aqsarniit Iinniarvik Middle School in Grades 6, 7 and 8 in September 2013. And it launched to great response. And what a privilege it has been working with the teachers and leadership of our partner school. Over the last seven months, students in the school  have been connected in real-time with teachers, experts and other students throughout Canada, for a more engaging, diverse and dynamic classroom experience. Students from north and south are working together and learning from each other. Teachers are receiving mentoring and professional development otherwise not available to them. Experts on demand are beamed into classrooms for science experiments or sessions on how to build a greenhouse. On April 1st the students from the Arctic will experience "Daily Life in Ancient Rome" from the Penn Museum in Philadelphia. They're world travelers from their classroom chairs.
And the results are in. A full  89% of students reported that the remote learning experience made learning more enjoyable, and 81% said they felt they learned more in a virtual session than traditional classroom learning. Teacher response has been overwhelming. Ninety-eight per cent of those who participated in Nunavut's first ever Professional Development Week – delivered entirely over Telepresence – want to do it again.
And so we are excited to add two more schools to the program in September, 2014. The De Gah School in Fort Providence and Arnalukjuak High School in Arviat, Nunavut.
When I was up in Nunavut visiting our school in November, the reality of the demands placed on the teachers hit hard. Many of the students suffer from fetal alcohol syndrome and other mental health issues. It makes good sense to support the communities not only by bringing services for children and youth into the schools, but also by making sure that the teachers, students and their families have the  added resource of mental health services to rely upon.  And so on April 2nd, we will also announce that Connected North has been expanded to deliver vital youth mental services with the launch of Tele-psychiatry for children and teens. A first in this community.
We have come a long way since our first meetings in Nunavut. A year ago, eighteen students from Iqaluit visited Toronto for four days. They were all members of the Film Club from Aqsarniit Middle School and Inuksuk High School, and they were here to showcase their work at a youth film festival. Cisco was of course very happy to host them as were our other wonderful Connected North partners. As a car pool volunteer, I was driving some of the students from our offices to the Art Gallery of Ontario for a tour. On the drive over, a young girl in the seat beside me asked me why Cisco was involved and what we were doing. I told her about Connected North. She looked straight ahead and quietly said "Well that's good. But I'll tell you, if you say you're going to do something, you should do it. Lots of people come to see us and say they're going to do something. And we never see them again."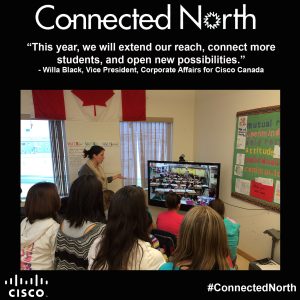 "Well", I responded. "I promise you that you are going to see us again." And so they have. Through multiple visits from the Cisco Connected North project leads, to Cisco engineers and partners Iqaluit has almost become a second home to many of us. We are inspired by the reaction of the community to our work, to their urgency in seeing it scale. And to the many kindnesses we have experienced as we come to know more about the Inuit people and their way of life.

We have embraced Connected North as a powerful means to get much needed services to our far north, and to build lasting bonds between north and south. All through the magic of Cisco Telepresence.

Tags: