Cisco
How the Internet of Everything Will Shape the Next 25 Years of Internet History
This week marks the 25th anniversary of the World Wide Web, an important milestone as we look at how far we've come and how the Internet of Everything (IoE) is shaping our future.
Developed by Sir Tim Berners-Lee, a researcher at CERN, the Web was borne from the need to keep track of complex, large-scale projects without the loss of important information. We've come a long ways since March 1989, when Berners-Lee published his idea of "linked information systems."
Today, IoE is driving connections beyond just data. The convergence of connecting people, things, data and processes is transforming organizations, industries and our lives. The growth of mobility and cloud computing is further driving innovation and an increase in the number and kinds of connections.
To illustrate this transformation, let's take a quick look at life just two decades ago. According to a new national survey to mark the 25th anniversary of the Web, Pew Research revealed that in 1995, 42 percent of U.S. adults had never heard of the Internet and an additional 21 percent were vague on the concept—they knew it had something to do with computers and that was about it. In addition, 20 years ago, only 14 percent had access to the Internet.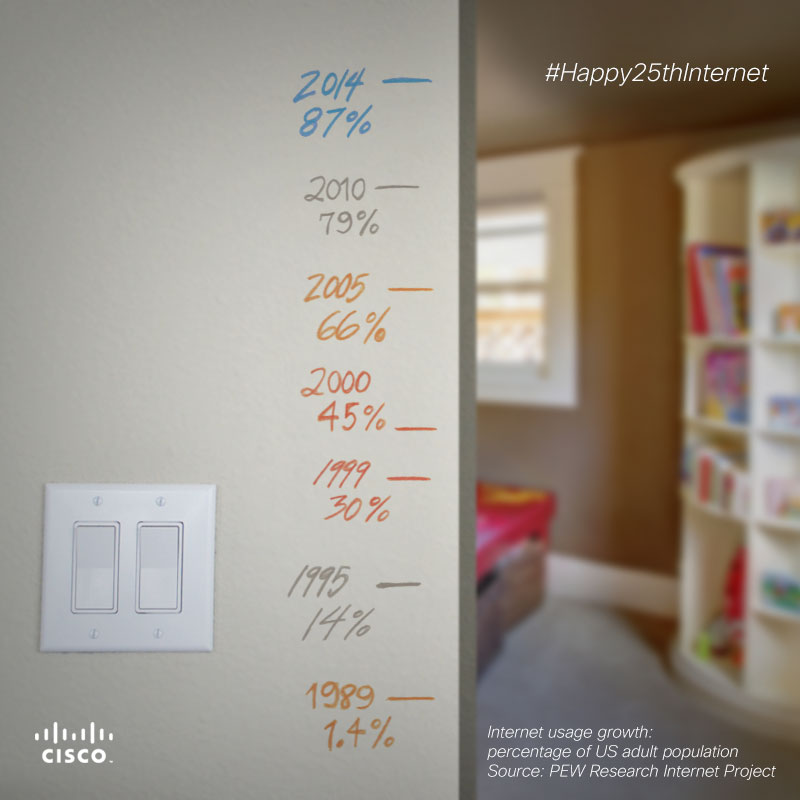 Life today looks dramatically different than it did in the mid-1990s. The World Wide Web has transformed into an Internet of Everything world, where virtually everything is or will be connected to the Internet. From smart cars to Internet-enabled eyeglasses and even trees that tweet, the IoE is not only connecting the unconnected, it is driving unprecedented value from these connections.

Today we celebrate the 25th anniversary of one of the greatest innovations in the history of mankind, but the future looks just as transformational. Here are just a few ways the Internet of Everything will evolve in the next 25 years:

IoE will contribute to a rise in economic opportunity. We estimate that the Internet of Everything is a $19 trillion global opportunity over the next decade. This number is sure to increase dramatically over the next quarter of a century as more organizations and governments deploy Internet-enabled technology across various industries.

The Internet of Everything will be more personal and predictive. As more connected people, things, data and processes collide, the Internet of Everything will drive the growth of what Gartner describes as "personal worlds." With the help of mobility and cloud technology, the Internet of Everything will merge the physical world and the virtual world to create a highly personalized and often predictive connected experience.

The Internet of Everything will drive an intersection of technology and humanity.The idea for the Web began as a way to better share complex information and the future of the Internet will expound on this idea. The Internet of Everything will be driven by increased connectedness that puts powerful information at our fingertips. This capability will have tremendous impact on our world. Over the next 25 years, the Internet of Everything will help us scale and manage our precious resources and ultimately improve our quality of life. How we shape this transformation is up to us.

How will you shape the future of the Internet of Everything? Join the conversation, #IoE or leave a comment below.

Author: Dave Evans

Tags: