Borderless Networks
A journey from WorldSkills to Cisco
By Jean-Phillipe Desbiens, Cisco Canada
Did you know that every two years, the equivalent of the Olympics for trade industries are held somewhere in the world? That event, called WorldSkills, happened last July in Leipzig, Germany.
WorldSkills is an International competition that brings together young people from all around the world to fight for the title of "best of the world" in their trades. I was one of them and represented Canada in the category IT – Network Systems administration. I finished 6th in the World out of 30 competitors and earned a medallion of excellence. However, before getting in the World's top 10, I had to follow a specific and special path.
My journey began in 2008 when I was studying in IT at the CFP des Riverains in Repentigny. I was 16 years old and my love affair with the telecommunication industry began. I had the opportunity to study in a Cisco Networking Academy which gave me a chance to learn and fulfill my need for IT knowledge. It didn't take too long to be spotted as a student who had potential, and one of my teachers talked to me about some trades and technologies Olympics. I competed at the local, regional, provincial and national level in IT Networking and at the age of 16, I placed 4th in Canada. That gave me an opportunity to work as an IT security and telecommunication technician at Quebec's provincial government.
Time passed and I completed my CCENT at the age of 16 and my CCNA at the age of 17. While continuing my studies, I was able to continue in the Networking Academy when I entered Collège de Rosemont. In 2012, I had the opportunity to compete at the post-secondary level for the same trades Olympics. I competed at the provincial and national level and ended up as the unique competitor for Canada for WorldSkills 2013. What an opportunity that was for me; I had a single chance to prove myself as one of the best in the world and to proudly represent my country.
I had to take a full year to prepare, and with the help of the Networking Academy, I got my CCNA Voice and my CCNA Security certifications. I had to be a master of Cisco (voice, security, routing and switching), Microsoft, VMware and Linux, because the competition was covering all of these in four intense days. I had to master a lot of technologies because at each competition day, I had a specific implementation case which normally would take 16 to 24 hours to resolve. I had to do each of them in less than four hours without Internet access or notes. It was quite challenging, but it was an extraordinary experience that gave me the opportunity to go beyond what I thought I was capable of.
Being involved in that kind of competition gave me the ability to share and network with people. It also gave me the opportunity and the chance to work in Cisco's Montreal office as the laboratory administrator. The Networking Academy, Cisco and WorldSkills changed me and empowered my life.

World Skills: 
WorldSkills is an international organization that actively promotes vocational training. The mission of WorldSkills International is to challenge young people, their teachers, trainers and employers to achieve World class standards of competence in commerce, services and industry, and to promote the status of vocational training. To achieve its mission WorldSkills International conducts the WorldSkills Competition every other year.
---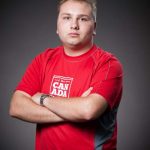 Jean-Philippe Desbiens, 21, is a resident of Terrebonne, QC and is currently the laboratory administrator in Cisco's Montreal office. A CCNA since the age of 17, Jean-Philippe is involved in his community and is always eager to learn new technologies.

Tags: